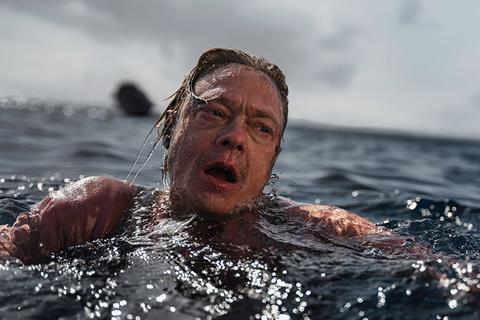 War Sailor is not a typical war film — and that was exactly why writer/director Gunnar Vikene fought for decades to bring it to life. Inspired by real events, the story follows two civilian merchant sailors from Norway who find themselves thrust into danger during the Second World War.
"The explosions and action in this film are there because they have real consequences for human beings," Vikene says. "There are a lot of very romantic films made about war and the great heroes, and we tried to stay away from that. This is a film about survival, to make it home to your loved ones, not about heroism in action. It was more about the consequences of war, and what happens with families after the war."
The film made its world premiere at the Norwegian International Film Festival Haugesund in August (where it won the audience award) and now screens as part of Toronto's Contemporary World Cinema section. Beta Cinema handles international sales, and Scandinavian Film Distribution launches in Norway later in September.
Record breaker
War Sailor sees Vikene team with producer Maria Ekerhovd at Oslo's Mer Film for the third time after Vegasand Here Is Harold. Germany's Rohfilm Factory and Studio Hamburg act as co-producers alongside Falkun Films in Malta. The international partners were especially important as War Sailor became the most expensive Norwegian feature film production in history, with a budget of nearly $11.1m (€11m). Vikene says he was unfazed by the scope, thanks to his work on large-scale TV shows such as Occupied. "The process is basically the same as with a lower-budget film, it just involves a lot more people."
War Sailor was originally scheduled to shoot in 2020 but paused for a year during the pandemic. It eventually shot between March and October 2021 in Norway, Malta and Germany, across 60-plus filming days.
Vikene and DoP Sturla Brandth Grovlen did not use typical war films for inspiration, instead watching documentary footage from the era and more recent documentary films such as The White Helmets, about Syria Civil Defense volunteers. "We wanted that documentary feel when it comes to closeness to the character," Vikene explains. For authenticity, the production also shot at sea, not in a water tank.
The director believes War Sailor — spanning 1939 to 1972 — is a universal story. "There were 30,000 Norwegian sailors in the war. And there were similar Canadian merchant fleets, and British, and American," he says. "They're the unsung heroes of that war — they were caught up in it and they couldn't [make decisions] for themselves."
There was also the trauma of families not knowing for years if their loved ones were alive or dead. "Then after the war," Vikene continues, "they didn't fit the idea of the war hero because they had no uniform, no guns, no medals. And so they were forgotten and ill‑treated after the Second World War."
The family saga is led by a trio of established Norwegian talents: Kristoffer Joner as husband and father Alfred; Pal Sverre Hagen as his old friend Wally; and Ine Marie Wilmann as Alfred's wife Cecilia, raising their three children alone back home in Bergen. The tragedy amplifies as UK aircraft trying to bomb German bunkers in Bergen accidentally kill hundreds of children at a local elementary school (a cousin of Vikene's mother was killed in the incident).
Vikene first heard the real story of Alfred, Wally and Cecilia back in the early 1990s, "and I never forgot it". For many years he researched their stories alongside other tales of the time period and the legacy of war — but he does not call War Sailor a biography. "Alfred is not here anymore to explain anything, so I consider these fictional versions of the characters. But they are based on real people.
"This story is of civilians in war, the working-class perspective that hasn't been told," he continues. "But this is part of the story of what happens in war — 90% of people dying in war today are civilians. Just look at Ukraine."
The cast and crew were away from their families for four-and-a-half months while making the film. Vikene does not claim this is comparable to wartime, but he wanted the cast and crew to "take this emotion of when you come home to your children and they've grown by five centimetres since last time you saw them — and then multiply it by a million. That's how these sailors felt."