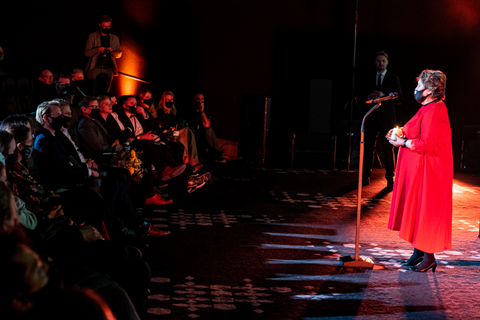 International film festivals have faced unprecedented challenges and difficult decisions during the global pandemic, with smaller European festivals among them.
Organisers have spent the past 18 months having to decide whether to cancel or postpone and then weigh up the pros and cons of staging their festival in-person; with online elements; or to opt for a totally virtual event.
However, the pandemic was not the only reason why last year's edition of Tallinn Black Nights Film Festival in Estonia was presented as a physical and online event.
"We're hybrid for good," says Black Nights festival director Tiina Lokk. "It's been a long-standing plan to be more online and reach beyond our previous borders, expanding our footprint beyond mainly one city in November.
"Going online in 2020 was an opportunity to build for the future, designing infrastructure for the years ahead to launch new initiatives like our Web Cinema and lay the groundwork for our new Discovery Campus for film talent, our PÖFF Film School for Estonian youngsters and the Creative Gate database for regional professionals."
At other festivals such as New Horizons in Poland and FilmFestival Cottbus in Germany, the re-introduction of lockdown measures in the autumn scuppered their plans for hybrid editions, and their film programmes were forced to shift entirely online.
"But we were prepared for that scenario and decided very early on about establishing our own online platform to be independent and flexible," explains New Horizons IFF director Marcin Pieńkowski, stating that the festival attracted 15% more new viewers as a result of the virtual format.
"Thankfully, most of the licensors were prepared to give us licenses for online exploitation within a limited time and geographical area," adds Bernd Buder, director of FilmFestival Cottbus, whose 30th edition was eventually held online in December.
"It meant that we could attract viewers from throughout Germany who wouldn't otherwise have made their way to Cottbus due to time constraints or financial reasons."
However, this current virtual reality is unlikely to become the dominant feature of film festivals going forward.
"Of course, the most important part of the festival is to meet and to watch films on the big screen – the physical part will always be the heart of the festival," says Pieńkowski who opened the 21st edition of New Horizons with Julia Ducournau's Palme d'Or winner Titane on August 12.
"Word of mouth [about the films showing at a festival] may function quite well on the net via social media, but it's not as good as in the adrenalin-charged atmosphere of a festival," says Buder.
Radical changes proposed
As if the pandemic was not creating enough hurdles for festival directors, the European film festival landscape may undergo radical changes if the European Union's Creative Europe MEDIA strand were to concentrate its funding solely on festival networks in the future rather than support individual festivals.
A start in this direction had been made last year when seven networks were supported by MEDIA in a new call for projects.
They included the Moving Images Borders network bringing festivals from Germany, Lithuania, Italy, Spain, France and Serbia to focus on gender programming, audience design, staff exchange and film literacy, among other things, and the Network of Festivals in the Adriatic Region, a collaborative venture in former Yugoslavia coordinated by Sarajevo Film Festival with partners in Croatia, Serbia and Montenegro.
The concerns aired by 65 European film festivals and nine Ministers of Culture from EU member states about the abolishment of individual festival funding appear to have been allayed since the publication of Creative Europe's 2021 Work Programme at the end of May - at least, for the time being.
According to the Commission's document, festival funding for this year is being granted "exceptionally" as a biannual support - instead of for just one year - "as a support measure for the festivals which were disrupted by the Covid-19 crisis with a view to providing more stable funding."
The document also pointed out that support to individual festivals under this year's Work Programme "will be subsequently complemented in 2022 by support to European networks of festivals, building on the successful networks funded previously."
While the Culture strand of Creative Europe has always supported collaborative networks, MEDIA's focus has been on single beneficiaries.
However, Emmanuel Joly, senior expert at the Commission's directorate general for communications, networks, content and technology, says the trend to greater collaboration had already begun within the MEDIA strand with its support for selective distribution and for European VoD networks and operators.
"Apart from the question of efficient management of public funds, the idea behind support for collaboration is to encourage European players to join forces in order to strengthen their capacity to follow the evolution of the market, to strengthen their capacity to invest in new technology, and to share and exchange best practices," said Joly.