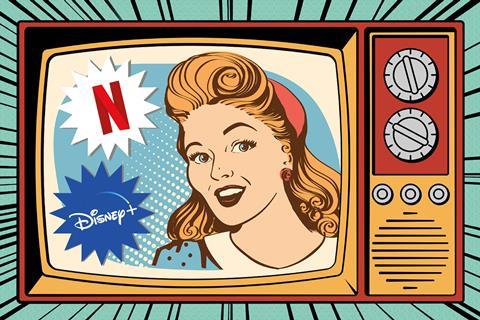 Advertising is coming to Netflix and Disney+. The streamers' imminent push into advertising is a big moment for both companies, but also one that is likely to have myriad knock-on effects for the wider TV and ad-funded video on demand (AVoD) market.
Netflix's ad-supported tier - Basic with Ads - will launch on November 1 in Canada and Mexico, followed by Australia, Brazil, Canada, France, Germany, Italy, Japan, Korea, Mexico, the UK and the United States on November 3, and Spain on November 10
It is priced at $6.99 a month, below Netflix's current cheapest subscription plan of $9.99 in the US. The streamer's ad tier was initially meant to be launching in early 2023 but has been brought forward so it arrives a month before Disney+ Basic — the Mouse House's ad-supported tier.
Disney+ Basic launches on December 8 in the US for $7.99 a month, the same price as the current ad-free version of Disney+ (which will rise to $10.99 a month). The Basic plan will roll out internationally in 2023.
Netflix announced it would introduce its ad tier in April. It was a surprising volte face for a company that had for so long trumpeted the benefits of an ad-free subscription service. The change of heart came after the streamer's first-quarter earnings report revealed a loss of subscribers for the first time in over a decade.
Its ad tier will include an average of four to five minutes of commercials each hour and won't give users the ability to download movies and TV series. Netflix expects its upcoming ad-supported subscription plan to reach about 40 million viewers worldwide by the third quarter of 2023, according to a Wall Street Journal report. Ads are selling for roughly $65 per thousand viewers, significantly higher than many other streaming services.
Netflix and Disney+ follow in the footsteps of services such as HBO Max and Disney-owned Hulu, which offer hybrid ad-supported tiers. Tom Harrington, head of television at Enders Analysis, worries the ad tier "will be counter to brand" for Net­flix. For years, he says, the streamer has been regarded as an innovator.
"Every step of the way, they have been ahead of everyone else. They set the perception of what a streaming service is, how you pay, when you raise prices, when you release content and what the user interface looks like," says Harrington.
But he thinks the ad tier will be like "what everyone else has been doing for the last five years… I thought they'd have some deeply immersive, brand sponsorship, light-touch offer. It sounds like they're going to do pre-roll advertising and cut to ads halfway through their shows — which don't really support ads. It might not look very good."
The move does, however, reflect viewers' growing adoption of AVoD services — like Fox's Tubi and Channel 4's All4 — and free ad-supported television (FAST) channels such as Viacom's Pluto TV. Amid a cost-of-living crisis in many countries, the signs are that consumers are tiring of expensive plans and service stacking, and are turning to cheaper (or free) options. Recent Accenture research showed revenues for ad-supported streamers will grow much faster (+205%) than for subscription services (+67%) over the next five years. Accenture reported that 63% of consumers agree it is too expensive to pay for all the entertainment subscriptions they want.
Youth audiences
Both Netflix and Disney will be hoping their ad tiers can attract enough revenue to offset slowdowns in SVoD subscriber growth. Advertisers are likely to be keen to tap into their audiences, which often skew younger than traditional TV. In recent years, younger viewers have eschewed commercial TV in favour of ad-free subscription services — making it harder for advertisers to reach them.
Notably, commercial broadcasters seem to be cautiously optimistic about the entry of Netflix and Disney+ into the ad market, arguing they will help underline how powerful TV is as an advertising medium. ITV chief executive Carolyn McCall predicted they could boost the broadcaster by encouraging more brands to adopt the medium. "They will represent new entrants, which we will monitor carefully and compete where we have to, but they could grow the TV advertising market," she said at the Royal Television Society's London Convention in September.
The launch of Netflix and Disney+'s ad tiers could create a kind of halo effect for the wider TV, AVoD and FAST sectors, perhaps leading to more advertising money coming into the streaming and TV industries. If so, content producers will be hoping it is money that will be spent on more original dramas and films.