Karlovy Vary artistic director Karel Och tells Screen about opening this year's festival with a Milos Forman classic and discovering new auteurs.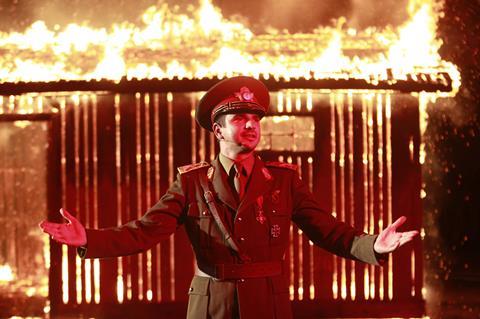 The 53rd Karlovy Vary International Film Festival (KVIFF, June 29-July 7) will open with Milos Forman's Loves Of A Blonde, the 1965 Czech New Wave classic — a fitting tribute to the famed director who died in April, and also a reminder of how much this festival is about cinema itself.
Speaking to Screen, the festival's artistic director Karel Och says: "We believed the best way to pay tribute to Milos Forman and to remind especially our young audience of his importance for world cinema was to dedicate the opening night to one of his films many people know but much less actually had a chance to watch on the big screen. It will always be inspiring to watch any of Forman's films on any occasion."
KVIFF has famously passionate audiences, ranging from students who travel across Europe to camp out, drink local pilsner and binge-watch dozens of new films to 1,100 industry professionals who praise the festival's important platform in an intimate setting. Och is immensely proud of the spirit it gives the festival.
"Whether it's as a student interested in watching films, as a young filmmaker excited to share his or her debut feature with the audience, as a star accompanying a brand-new film or as a seasoned veteran of the film industry coming to check what's cooking in the East of the West territories, you feel the passion for the art of film which is highly contagious," he says. "The beauty of KVIFF is that all our visitors can meet in one room and have a conversation about film."
A world of cinema
There will be plenty to discuss in 2018. In Competition, Och is proud of a "diverse" group of films. "We enjoy presenting in the same section Radu Jude's I Do Not Care If We Go Down In History As Barbarians - an idiosyncratic and highly original take on a traumatic moment from Romania's history - next to Ana Katz's Sueno Florianopolis, a subtle and melancholic portrait of a family on rather unusual vacations," he observes. "There are many different kinds of auteur film­making, which has always been the centre of our attention."
Directors returning to KVIFF include Joseph Madmony, Peter Brunner and Ivan Tverdovsky; Och is also proud of the strong presence of Argentina and the Dominican Republic in this year's festival. In the East of the West section, seven of the 12 selections are directed by women. What is meant by 'East of the West' is also evolving, as the festival adds Middle Eastern countries to the screenings and Works in Progress.
"We felt it was time to abandon the political definition of the East of the West territories [the former Eastern Bloc, ex-Soviet Union countries] for a geographical one," Och explains. "We've discovered many interesting young filmmakers from the Middle East with intriguing projects we wanted to support."
New industry initiatives include the GoCritic! training programme for emerging film journalists and critics as well as Works in Development — a new presentation of regional projects in the development stage — which will be presented alongside the popular Works in Progress.
Guests will include Richard Linklater, in town for Made In Texas, which is a tribute to the Austin Film Society. It will show nine features including Link­later's Slacker and Robert Rodriguez's El Mariachi.
"Austin is an epicentre of cinephilia and has been instrumental in changing the face of US independent film for years now," says Och. "It was about time to show in our part of the world that American cinema is not based solely in Los Angeles or New York."
That independent spirit is also alive and well in the Czech Republic with its emerging auteurs. "2018 marks a very strong presence of Czech cinema in our programme," Och says. "Eight world premieres across the official selection include an uncompromisingly minimalistic feature debut — the claustrophobic drama Domestique by Adam Sedlak in the main Competition — together with Olmo Omerzu's smart and playful road movie Winter Flies. I dare to foresee interest in both films from abroad, and the same goes for King Skate, Simon Safranek's fascinating documentary about the rise of skateboarding in Czechoslovakia under the communist regime."
Across the programme's 180 feature-length films, Och says he and the team "are interested in intimate stories of people in life's critical moments, in a filmmaker's ability to find artistic means to describe such situations and an eventual way to deal with it".