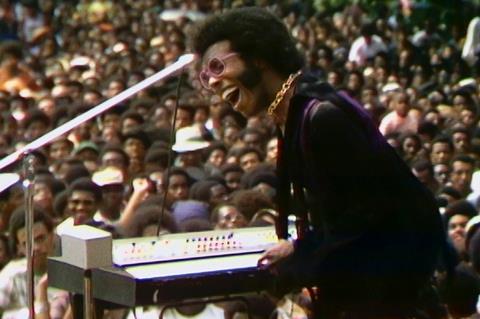 On the eve of the mostly virtual 2021 Sundance Film Festival, buyers are eyeing the line-up hungrily. Even without the 'halo effect' of a world premiere in the packed Eccles Theater on a Saturday night, the ingredients are all there for a competitive event that could kick off the year in a satisfyingly tasty fashion.
Finished films are a coveted commodity for distributors, including the streaming platforms. The industry is 10 months into a pandemic which has caused a dramatic downturn in production and seen cinemas stay shut in the industry heartlands of Los Angeles and New York.
And, in what is lining up to be a seller's market, distributors are willing to pay for target films, and have been positive about the line-up of acquisition titles. Myriad release models have sprung up involving shorter exclusive theatrical windows, PVoD, streaming and, in many cases, a drive-in component to promote the film.
Anticipation surrounds the premieres of titles such as Rebecca Hall's directorial debut Passing, Orange Is The New Black writer Sian Heder's Day One screening CODA, Questlove's Summer Of Soul (pictured), and Baz Poonpiriya's One For The Road, among many others.

By and large sales agents said they are holding back from showing films to buyers in advance of the festival, although of course there are exceptions (RLJE FIlms just snapped up US rights to Prisoners Of The Ghostland).
In cases where they are holding back, sellers want to catch a wave of popularity after the virtual premiere. "Pre-screening movies in a normal year is tough, but in a pandemic it can be even harder," said one executive.
IFC Films president Arianna Bocco notes a leaner, albeit appealing, selection of films at the festival. "We're all going to be hovering over the same films more than usual," says Bocco. "I think it will be very competitive and I think it's going to stay that way for the foreseeable future."
The streamers will be prowling. Peacock and Paramount+, which launches in the US, Canada and Latin America on March 4 and is a "sleeping giant" as one agent put it, could make statement buys, if not during Sundance, then at some point this year.
Roku, too, could become more active as a buyer of finished films when not financing its own growing slate of original content. (It just snapped up the majority of defunct Quibi's original content catalogue.)
Shout! Studios head of acquisitions Jordan Fields and head of new content sales Julie Dansker are looking beyond a staple diet of cult genre to broader narrative titles and documentaries, and have been pushing into production on titles like Tim Blake Nelson western Old Henry.
"I don't know a filmmaker who doesn't want their movie on a theatre screen," noted Fields. That said, Dansker added: "It's about making sure it's out there in the best way possible.. and to work with the filmmakers to make sure their vision for each film is realised."
"We're offering worldwide on all [sales] titles and that is an important component to drive the market because we can sell to all buyers," said Nick Ogiony of CAA Media Finance. "The strategy is to reach the largest audience possible for each film."
Buyers will be expected to watch the online premieres scheduled by the festival. Sales agents and Hollywood agencies – who are lining up the return of their platform for the virtual EFM in March – are inevitably planning alternative ways to screen films for distributors.
For documentaries, Sundance is one of the most effective launch pads on the circuit. Awards contenders Crip Camp, Boys State and Time all premiered at the festival last year and Romanian Oscar submission Collective played there in Spotlight. Executives said this year should be no different.
"The pandemic has, if anything, sped up both sales and acquisitions [of documentaries]," said Ana Vicente, head of sales at Dogwoof, whose festival sales titles include Captains Of Zaatari and Sabaya. "I doubt EFM buyers will wait for EFM to see the Sundance docs or make offers. In the lack of physical festivals and buzz in the situation, film reviews and festival awards have gained even more relevance."
Laura Kim, SVP of marketing at Participant, which co-produced and co-financed festival documentary selection My Name Is Pauli Murray with Drexler Films, is hopeful films will find the right homes.
"We're keeping an open mind. It feels like we're turning a corner and that theatres may be open again hopefully late summer or fall," she said. "Gaining the biggest audience for the film is our primary objective, but the care, love and handling of them is also really key. That leaves a wide open range of potential partners for us."
Screen's hot list of Sundance titles will appear on Wednesday. Sundance runs January 28-February 3.