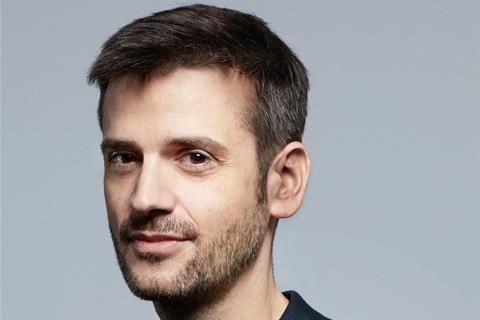 "What drives us is curiosity, wanting to discover new directors, new authors and new artists," says Pierre-Yves Walder, the new artistic director of genre festival Neuchâtel International Fantastic Film Festival (NIFFF), running from July 1-9 in Switzerland.
The new artistic director has a long connection both with the town of Neuchâtel, where his family use to run the most popular local 'choclaterie', and with the festival. He worked in press and programming under the festival's previous head Anaïs Emery, overseeing the visits of guests such as Halloween director John Carpenter and legendary UK horror star, Barbara Steele.
Under Walder, NIFFF already has a different footprint than most other festivals specialising in the "fantastic." For example, together with Oliver Sim, singer with UK rock band The xx, Walder has programmed Scream Queer, dedicated to the representation of LGBTIQ+ culture in genre cinema.
"When I applied for the festival [job], I had this idea," Walder explains the origins of Scream Queer. "I thought it would be interesting to address more social subjects through genre films…genre is a space of freedom and for expressing things without censorship."
The sidebar includes everything from Alfred Hitchcock's Psycho (1960) to Harry Kumel's Daughters Of Darkness (1971), and even Sally Potter's 1992 Virginia Woolf adaptation, Orlando, starring Tilda Swinton as the androgynous, time-travelling protagonist.
"It's not your typical horror films," Walder says of the mix of titles in the sidebar. "I wanted to have balance between the representations. I wanted not only to have white gay males…but to showcase a lot of different identities and expressions. I was very interested also in the 'big bad queer,' the Norman Bates thing, when you're in the unknown and a character has difficult, hard to define qualities, where the sexuality is not clear and you can't really trust them."
Walder suggests Norman Bates-style characterisation is a long way removed from the LGBTQ+ representations found in a contemporary film like NIFF competition contender, Hypochondriac, directed by Addison Heimann and in which characters' sexualities are treated in an entirely matter of fact way.
Artistry
There is no shortage in the programme of traditional blood-dripping horror pictures but Walder is also finding space for films which take a more lyrical and psychological approach to genre. Writers and musicians are prominent on the guest list alongside directors.
Award- winning US novelist Joyce Carol Oates is in town to give a masterclass and to head the competition jury, where she is joined by UK filmmaker Prano Bailey-Bond, Argentinian writer Mariana Enriquez, whose works include the novel 'Things We Lost In The Fire', and French rock musician Robin Coudert.
"I think Joyce has a very, very NIFFF way of writing and thinking," Walder suggests of Oates. "Even when she is talking about social issues, she always puts an edge to what she writes. There is something very dark in what she does."
Walder has also programmed several shark films including a world premiere, Year Of The Shark from Ludovic and Zoltan Boukherma. Walder describes it as "a French comedy remake of Jaws"); Tintorera: Killer Shark ("a Mexican rip-off of Jaws") and Renny Harlin's Deep Blue Sea.
"I love shark films," he says simply.
The festival is also screening several Cannes films. From Directors' Fortnight, Léa Mysius's The Five Devils opened the festival and Charlotte Le Bon's Quebec-set Falcon Lake is also screening. From Official Selection are Iranian director Ali Abbasi's serial killer drama Holy Spider and Park Chan-Wook's Decision To Leave.
Asian connection
Since its inception, NIFFF has always had strong connections with Asia and the Asian competition includes two world premieres" Sonomura Kensuke,'s Yakuza thriller Bad City and monster movie Leio from Thai directors, Chalit Krileadmongkon and Chitpol Ruanggun,
"Neuchâtel was one of the first Western festivals, back in 2000, to showcase these films in a festival setting," says Walder of the Asian genre fare.
Swiss and international industry figures will be in attendance this week. There are conferences on digital creation, new technologies and visual games. Walder acknowledges he would also like to develop more of a market element, possibly with the pitching of new projects. "I hope it is going to be possible," he says. "We are in a strong position on the circuit. We are a known and established festival."