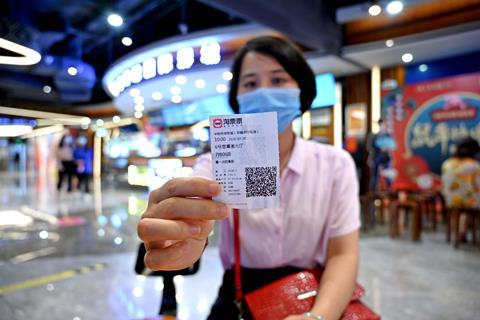 One of the first theatrical markets to be shut down by the Covid‑19 pandemic in January, China is also the first to get back on its feet, with cinemas reopening on July 20 albeit with social distancing measures. The market has already yielded a bona fide hit in local war epic The Eight Hundred, which has become the highest-grossing film globally so far this year with $446m at time of press.
On the streaming front, China's big three platforms — iQiyi, Youku and Tencent Video — benefited from stay-at-home orders across the country, with a big uptick in users and paying subscribers, at least in the first quarter, although this started to slow in the second quarter when lockdowns ended.
Inevitably, the global independent film business, which began to regard China as an important market with the boom in the so-called 'flat fee' or 'buyout' business in 2016, has half an eye on this recovery to see what opportunities it affords. But the world the China theatrical market is emerging into post-Covid is markedly different to the one it shut down to on January 23.
Apart from the fact many countries are still struggling with Covid, it's a world that China is itself reshaping, in ways that make many western economies nervous; where the US-China trade war has escalated and Chinese apps such as TikTok and Tencent's WeChat are caught up in pre-US election bluster; and where China's new aggressive 'wolf warrior' foreign policy may be having an unprecedented impact on the indie film business.
Long before Covid, international sellers were experiencing pushback on films from certain countries that had a tense political relationship with Beijing. US indies had a particularly tough time getting their films released in China throughout 2019, thanks to the US-China trade war; Korean films have been blacklisted since 2016; and Swedish films have struggled since the controversy over China-born Swedish book publisher Gui Minhai.
As China has become more assertive in its foreign policy during Covid, that list of blacklisted countries appears to have grown longer — with sellers mentioning problems with films from the Netherlands, Czech Republic and English-speaking territories including Australia. Indian movies, which along with Japanese films had become hugely popular in China in recent years, have also struggled since the border clashes between China and India. "For now I'd say this market is off the map for us," says an Indian seller who asked not to be named.
Then there are the older, existing issues affecting business — restrictions on moving money out of China dating back to 2016, as well as increased censorship and declining transparency on government policy since the China Film Bureau was moved under the propaganda department of the Chinese Communist Party (CCP) in 2018.
US studio films still appear to be welcome as they are needed to shore up box office, but US indies are finding it tougher than ever. Todd 
Olsson, president of international for Highland Film Group, says that while Covid hasn't helped, the biggest headache for US indies is China's strained economic relations with the US.
"It creates a constantly moving target in terms of the quota and what will qualify or pass censorship," Olsson says. "Even what is considered a non-US production is under scrutiny. No-one on either side knows when it will stop or settle down. Some companies are holding off on big investments or MGs in theatrical films pending the US election."
Meanwhile, China's streaming platforms are not providing much comfort as they are also grappling with increased censorship and scrutiny over quotas. Some sellers report that last year the big three platforms started co-operating on pricing in an attempt to control costs, in a move that would be considered unlawful price fixing in western markets.
Buyer blues
Outside of the US and Korea, which definitely have political problems, it's sometimes difficult to determine whether films from certain countries are really blocked by Chinese authorities, or buyers are nervous of acquiring them due to perceived "political risk" or their own financial difficulties, exacerbated by Covid.
Until recently, success stories like the Resident Evil and Fallen franchises (Angel Has Fallen was one of the last indie releases before the market closed, grossing $10m), alongside foreign-language hits such as Capernaum and Spanish thriller The Invisible Guest, gave the appearance of a flourishing market. Technically, there's no limit to the buyout quota and more than 80 'flat-fee' films were released last year. But the vast majority of these films do not cover the cost of their MG and p&a, which can be huge in a big country like China.
After being burned, many buyers have left the business in the past few years, and MGs for all-rights deals have declined substantially for both studio-level and smaller European pictures. More established buyers, such as Linmon Pictures, Hishow Entertainment and Joy Pictures, have diversified into production and sales as they presumably can't rely solely on distribution revenue.
That doesn't mean the market has stalled completely. Chinese buyers were active at this year's Berlin and have been participating in virtual markets including the Cannes Marché and Filmart. Some deals have even closed during Covid — The Match Factory sold Michel Franco's Venice title New Order to China's HGC. But they're much more cautious than even last year when the market started to contract.
Market recovery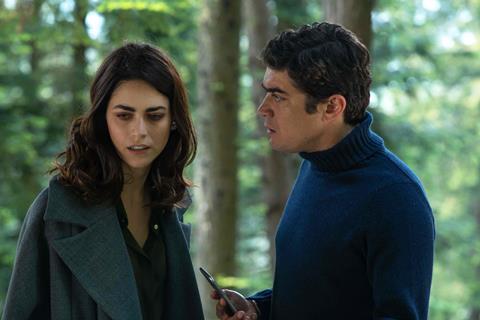 However, memories in the film business are short and it takes only a few hits to restore confidence. Although cinemas have been open only a few months, Italian thriller The Invisible Witness had a successful launch in China, grossing $4m in its first week, despite cinemas only operating at 50% capacity. Initially scheduled for March, the film was eventually released on September 18. Sold internationally by True Colours, it is a remake of Spanish title The Invisible Guest (sold by Film Factory Entertainment), which grossed $25m in China in 2017.
"We meet a lot of Chinese buyers at every market, now of course virtually. China has become an important market for us," says True Colours managing director Gaetano Maiorino, who also had success with Perfect Strangers, which grossed $8m in China in May 2018. "Although we're open to meeting new buyers, we tend to work with the same partners, because they know how to do marketing and have expertise in foreign films."
A few other flat-fee films have been released since China reopened, including US-UK drama The Current War, starring Benedict Cumberbatch, and Japanese films such as Masquerade Hotel and library title Kikujiro, but most are films that were scheduled for release when cinemas closed in January. Sellers say they're not expecting new slots for flat-fee films this year as priority will be given to first the backlog then new releases of local and Hollywood films.
Despite the challenges, US and European sellers are also saying they expect the market to come back, albeit slowly, some time in 2021. A big factor that could spur business is the simple economics of supply and demand. China is in a race to become the world's biggest box office market, but even though it's the first to open, it won't achieve this without a steady supply of films.
The big locally produced Chinese New Year films that were delayed by Covid are being rolled out during the National Day holidays (October 1-8) and in December, but local production was shut down for several months by Covid and investor sentiment is still weak.
In an article published in China Film News in May, Jimmy Wu, CEO of boutique exhibitor Lumiere Pavilions, made several suggestions to support market development and Covid recovery, including an increase in the import of foreign movies, at least non-Hollywood titles. "We still have huge potential to grow but the key to reaching those numbers is content," he later told Screen. "Chinese cinemas average around 300 releases a year, but other Asian markets are showing around 1,000 movies. If we only show 600 films a year, we can definitely increase the box office growth potential in China."
Among other strategies, Wu is working with China Film Group and streamer iQiyi on the development of a central film library on cloud servers, which they plan to use for a theatre-on-demand initiative, along similar lines to China's popular online group-buying model. The initiative could be used for new titles, as well as classics, which were doing well in China even before Covid — Roberto Benigni's Life Is Beautiful (1997) grossed $8.8m in January.
Outside influence
But of course, films can only be stored on servers if approved by the Film Bureau, which was being extra cautious last year around the 70th anniversary of the People's Republic of China — and that caution is likely to continue in 2021, which marks 100 years since the founding of the CCP. The outcome of the US election in November could also affect the import of English-language films.
While politics can't be discounted, sellers say they expect an equally big influence on their business will be the rate of the China market's own recovery. Chinese audiences have already demonstrated an appetite for diverse product and a willingness to return to theatres, but it will take time to restart a market after such a serious disruption. "We need to give the Chinese market a moment to continue to develop, to allow in more western product and grow that demand for western entertainment," says Olsson.
"If you look back a decade, what was being released, what you could sell, it has all come so far along. Like many of the major European markets in the early days, it is experiencing its ups and downs as it develops, but we're ready to shift with those tides."
The video evolution
China's trio of streaming giants are facing competition from a crop of new platforms moving into long-form content.
In the past few years, China's streaming sector has been dominated by three services — iQiyi, Youku and Tencent Video — but as always with China, just when you're getting comfortable with the existing players, a whole new wave of challengers emerges to shake up the game.
Streaming platforms such as Bilibili, Mango TV and ByteDance's Xigua Video are not exactly new — some have been around for more than a decade — but all have seen rapid growth during China's Covid lockdowns and had started exploring acquisition of international film and TV content even before the pandemic. Bilibili and Xigua Video both have their roots in China's hugely competitive short video and live-streaming sectors, but are now diversifying into long-form content.
"Competition is intensifying for user engagement, so the short-video platforms are seeking to enrich their content by offering long form in addition to user-generated clips," explains Media Partners Asia senior analyst Adrian Tong. "This also enables them to target a slightly older demographic."
Screen upstarts
ByteDance has been making headlines around the world for its short-video app TikTok, which has been banned or run into regulatory trouble in both the US and India. Back home in China, ByteDance ran into controversy earlier this year when it struck a deal with producer Huanxi Media to premiere Chinese New Year movie Lost In Russia across its three apps — Douyin (the Chinese version of TikTok), Xigua Video and news aggregator Jinri Toutiao.
The move resulted in a 77% increase in downloads within one week for Xigua Video, which even before the pandemic had started acquiring documentary and drama content from broadcasters such as Discovery and the BBC. Xigua started streaming the BBC's Dracula in January and in April came on board two BBC natural history shows, Primates and Hubble: The Wonders Of Space Revealed, as co-producer.
Also ramping up acquisitions and co-production activity is Bilibili, an ACG (anime, comics & games) platform, which has China's strongest Gen Z subculture following — it's famous for requiring users to pass a 100-question 'geek test' to become official members. Bilibili's loyal and highly engaged user base has attracted the attention of international players — Sony recently invested $400m for a 4.98% stake.
In August, Bilibili made a $66m strategic investment in Huanxi Media, which in addition to being a producer also operates its own streaming platform and is an active buyer of European arthouse films, acquiring titles such as See You Up There, Never Look Away, The Keeper and Woman At War.
Another upstart, Mango TV, owned by China's second-largest TV network Hunan Broadcasting System, has also started acquiring foreign content. So far the platform appears focused on films that appeal to its female-skewing audience, such as Wild Life, Emma and Green Book. However, it is fed by programming from Hunan TV and produces its own hugely successful originals, so may be limited in its acquisitions appetite.
Indeed, most Chinese streamers are focused on originals and domestic product, partly because they all face the same restrictions on quotas and censorship and also as a means to control copyright and costs. However, as this second wave of streamers compete with the big three, they are looking to expand their content offering and all are sending acquisitions executives to international film and TV markets. They're also giving the existing players a run for their money — at least in terms of building monthly active users and increasing their share of advertising revenues.
They may also be encouraged to pay more attention to acquisitions, along with the existing players, by the same factors affecting China's theatrical market — production in China came to a standstill for several months during the pandemic: "The long-form platforms saw a spike in usage and subscribers during lockdown, but consumption started to drop post-Covid because they had limited fresh content," says Tong.
Not to be outdone, the big three long-form platforms are also diversifying into short-form content through services such as iQiyi's Suike and Tencent's Weishi. In China's booming internet economy, the leading companies are always trying to move into their competitors' space, new players emerge from nowhere overnight and then sometimes crash just as spectacularly. But it doesn't hurt to keep tabs on everybody out there.