Dir: Javier Rebollo. Spain-France. 2009. 95 minutes.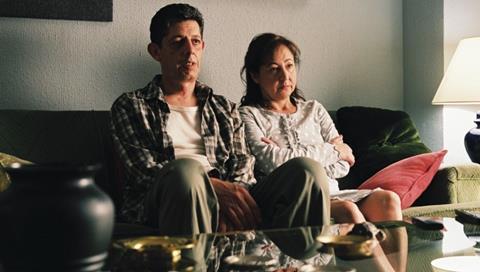 Either an experiment in the absurd, or an absurd experiment, Woman Without Piano (La mujer sin piano) is a drowsy, yet occasionally engaging film about watching. Tracking 24 hours in the life of a numb, disenchanted, partially deaf Madrid housewife called Rosa (Carmen Machi), director Javier Rebollo invites the audience to observe a modern world that doesn't work and the masses struggling to make sense of it.
It's a deliberate, sluggish journey, lightly infused with Tati and Chaplin-style black humour. Rebollo, acclaimed for his debut Lo que sé de Lola, is technically assured, and the hyper-real photography (Santiago Racaj) in a muted Paul Klee palette is impeccable, the sound (Daniel Fontrodona) almost tangible. Female lead Machi (highly popular in Spain and last seen in Almodovar's Broken Embraces) gives us an effectively restrained performance as a loveless and lonely middle-aged woman yearning for anything but the life fate has dealt her. But this is still an uneventful, challenging film; assured of festival selection, it may have a tougher road commercially despite its Best Director award at San Sebastian.
The film's first 30 seconds present a black screen with a musical score, which gives way to the Rosa's taxi driver husband (Pep Ricart) washing down his car windows, seen from inside the vehicle. It's as if the screen itself has been scrubbed down, an invitation to observe more closely.
Generally, more happens in off-screen space than on. The camera is always late, Rosa having moved on. As it pans around her Madrid flat, we rarely glimpse Rosa, yet we're watching all the same, our gaze lured by Rebollo's obsessive attention to details such as the clutter of knicknacks she has used to furnish her empty nest. Female clients come and go for electrolysis sessions and they chat away on their mobile phones as Rosa treats them. By contrast, the only calls she receives are from telesales companies.
That night, her husband in bed, she packs a suitcase, dons a wig and leaves home, heading for a bus station where she plans to get a 7am bus to anywhere. There she meets a young Polish construction worker (Jan Budar), also running away and, at midnight when the station closes, they head out into Madrid together.
What follows is an all-night odyssey through the city's deserted streets, cheap hotels, a launderette and string of desolate bars before a return to the bus station, interspersed with absurdist dialogues. And whereas at home the camera was confined to strained panning, outdoors it is free to indulge in astonishing, lengthy tracking shots as Rosa hits her stride, suitcase in hand. But the lens doesn't always stay with her: often it lingers with, and then absent-mindedly follows an inconsequential extra before resuming its business with the lead, confounding our narrative expectations and injecting mild suspense.
Every move Rosa makes is comically thwarted by petty bureaucrats, bar staff or technological failure: earlier in the day she couldn't pick up a parcel at the post office; when she tries to light a cigarette a security guard is always hovering nearby to reprimand her; she can't get through on her mobile phone and the hotel-room TV doesn't work.
To sign up for Screen's weekly Reviews Newsletter with all the week's new releases, international openings and full festival reviews delivered free to your mailbox every Friday, please click HERE
Production Companies
Avalon
Lolita Films
Noodles Production
International Sales
TVE
+ 34 91 581 54 01
Producers
Stefan Schmitz
María Zamora
Damián París
Screenplay
Lola Mayo and Javier Rebollo
Cinematography
SantiagoRacaj
Editor
Ángel Hernández Zoido
Production Designer
Miguel Ángel Rebollo
Main Cast
Carmen Machi
Jan Budar
Pep Ricart