Jaw-dropping natural locations, eye-catching cities and a relative proximity to North America puts Latin America and selected islands of the Caribbean on the map.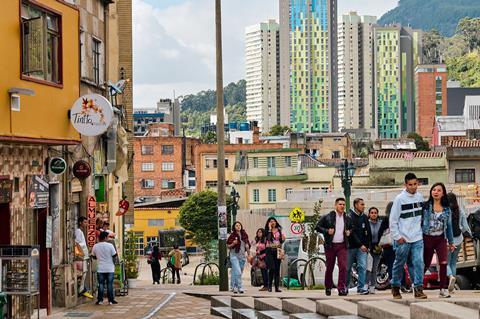 Colombia is emerging as a major Latin American production hub with plenty of international appeal due to its generous 40% filming incentive support. US features in particular are coming to the country, no longer nervous of Colombia's drug wars, which have been declared officially over.
STX Entertainment's spy drama Mile 22, directed by Peter Berg and starring Mark Wahlberg, recently shot in Bogota and other locations, while Running With The Devil is understood to be filming in the country later this year. Produced by Michael Mendelsohn's Patriot Pictures, the drug-trade thriller stars Nicolas Cage and Laurence Fishburne and is the directorial debut of former Navy SEAL Jason Cabell.
Netflix is also eyeing up a return to Colombia for several shows following a positive experience shooting three seasons of Narcos in the country.
US director Greg McLean has shot two independent features in Colombia: horror story The Belko Experiment in 2015, followed by the survival thriller Jungle in 2016. Daniel Radcliffe starred in the latter, which filmed scenes on Colombia's Rio Grande. The film follows lost backpackers as they try to escape the Amazon wilderness by riding a hastily built raft. The production team used local Colombian stunt experts and a local white-water rafting team who helped keep as much of the action in-camera as could be safely allowed.
On the other side of the continent, Chile has a thriving commercials industry on the Pacific coastline, with the country's long highways and the wilderness visuals of the Atacama desert regularly attracting international producers. The country launched a two-year pilot filming incentive in May 2017 whereby features can access a 30% tax rebate and qualifying TV series can receive a 25% rebate.
Mexico hosted scenes for the opening sequence of Sony's James Bond movie Spectre in Mexico City and FX's horror TV spinoff Fear The Walking Dead has filmed extensively at Baja Studios near Tijuana. Netflix is shooting the Spanish-language supernatural series Diablero entirely in Mexico with Madrid-based Morena Films. It is also working on the fourth season of Narcos, which is being shot for the first time in the country.
Panama has a growing reputation for its easy access and eye-catching coastal and metropolitan locations, as well as its 15% filming incentive. Production support is available from Panama Film Commission, which offers assistance with everything from permits and customs to location scouting and the hiring of local crew and equipment. The country has direct flights to the US and uses the US dollar, making production even easier for US producers.
Dominican Republic's historic locations in the capital Santo Domingo are one of its biggest draws, along with the water-tank facilities at Pinewood Dominican Republic Studios. Producers have access to a horizon water tank that is part of an eight-acre water-effects facility. In the past few years it has housed The Fyzz Facility's shark survival movie 47 Meters Down and Paramount's action sequel xXx: Return Of Xander Cage. Upcoming shoots include BBC drama The Long Song, about a slave working on a Jamaican plantation in the 19th century. Heyday Television is producing the adaptation of the novel of the same name by Andrea Levy.
Argentina is long established as an international hub for filming commercials but broader international production is hampered by the lack of a national filming incentive. Buenos Aires is a hugely popular double for European cities and warm weather is conveniently reliable during the northern hemisphere's winter months.
In the Caribbean, Trinidad & Tobago offers production support through the Trinidad & Tobago Film Company (otherwise known as FilmTT). The territory offers a generous filming incentive of up to 55%, including a base 35% rebate for productions spending at least $1m locally. Smaller rebates are available for lower-spending shoots and the government supports commercial production as well as features and TV shows.
Colombia: The lowdown
Financial incentives International productions can access a cash rebate worth up to 40% for films that spend the equivalent of around $470,000 locally and hire at least one local services company. The rebate is capped at $1.2m per production. There is also a 20% rebate for local film logistics services, including flights from overseas bought through a Colombian travel agent. There is a minimum spend of around $400,000 and no cap per project, but the film fund has a limited annual budget. Medellin, Colombia's second largest city, has its own film commission and offers modest incentives for productions shooting in town.
Infrastructure and crews Colombia has a robust TV industry and is able to offer relatively low-cost crews and services without unions or fixed rates. Twelve-hour days are not uncommon. Production professionals generally speak English but interpreters can be useful and working with a local service company or fixer is essential in order to get the most out of a Colombian shoot.
Size matters Colombia's equatorial positioning means usefully predictable weather conditions. The country is the fourth largest in South America but most areas are easily accessible by land or air, aside from the deepest Amazon. Traffic in Bogota and other cities is challenging and likely to impact any city-based shoots.
First person to email: Silvia Echeverri, Colombian Film Commission
Panama: The lowdown
Financial incentives Panama offers a 15% cash rebate on the local spend of international films, TV shows and commercials that spend between $3m-$40m in the country. The full rebate can be escrowed up front with the bond company to cashflow the production. Conditional approval is based on an audit and certification of expenses by a locally based public accountant. Panama uses the US dollar. Full details panamafilmcommission.com/film-production-incentives/
Infrastructure and crew Panama has a limited pool of multilingual, experienced crew and offers easy access to filming equipment. There are no unions and crew rates are comparable with the US and European markets, even if they seem high regionally. International producers generally fly in their own heads of department and supplement their core team with local hires. There are no taxes on importing equipment from overseas. Foreign crews must register with the commission and pay $150 per week of filming for services including a one-stop shop for permits, no taxes on bringing in registered equipment, and assistance with customs by land or air.
Size matters Panama is home to rainforests, jungles, villages, cities, towns and pristine beaches that line its coasts and many islands. Panama City's Tocumen International Airport has direct flights to and from Los Angeles, Miami and points in Europe, and serves as a hub for the rest of Latin America. Panama City, home to just under a quarter of the country's 3.9 million residents, encompasses an unusual combination of a colonial Old Town just minutes from a modern downtown crowded with skyscrapers. The city is also considered very safe at day and night, and has an underground metro system. Panama's slender shape means the travel time between the Caribbean and Pacific coastlines is only about an hour by road and it is about an eight-hour drive from Panama City to the Costa Rican border to the north.
First person to email: Gabriel Padilla, Panama Film Commission