Director Yann Demange talks to Andreas Wiseman about his debut feature '71, which plays in Competition at Berlin.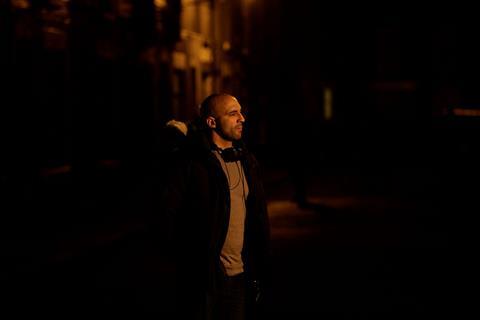 Yann Demange is in demand. From agents, producers, financiers, festivals and now journalists. And after seeing his debut feature '71, which plays in Berlin's Competition, it's easy to see why.
After successful stints directing UK television series Top Boy and Criminal Justice, the Paris-born London-based director is now on course to make waves with his confident and novel addition to the canon of films about The Troubles in Northern Ireland.
But when he meets Screen in London ahead of the festival, the 37-year-old director is still "unclenching" after delivering his film just days before. "I only saw the film in its entirety last week," he says. "It's surreal."

Connecting with the character
In '71, rising star Jack O'Connell (Starred Up) plays a young and disoriented British soldier who is accidentally abandoned by his unit following a riot on the dangerous streets of Belfast in 1971.
The film's impressive supporting cast includes Sean Harris, Paul Anderson, David Wilmot, Charlie Murphy and Sam Reid.
The piece is shot through with striking visuals and genuine tension; that tension instantly caught Demange's attention on page.
"I had been looking for a film for a long time," he says about his path to the script. "Tessa Ross at Film4 sat me down after Criminal Justice and said, 'Make it with us.' I felt privileged. Lizzie Francke and Chris Collins from the BFI were the same. And Dan MacRae at StudioCanal had been sending me material for years. I'd read a lot but nothing clicked. I had to be really moved by my first film.
"But when I read '71 I immediately connected to the lead character, Gary Hook, and how the boys on all sides were humanised," he adds.
Film4, BFI and StudioCanal, along with producers Angus Lamont at Crab Apple and Robin Gutch at Warp, would become cornerstones in getting '71 made. Screen Yorkshire, Creative Scotland and Northern Ireland Screen also provided funding and Protagonist boarded sales.

Careful chasing
From the get-go, however, the film required a careful balancing act: it was a feat that Demange relished.
"One of the things that most grabbed me was the chase element to this film. It's visceral, muscular; it's a thriller, but that's not enough. You wouldn't want to exploit an important time in people's history to just make a chase movie. There was real humanity in the script too.
"I wanted to make a film that was true to the politics, without being too polemical or taking people to school, but that also appealed to my niece and nephew who are 20 years old," he explains. "From the outset we made sure we engaged with the shades of grey in this conflict."
The process was an education for the director, who grew up in London years after the period depicted in his film. "Writer Gregory Burke and producer Angus Lamont are both Scottish and they taught me a lot about sectarian divides. They took me on a lot of research trips to meet people who were active on both sides. I grew up in Streatham so to an extent The Troubles were white noise for me."
Demange's enthusiasm and talent inspired his collaborators to give the first-time director what he needed to make the film he had envisioned. And more. Not only did he get his first-choice male lead, a 44-day shoot and multiple production locations across the UK - the film's thrilling central chase scene was shot in four different locations in two different UK cities - Demange also got a sizeable, for a first UK feature, £5m-plus budget - around $8.1m.
"There was a point when the market was telling us the film's budget was £3m [$5m], but we knew we couldn't make this film for that." Demange also ensured he worked with regular collaborators DoP Tat Radcliffe and editor Chris Wyatt, both of whom showcase impressive skill in the film.
Initially due to shoot in Northern Ireland, Demange could not find the period housing that the film needed. So Sheffield, Liverpool, Leeds and Blackburn stepped in. The money and location-hopping was justified.
Demange, like his feature debut, is an intriguing combination of raw energy and subtle intelligence. His next film could be even bigger and bolder: "I want to try something different next. I'm itching to make another film. What it will be I don't know yet but it could be something in French, or European, at least, something on a big canvas."