One of the final performances from the late star to be seen as part of San Sebastian's New Directors line-up.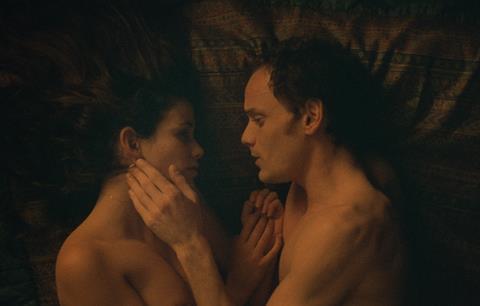 San Sebastian Film Festival (Sept 16-24) has unveiled the 14 filmmakers set to compete for the Kutxabank-New Directors award, which comes with a prize of €50,000.
The strand, made up of first or second films from international filmmakers, includes Gabe Klinger's Porto, which features one of the final performances of Anton Yelchin, who died last month.
The film, which stars Yelchin and Lucie Lucas as a young man and woman who have a romantic encounter, also features the voice of late director Chantal Akerman and is executive produced by Jim Jarmusch.
Porto marks Klinger's narrative feature debut, having previously directed the Venice-award-winning documentary Double Play: James Benning and Richard Linklater.
Other titles in the strand hail from across Europe, South America and Asia.
New Directors Line-Up
Synopses provided by the festival:
Anishoara
Ana-Felicia Scutelnicu (Germany - Moldova)
Anishoara is a 15-year old girl from a small village in Moldova, situated in a picturesque valley between rolling hills. Alone with her old grandfather Petru and her little brother Andrei life is calm and archaic. But the four seasons are bringing many changes, and it will be the last year of Anishoara's childhood in this valley before she takes off into her adult life.
Le Ciel Flamand
Peter Monsaert (Belgium)
A look at the lives of three generations of women. Monique and her daughter Sylvie run a brothel on the border of West Flanders and France. Eline, Sylvie's six-year-old daughter, is fascinated by the mysterious workplace of her mother and grandmother, but she is never allowed inside. A dramatic event turns their lives upside down and the family ties are put under pressure.
A Taste of Ink (Compte Tes Blessures)
Morgan Simon (France)
Vincent hasn't lived a third of his life yet, but he's already tattooed half of his body and hoarsened his voice with his post-hardcore band. Since his mother died, he shares his time between a piercer job he's not happy with and a fishmonger father trying to start a new life with a younger woman. And it's driving him insane.
Weekend (Fin de Semana)
Moroco Colman (Argentina)
Carla arrives after years of absence to accompany Martina. Relations between them are cold; there's something unspoken between them. Martina slips away for secret meetings with Diego, a man twice her age. The two are involved in a hardcore sex game that's out of control. When Carla discovers the relationship she confronts Diego.
Something in Blue (Hu Xi Chang)
Yunbo Li (China)
Four young people, one city. For love or ideal, with funny and faint bewilderment. As seasons change, they come into the movie from life, then they come back to their life from the movie. They play themselves in the film, their parts in the film transform their life. An original improvisation in Chinese Cinema, a brand new rendering of city life.
In Between
Maysaloun Hamoud (Israel – France)
Salma, Laila and Nur will never fit in. Palestinians with Israeli citizenship, they choose to live a life of freedom in Tel Aviv, away from their home villages. Each is looking for love, but as young Palestinian women they learn that a relationship of their choosing is not easy to fulfill. They have to choose their place, either in the city or in the village.
Summer Lights (Lumières d'été / Natsu No Hikari)
Jean-Gabriel Périot (France)
Akihiro, a native Japanese filmmaker living in Paris, came to Japan to interview survivors for a documentary celebrating the 70th anniversary of the atomic bombing of Hiroshima. Deeply moved by the interviews, he decided to take a break and wanders through the city during which he meets Michiko, a merry and enigmatic young woman.
María (Y Los Demás)
Nely Reguera (Spain)
Ever since her mum died, Maria has taken care of her father and her siblings. She's been a rock for the family. That's why her father's announcement of marriage to his nurse brings Maria's world crashing down around her. At the age of 35, she'll have to change her fate.
Park
Sofia Exarchou (Greece)
Ten years have passed, and the Olympic Village in Athens is in decay. Among the abandoned athletic facilities and new-money tourist resorts nearby, Dimitris(17), Anna(24), a retired athlete, and their friends traverse Greece's glorious past with the decadence of today, creating a portrait of a society unprepared for the brutal fall.
Pinamar
Federico Godfrid (Argentina)
Two brothers return to Pinamar after their mother's death, to say their final goodbye and sell the family apartment. While Pablo wants to finish as fast as possible, Miguel wants to enjoy the visit. This trip helps them rediscover their relationship.
Porto
Gabe Klinger (Portugal – France – USA)
Jake (Anton Yelchin) and Mati (Lucie Lucas) are two outsiders in the northerly Portuguese city of Porto who once experienced a brief connection. A mystery remains about the moments they shared, and in searching through memories, they relive the depths of a night uninhibited by the consequences of time.
Prowl (Vanatoare)
Alexandra Balteanu (Germany)
Lidia grows pigeons and lives a mundane existence with a husband and two children. Denisa, the feisty one, wants to buy her freeloader boyfriend a new pair of sneakers. Vanesa, the youngest, dreams of finding the perfect guy with green eyes. These three women share a workplace as sex workers, under a bridge. One day, they pose resistance together, to the seemingly benign, regular visit, from the district policemen.
Our Love Story
Hyun-Ju Lee (South Korea)
Yoon-ju is a graduate student of fine arts, who works petty part-time jobs to make ends meet and lives at her friend Young-eun's place for a very small rent. Unlike Young-eun who enjoys having no-strings-attached relationships, Yoon-ju is just not into dating. One day, while she is searching materials for her project, she runs into Ji-soo at a junk shop. Watching Ji-soo in an odd place, Yoon-ju finds herself drawn to her.
One Hundred and Fifty Years of Life (Yi Bai Wu Shi Sui De Sheng Huo)
Yu Liu (China)
The 90-year-old Han lives with his sixty-year-old mentally disabled son on the south side of Beijing. While his two daughters covet his apartment and seize his pension, Han's greatest concern is what will happen to his son after his death. On one occasion, Han's son is deserted by his son-in-law in a suburb, who claims he is missing.