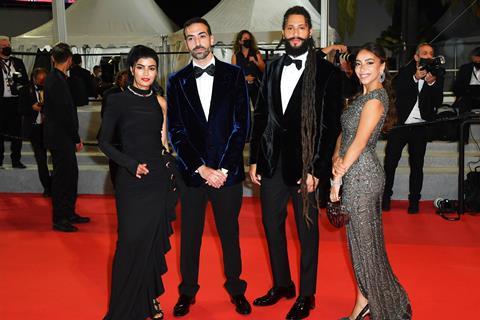 Many territories did not make it to Cannes Film Festival in an official capacity this year, with their national film institutions grounded due to the ongoing challenges of travel amid the pandemic. But one country out in force was Saudi Arabia. It was the territory's second official trip to the festival after an initial sortie in 2018, which came only months after a 35-year cinema ban was lifted as part of the country's Vision 2030 strategy, aimed at moving its economy away from a reliance on gas and oil.
The mood this year was very different. In 2018, the Saudi delegation was something of a curiosity as media and industry professionals questioned how the country's film and TV ambitions could be reconciled with its appalling human-rights record. These concerns were brought into sharp relief by the assassination of Saudi dissident and journalist Jamal Khashoggi in Istanbul in October 2018, and, amid the geopolitical fallout, Saudi Arabia sat out Cannes in 2019.
In the interim three years, its emerging film and TV professionals have got on with the business of building cinemas, production infrastructure and a network of institutions to underpin its ambitions, and they were ready to give a taster of things to come at this year's festival. The Saudi pavilion in the Marché du Film's International Village was a hive of activity with filmmaker Abdullah Al-Qahtani making his international festival debut as CEO of the country's film commission.
The accompanying delegation included representatives of the new Royal Commission for Al-Ula, created to attract productions to the Unesco World Heritage archaeological site in the country's northwest, and Red Sea International Film Festival (RSIFF), which hosted a lunch on the Carlton beach attended by just about everyone working in Arab independent cinema at Cannes this year. Also on the ground were Middle East pay-TV giant MBC Group, production and facilities company Nebras Films, emerging distributor CineWaves Films, production company Arabian Pictures Group, cultural centre Ithra and representatives from Neom, a planned futuristic new city in the north of the country with ambitions to be a hub for media industries.
A quartet of Saudi talent ambassadors also hit the red carpet, headed by producer Mohammed Al Turki; actress Mila Al Zahrani, best known for her big-screen debut in Haifaa Al-Mansour's 2019 feature The Perfect Candidate; actor/rapper Rakan Abdulwahid, who played Saudi Arabia's founder King Abdulaziz in historical drama Born A King; and pioneering Jeddah-born actress and filmmaker Sarah Taibah.
"I've never seen Saudi stars on the red carpet at an international film festival before unless it was a Haifaa Al-Mansour movie," says Al Turki, who prior to the lifting of the cinema ban had established a career in Hollywood with executive producer credits on titles including Arbitrage, 99 Homes, What Maisie Knew and most recently the thriller Crisis. "It's surreal, like a dream, this cultural shift. We still have a lot to do but it felt like another milestone."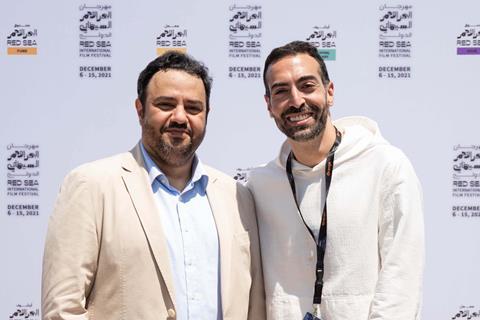 From the ground up
Al-Qahtani, who was appointed film commissioner in July 2020, spent his first year in the job focusing on strategy and laying the foundations for a local film and TV ecosystem.
"Our goal is to establish, develop and sustain a healthy film industry ecosystem," says the Saudi Film Commission CEO. "Unlike other countries where there has been cinema for 100 years or more, we're building everything from scratch. Our mandate is challenging and wide.
"We've spent a lot of time looking at what needs to be done to support local content and talents, film festivals and professional guilds that we hope one day can fly on their own to help the sector while we step back."
He is quick to dispel expectations that Saudi Arabia will be throwing money at the challenge. "We think about every riyal," he says. "Sustainability is important to us. During our strategy phase we spent a lot of time looking at systems all around the world and talking to experts to figure out what could work for us and what won't. We don't want to simply copy past models but to build something that takes into account the digital era and the streamers."
He noted that the country, like other key global shooting locations, is putting the final touches to an incentives package it plans to unveil in the coming months, which he describes as "attractive and competitive".
A key pole of the strategy is RSIFF, which is gearing up for its inaugural edition in December with 'metamorphosis' as its theme. Following its postponement in 2020 due to the pandemic, the pieces are beginning to fall into place for the event, with one potentially game-changing development being the appointment of former Cannes Directors' Fortnight head Edouard Waintrop as artistic director.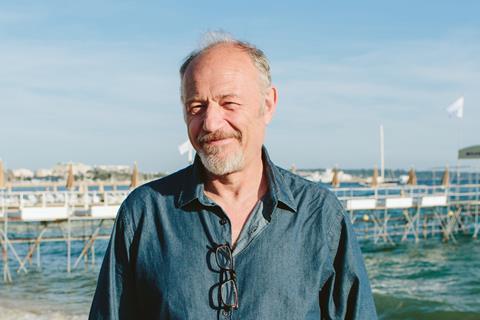 Al Turki has also been appointed as chairman. "I ended up spending much of the pandemic in Saudi, which has been no bad thing and my main focus right now is the festival," he says.
RSIFF also reaffirmed its ambition during Cannes to become a key supporter of independent filmmaking in the Middle East and North Africa region with the announcement of an additional $4m for its Red Sea Fund, bringing its total envelope to $14m. In addition, the Royal Commission for Al-Ula and Neom are hoping to use the festival as a springboard for trips, with plans to fly international guests to their sites.
While the country gets ready for its international bow, the rest of the Middle East is also sizing up the implications of Saudi's film and TV ambitions. RSIFF launches into an already busy autumn MENA film festival calendar, featuring Egypt's El Gouna and Cairo film festivals as well as Doha Film Institute's Ajyal and Morocco's Marrakech International Film Festival.
Beyond the timing, its resources are also raising questions. "The other festivals can't compete when it comes to grants and awards," commented one festival insider.
Al Turki, however, hopes RSIFF will be an opportunity for Saudi Arabia to dispel concerns within the industry. "When people question Saudi, I have three words: 'Seeing is believing,'" he says. "I tell them, 'Come meet the people.' When you're there, it makes a difference. I am very optimistic about the film festival and excited to see how it will change the misconceptions."
MENA's 2021 fall festivals
El Gouna Film Festival October 14-22
Marrakech International Film Festival Dates unconfirmed
Ajyal Film Festival November 7-19
Cairo International Film Festival November 26-December 5
Red Sea International Film Festival December 6-15