New initiatives at CPH:DOX include Britdoc's Good Pitch event, a cultural summit and tech innovation pitches at Propeller Springboard.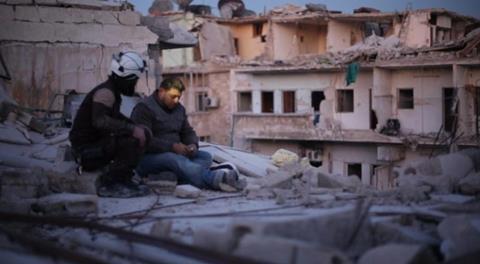 CPH:DOX has awarded its DOX:AWARD to Last Men in Aleppo, directed by Feras Fayyad and co-directed by Steen Johannessen.
The jury said the film, about volunteers in the war-torn Syrian city, is "a film whose devastating emotional immediacy plunges us into a Shakespearean tragedy of a people striving to retain their humanity in the face of impossible realities."
The film previously won the grand jury prize in Sundance's World Cinema Documentary competition.
Special mentions went to Gray House by Austin Lynch and Matthew Booth and The John Dalli Mystery by Jeppe Rønde.
The F:ACT Award, for a film involving in-depth journalistic investigation, went to Reber Dosky's Radio Kobani, about a young woman's struggle to run a local radio station in war-torn northern Syria.
A special mention went to Trophy by Shaul Schwarz and Christina Clusiau.
The winner of the NORDIC:DOX Award was Land of The Free, Camilla Magid's portrait of South Central Los Angeles.
A special mention went to 69 Minutes of 86 Days by Egil Håskjold Larsen.
The NEW:VISION Award, recognizing artists' films, went to Life Imitation by Zhou Chen.
A special mention went to The Lost Dreams of Naoki Hayakawa by Ane Hjort Guttu & Daisuke Kosugi.
The inaugural NEXT:WAVE Award, for emerging filmmakers went to 1996 Lucy And The Corpses In The Pool by Marcos Migliavacca and Nahuel Lahora.
A special mention went to Phantom of Illumination by Wattanapume Laisuwanchai.
Meanwhile, the Politiken Audience Award went to Matthew Heineman's City of Ghosts.
The cash prizes for the awards are $5,400 (€5,000) each for the DOX:AWARD, F:ACT AWARD, NORDIC:DOX and NEW:VISION winners; $7,000 (€6,500) for the Politiken Audience Award and $2,160 (€2,000) for the NEXT:WAVE Award.
The DR Talent Award (with $3,600) for an aspiring filmmaker went to Let Me Do The Talking by Mie Mollerup Jørgensen and Maria Houborg.
The IF/Then Short Documentary Pitch, presented with Tribeca Film Institute, gave a $20,000 prize towards completion of Nudar by Rand Beiruty.
Industry initiatives
CPH:DOX was taking place for the first time during spring (after moving from a November slot) and got rave reviews for its new festival hub at Kunsthal Charlottenborg.
In all, the festival screened more than 200 films, including 75 world premieres, in venues across the Danish capital.
CPH:CONFERENCE ran for five days in partnership with Documentary Campus, with themes of art and technology; science; serialized content; impact; and artist film.
Speakers included IBM Fellow John R Smith, Britdoc's Beadie Finzi, The Guardian's VR executive editor Francesca Panetta, producer Elhum Shakerifar, Tabitha Jakson of the Sundance Institute, Making A Murderer editor Mary Manhardt, Field of Vision's Charlotte Cook, National Geographic's Tim Pastore, and filmmakers Amir Bar-Lev, Mads Brugger, Ezra Edelman, and Iain Forsyth & Jane Pollard.
The CPH:FORUM saw filmmakers pitching 31 projects and the new CPH:WIP presented six films showing footage as work-in-progress presentations.
As part of the new Propeller initiative (a partnership with the Berlinale's EFM, International Film Festival Rotterdam and Cinemathon), a two-day Springboard event helped 35 participants develop and pitch ideas crossing between film and technology.
The winner of the Mentor Award was Amplifier, a data-driven impact broker for documentaries, and the winner of the audience award was Ego Cinema, an experience hub for collective VR experiences.
Also new for the 2017 edition was CPH:MEETINGS, a new cultural summit featuring speakers such as Bernard-Henri Lévy and The The's Matt Johnson.
For the first time, Britdoc's Good Pitch was held in Copenhagen. The films presented to potential collaborators were: Sky Neal's Even When I Fall; Jan Gebert's When the War Comes; Feras Fayyad & Steen Johannessen's Last Men In Aleppo; Joakim Demmer's Dead Donkeys Fear No Hyenas; Marie Skovgaard's Femimam; and Julia Dahr & Kisilu Musya's Thank You For the Rain.
CPH:DOX is also renowned for encouraging collaborations across artforms, and musicians appearing this year included Tindersticks, Avey Tare of Animal Collective, Machinedrum and Jacques Green.
The festival hub also included interactive installations and a VR cinema.