Dramas from Jayro Bustamante and Gabriel Ripstein take top prizes in Mexico.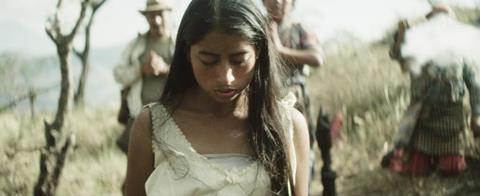 Fresh from its won at the Berlinale last month, Ixcanul (Ixcanul Volcano), the feature debut of Guatemalan writer-director Jayro Bustamente, won best Ibero-American picture and best director at the 30th Guadalajara International Film Festival on Saturday (March 14).
The docu-drama, which won the Alfred Bauer Prize in Berlin, features mainly non-actors and centes on the poor residents who live on the slopes of an active volcano in Guatemala
Gabriel Ripstein's arms trafficking drama 600 Miles, starring Tim as an ATF agent who is kidnapped by a Mexican gun runner, won best Mexican film in Guadalajara. It also picked up a prize at Berlin in February, winning best first feature for Ripstein.
Mexican debutant Celso Garcia's drama-comedy road movie The Yellow Thin Line (La delgada linea amarilla) won the special jury prize, screenplay and audience awards). The film was executive produced by Guillermo del Toro.
Competing were 15 features from Ibero-America and 22 from Mexico.
The nine different juries, handed out mor ethan €390,000 ($410,000) in awards across the five competition sections and three industry strands.
Members of the juries included legendary veteran Mexican director Alfonso Arau, Chicago festival topper Michael Kutza, his Istanbul colleague Ahmet Boyacioglu, Sundance programmer Dilicia Barrera, Italian director Luca Guadagnino, British screenwriter Clare Peploe and Argentinian producer Juan Pablo Gugliotta.
The Fipresci award went to Mexican debutante Natalia Brusctein's feature documentary Suspended Time (El tiempo suspendido). It was also awarded the Special Jury Prize in the Ibero-American section.
Making the trip to Guadalajara to receive homages were Spanish/French star Victoria Abril, her Mexican colleague Isela Vega, veteran Mexican director and Guadalajara founder Jaime Humberto Hermosillo.
Bernardo Bertolucci was honoured with the Golden Mayahuel lifetime honour. It was received in absentia due to last minute health problems.
Italy was the guest country showcasing 34 Italian productions.
Guadalajara native Guillermo del Toro flew in from Los Angeles to offer a packed press conference. His criticism concerning insecurity in his home country attracted angry remarks from local government officials.
Diego Luna presented his upcoming English-language feature Mr Pig. Starring Danny Glover and produced by Canana, the film was partly shot on location around Guadalajara.
Other highlights included Guadalajara's increased ties with the Berlinale. New EFM director Matthijs Wouter Knol served on the jury and Florian Weghorn (Berlinale Talents) attended Guadalajara Talents now in its 7th year.
New initiatives introduced this year by festival director Ivan Trujillo included the World Bank-backed Film4Climate strand on film and climate change set to further expand in May at the Cannes Film Festival.
The Industry-Film Market run by Estrella Araiza catered to more than 700 delegates, sales agents and distributors confirming its status as a major festival-linked market in Latin American.
The European Film Promotion-backed Film Sales Support strand brought European films to the market.
In the Industry post-production oriented 9th Guadalajara Construye strand, six films competed - selected from 101 applicants.
Mexican project Warehoused (Almacenados) by Jack Zagha won four awards, Argentinian film Children of Ours (Hijos nuestros) by Juan Ignacio Fernandez and Nicolas Suarez received three, and Chilean feature You'll Never Be Alone (Nunca vas a estar solo) by Alex Anwandter won two.
In the 11th Iberoamerican Co-production Meeting, six projects coming from five different countries were awarded. A total of 28 projects were presented selected out of 295.
The event registered 110,000 admissions.
The 31st edition of the festival will run March 4-12, 2016.
For the complete list of awards go to www.ficg.mx