Kevorkian, Shoval, Haq, Fiennes, Sigurðsson, Nikonova and Runarsson heading to Les Arcs European Film Festival with upcoming projects.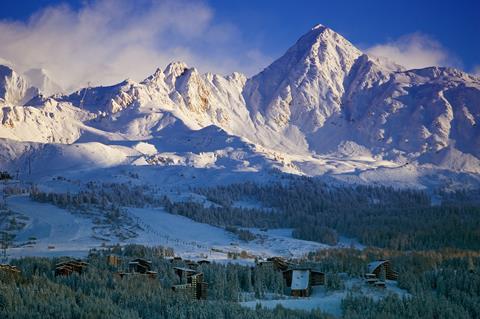 Scroll down for full list of projects
The UK's Johnny Kevorkian and Sophie Fiennes, Israeli Tom Shoval, Norwegian Iram Haq and Russia's Angelina Nikonova will be among the filmmakers presenting their upcoming projects at the Les Arcs Co-Production Village this year.
The event, running Dec 13-16 within the Les Arcs European Film Festival (Dec 13-20), will present 25 projects in development and a further 10 Works-in-Progress.
"I thinks it's a good sign that filmmakers whose projects we presented in development are now coming back to show their films in Work-in-Progress, which is the case for Sparrow and Rams," said Les Arcs industry head Vanja Kaludjercic.
"Conversely, we've got directors who presented in Works-in Progress, such as Hafsteinn Gunnar Sigurðsson, who came with Paris of the North last year, who is back with his new project The Tree. We're establishing a real network."
Icelandic director Runar Runarsson's Sparrow, about an adolescent from Reykjavik who is sent to live in a small town with his father when his mother is posted abroad, is expected to clinch a Berlinale or Cannes slot next year.
His debut feature Volcano played in Directors' Fortnight at Cannes in 2011 and was Iceland's submission for the Best Foreign-Language Oscar in 2012.
For the first time, Arte will award a €4,000 ($5,000) prize to one of the projects in the co-production village. For the second year, post-production company LVT will offer film in the Work-in-Progress section €6,000 ($7,400)worth of services.
Projects
Those attending include UK director Kevorkian and his producer Ashley Horner of Pinball Films who will be at the village with thriller Hidden Folk, set on a remote Norwegian farm. Petter Olsen of Norwegian producer Kindergarten Media is already attached to the project as is actor Kristofer Hivju (Force Majeure, Game of Thrones).
Israeli director Tom Shoval and producer Sol Bondy will present upcoming Tel Aviv-set Shake Your Cares Away about a wealthy woman who lives a double life: as Dafna, the daughter of one of the richest families in Israel; and Alma, a modest, idealistic woman who works in a soup kitchen.
The selection also includes the latest project from Russian director Angelina Nikonova, The Thirtieth Love starring Olga Dykhovichnaya as a rebellious 30-year-old piano teacher living in Moscow in 1983. Nikonova's last film, Welcome Home, played at this year's Karlovy Vary Film Festival.
Norwegian-Pakistani director Iram Haq and producer Maria Ekerhovd of Mer Film will also be hitting the alpine platform with What Will People Say about a young Pakistan girl who is forcibly taken to Pakistan after her family discovers her with a Norwegian boy. Germany's Rohfilm recently boarded the project.
Genre
Kaludjercic added that the selection has been broadened in scope to include commercial fare and genre films.
"We have some animation films such as Zombillenium, for example, which is something that will do well at the French box office," she said.
"Genre film is on the rise in Europe at the moment and we'd like to help these sorts of projects find partners and sales agents, while continuing to support more art-house style titles too."
Documentaries
For the first time documentaries will be presented at the village including Fienne's Grace Jones – The Musical of My Life, capturing private and public worlds of the iconic performer, with personal footage and staged sequences.
French filmmaker Renaud Barret and producer Yves Chanvillard of Paris-based Flickshift will be looking for partners for System K following the quest of celebrity Congolese artist Freddy Tsimba to organise a free arts exhibition in the streets of Kinshasa. Barret's previous works include Benda Bilili! and Victoire Terminus
Kamila Kubiak and Olivier Patté will unveil their animated documentary Comrade Stalin about a Jewish child deported from Poland to Siberia at the beginning of the Second World War. It is produced by Nicolas Schmerkin's award winning animation company Autour de Minuit
The Lobster case study
In other events during the co-production village, Andrew Lowe of Element Pictures will participate in a case study on Yorgos Lanthimos's first English-language film The Lobster, starring Colin Farrell, Rachel Weisz, Ben Whishaw and Léa Seydoux, alongside its French co-producer and distributor Carole Scotta of Haut et Court.
The futuristic love story is produced by Element Pictures, Limp and Scarlet Films, with support from the UK's Film4, the BFI Film Fund and Bord Scannan na hEireann/Irish Film Board the films also involves several continental Europe partners alongside Haut et Court.
Conferences and workshops
Les Arcs will also host the European Film Agency Directors group (EFAD) for a workgroup.
"The workgroup is designed as a meeting place between major European distributors and EFAD members in order to exchange views on the "digital single market, piracy and copyright," according to Kaludjercic.
Low Budget Film Forum
Alongside the mainstream project and Works-In-Progress sidebar, the village will also host the Low Budget Film Forum, organised in collaboration with the London Film School.
The sidebar, which also complements the Film School Village at Les Arcs, will show first professional features from recent graduates from eight top film schools (see below for list).
Co-production Village
Felix and Vincent, dir Manuel Schapira, produced by Alain Benguigui, Manufacture (France)
Hidden Folk, directed by Johnny Kevorkian, produced by Ashley Horner, Pinball Film (UK)
The Island of the Dolls, directed by Pascal Sid, produced by Raphael Cohen, Daigoro Films (France)
Our Madness, directed by Joao Viana, produced by Francois D'Artemare, Les Films de L'Après-Midi (France)
One Step Behind the Seraphim, directed by Daniel Sandu, produced by Ada Solomon, Parada Films (Romania)
Red Dust, directed by Marco Amenta, produced by Simonetta Amenta, Eurofilm (Italy)
Spring Again, directed by Gael Morel, produced by Anthony Doncque, TS Productions (France)
Shake Your Cares Away, directed by Tom Shoval, produced by Sal Bondy One Two Films (Germany)
The Fox, directed by Matthias Ludhardt, produced by Olivier Damian, 27 Films Production (Germany)
The Thirtieth Love, directed by Angelina Nikonova, produced by Julia Mishkinene, Vita Aktiva (Russia)
What Will People Say, directed by Iram Haq, produced by Maria Ekerhovd, MerFilm (Norway)
System K, directed by Renaud Barret, produced by Yves Chanvillard, FlickShift (France)
Cycle, directed by Aku Louhimies, produced by David Collins, Samson Films (Ireland)
The Tree, directed by Hafsteinn Gunnar Sigurðsson, produced by Thor Sigurjonsson, Zik Zak Works (Iceland)
Gutland, directed by Govinda Van Maele, produced by Gilles Chanial, Les Films Fauves (Luxemburg)
The Giant of Odessa, directed by Nicolas Engel, produced by Anna Grange, Unlimited (France)
Sea Fever directed by Neasa Hardiman, produced by Brendan McCarthy, John McDonnell, Fantastic Films (Ireland)
My Mother and I, directed by Ivano de Matteo, produced by Marco Poccioni, Marco Valsania, Rodeo Drive (Italy)
Comrade Staline, directed by Kamila Kubiak, Olivier Patté, produced by Nicolas Schmerkin, Autour de Minuit (France)
The Voice, directed by Gyorgy Palfi, produced by Ferenc Pusztai, KMH Film (Hungary)
Trade, directed by David Roddham, produced by Alan Maher, Roads Entertainment (Irish)
ESP, directed by David Kew, produced by Neil Thompson, Formosa Films, (UK)
Zombillenium, directed by Arthur de Pin, produced by Henri Magalon, Maybe Movies (France)
Coureur, directed by Kenneth Mercken, produced by Eurydice Gysel, Czar TV (Belgium)
Grace Jones - The Musical of My Life directed by Sophie Fiennes, produced by Sophie Fiennes, Blinder Film, Katie Holly, Amoeba Films (UK/Ireland)
Work-in-Progress
We Are Dead, directed by Tobias Nölle, produced by Christof Neracher, Hugo Film (Switzerland)
High Sun (Zvizdan), directed by Dalibor Matanic, produced by Ankica Tilic, Kinorama, (Hungary)
Family Film, directed by Olmo Omerzu, produced by Jiri Konecny, Endorfilm, (Czech Republic)
My Name is Emily, directed by Simon Fitzmaurice, produced by Lesley McKimm and Kathryn Kennedy, Newgrange Pictures & Kennedy Films, (Ireland)
The Rams, directed by Grimur Hakonarson, produced by Grimar Jonsson, Netop Films (Iceland)
Sparrow, directed by Runar Runarsson, produced by Mikkel Jersin, Nimbus Film, (Denmark)
Magic Mountain, directed by Anca Damian, produced by Guillaume de Seille, (Romania, France)
Pioneer Heroes, directed by Natalia Kudryashova, produced by Natalia Drozd, CTB Film Company, (Russia)
It's Time,directed by Adrian Sitaru, produced by Anamaria Antoci, 4 Proof Film, (Romania)
Galloping Mind, directed by Wim Vandekeybus, Bart van Langendonck, Savage (Belgium)
Low Budget Film Forum
Notes of Berlin, directed bt Mariejosephin Schneider (DFFB - Germany)
The Bridge, Sylvain Coisne (La Fémis - France)
Summer 1993, Carla Simon Pipo (London Film School – UK
My Girl, Matei-Alexandru Mocanu (UNATC - Romania)
Airsoft, Lucas Delangle (La Fémis - France)
Self Defence, Sebastian Condurache (UNATC - Romania) The White Cell, Allyn Quigley (The National Film School - Ireland)
Black Wolves, Camille Lugan (La Fémis - France)