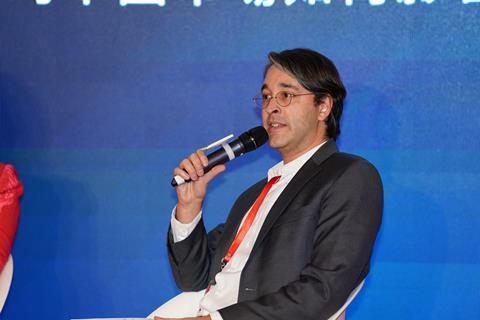 The Industry Forum at the second annual International Film Festival & Awards Macao (IFFAM) tackled three main areas of discussion: how film can compete in a world of better TV; the role of film festivals in the modern landscape; and how the growing Chinese market is impacting the rest of the global film industry.
The forum was comprised of nine sessions, three devoted to each topic, with invited industry experts speaking freely behind closed doors. After the private sessions, the moderator for each topic gave a public recap of highlights and conclusions.
"We were inspired to get industry people together to talk behind closed doors and have the freedom to exchange ideas. That's what we want Macao to be, a place to exchange ideas and stories," said IFFAM artistic director Mike Goodridge at the forum. The closed-door model is inspired somewhat by Locarno's StepIn industry sessions.
Gilbert Lim, EVP of Thailand-based Sahamongkolfilm International, recapped the TV discussions. "The labels were wrong," he asserted. "It's not about the film industry looking at TV getting better, it's about the big screen against other media. How do we make it so that people are going to the big screen more, or at least maintain those audiences?"
He did say that TV or Netflix was drawing top talent and "it's doing really well…[but] the consensus in the end is that it's just a disruption."
Lim said that to attract younger audiences, distributors and exhibitors "need to do creative digital marketing on these platforms [social media and mobile phones] to get these audiences into the cinemas."
He added: "The panelists were talking more about theatrical exhibitors not maintaining cinemas, not having good quality screening rooms for people to go in. The actual quality of films – most panelists decided – is still maintained."
Festival futures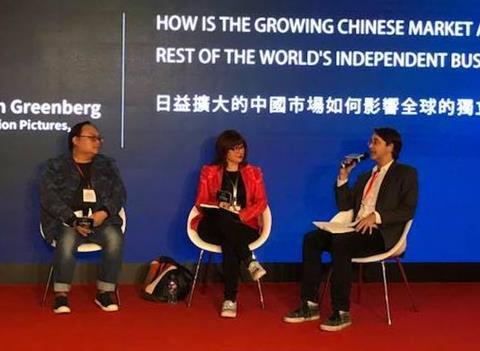 Clare Stewart, festival director of BFI London Film Festival, recapped the festival discussions she had moderated. Those experts concluded that "festivals were more important than ever: preserving a space for diverse films from around the world, and preserving the big-screen experience."
She noted that there is not just one type of event – myriad film festivals were "very different beasts" but each had "an active knowledge of their own territory and audiences. They had tactics and strategies that were ensuring they are working as a gateway to their own territory, with activities to connect people in the business of buying and selling films. That is activity happening behind the scenes."
Stewart added that in looking at the future of festivals, experts agreed they could do more in the life cycle of films. "It was interesting in thinking about the increase of future value of festivals in the life of a film – what festivals can do to support the life of the film after the festival, in release, or on VOD platforms." She noted that festivals can add value even in practical ways, for example recording festival Q&As to help promote the films on social platforms later.
The festivals panels had also debated whether Amazon Prime's flat offer to some festival films (they acquired 40 titles out of SXSW 2017 for instance) was "a good thing or a bad thing" and they also looked at how the professionalisation of Chinese film festivals had helped the domestic market.
Looking to China
Jonah Greenberg, president of motion pictures at CAA China, moderated the sessions about the Chinese market. Looking at the export of Chinese films, he noted that this can be tricky because of the content and cultural biases. "Consensus seems to be it's not a failure of the system, it's a failure of the movies," he said.
Of course, with Chinese films able to make so much money in their home market, international success isn't always a priority. "Because of the health of the Chinese market and the growth, it's not essential that the movies succeed overseas. It's not like in some of the smaller European countries, where the market can only sustain so much output, so filmmakers have to make sure their movie travels. The robust Chinese box office is a mixed blessing, it allows people to not challenge themselves as much [to work internationally]," Greenberg said.
He added: "A lot of up-and-coming filmmakers are finding success in China, they are not compelled to work in Europe or the US."
Stewart observed: "For me working in the space of culture and the exchange of culture, I felt this rising sense of urgency. China could be on the cusp of having this parochial, inward-looking industry if it's only telling stories for its own market. Certain sales reps were saying that producers in China markets need to understand the value of festivals playing their films internationally."
One positive development, Greenberg noted, was film imports to China. "It was positive to know that the Chinese audience is getting more sophisticated, wanting to watch more indie films and foreign films. It's a real renaissance for box office in China for non-Chinese movies and non-Hollywood movies." He pointed to recent hits in the country such as India's Dangal and Spain's Contratiempo.
Greenberg added: "It's not breaking news but the Chinese film industry is making more things possible for its counterparts in other parts of the world. It's providing an audience for movies that are struggling to find their audiences. To me, it's becoming, Netflix, Amazon, then China."