When RIFF (Reykjavik International Film Festival) was founded in 2004, expectations for the new event were far from high.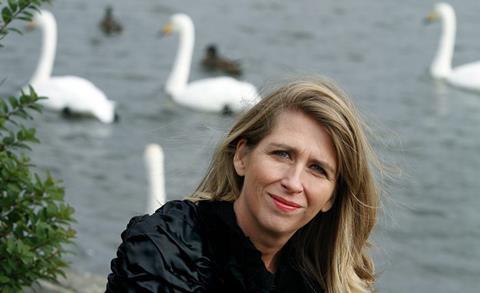 "Many people said at the beginning that this is an event no-one will be interested in," recalls festival director and founder Hrönn Marinósdóttir.
The local distributors told her that young people liked only Hollywood films and that RIFF had little chance in working.
In its 12th edition, the picture is very different. It is now estimated that around 30,000 people will attend festival events of screenings - that's to say close to 10% of the Icelandic population (which stands at approximately 323,000) .
The biggest audience group is young people, aged 18-30. Ticket pricess are accessible (at the equivalent of under €10).
"We want everybody to access the festival and so we have student discounts and discounts for the elderly."
David Cronenberg and Margarethe Von Trotta have been in Reykjavik this week. At a special ceremony on Wednesday evening held at Bessastaðir; the home of the president of Iceland Ólafur Ragnar Grímsson, both were awarded honrorary Lifetime Achievement Awards.
Back in 2004, Marinósdóttir, an Icelandic journalist who had been living in Spain, realised that very few of the best independent films shown in festivals and distributed elsewhere in Europe were reaching Iceland. On journalistic trips to the Berlinale and eslewhere, she had seen how festivals could give cities a huge shot of energy.
"It was ot only for the filmmakers but also for the public," Marinósdóttir recalls. "It was in the back of my head that this was something we really needed for Iceland."
After taking an MBA degree, Marinósdóttir had made a proposal to the Ministry of Culture and the city authorities to launch a festival in Reykjavik. They agreed. "The idea was first and foremost to change the cinema culture of Iceland. We wanted to show the Icelanders that there are extremely good films producer in Europe and all around the world."
As the organisers quickly discovered, Reykjavik is an excellent place in which to hold a festival. It is compact and picturesque. Early guests included figures like Guy Maddin, Costa Gavras and Alexander Sokurov. The "big names" from world cinema always seemed to relish the chance to come to Iceland. Reykjavik is known as "a young, vibrant" city and the organisers were detemined that the event would reflect the atmosphere in the city.
The big names of contemporary Icelanidic cinema, from the veteran Friðrik Þór Friðriksson to Everest director Baltasar Kormákur, have championed RIFF from the outset. This year, two episodes of Kormákur's new Icelandic crime TV series Trapped are screening as the festival's closing night event.
Marinósdóttir has worked closely with top-level international programmers to ensure that the festival has been able to secure top-level films. Veteran cinephile, journalist and festival director Giorgio Gosetti (Venice Days supremo) is currently the main programmer while Chris McDonald (Hot Docs) oversees the documentary selection.
The festival also looks to promote women's film "as much as possible." This year's programme (including shorts as well as features) has around 50 women directors represented. 2015 is the centenary of women's right to vote in Iceland. To mark this, RIFF has been staging various events including a workshop for 70 teenage girls which was overseen was by Kormakur.
One other key strand in this year's festival has been the In Focus: Denmark. Relations between Iceland and Denmark have been spiky in the past (Iceland used to be part of the Kingdom of Denmark) but there are increasingly close relations between the film industries of the two countries. Icelandic audiences relish Danish movies and there are more and more Icelandic-Danish coproductions. Sparrows, for example, is an Icelandic-Danish coproduction.
As RIFF has grown, it has helped that Iceland has become increasingly popular both as a tourist destination and as a location for high profile international production (from Interstellar to Game Of Thrones.)
This year's "Industry Days" events have included masterclasses (from Cronenberg and Von Trotta); a tribute to filmmaker Sólveig Anspach, one of the festival most fervent early supporters who died earlier this year; a high-level panel on film festivals and their selection processes, a trip to production company Saga Film (whose scredits range from Batman Begins to A View To A Kill) and a presentation of New Icelandic Films: Work In Progress.
One showpiece event was Thursday evening's premiere of Icelandic director Runar Runarsson's Sparrows, fresh from winning The Golden Shell in San Sebastian.
Marinósdóttir is already looking ahead to next year's event where she has confirmed that Poland will be the country in focus.