The 11th Rome Film Festival (Oct 13-23) will feature an extended programme of screenings and talent.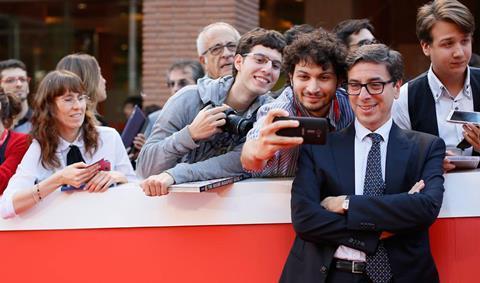 With four different artistic directors serving across its 10 previous editions, Rome Film Festival has struggled to build an identity, even if it has never had to fight to attract an audience. For its 2016 event (October 13-23), the festival — which succeeded in presenting a masterclass by the elusive Terrence Malick in 2007 - is doubling its bets on talent and films.
In his second year as artistic director, Antonio Monda [pictured top], who views his management of the festival from New York as a strong advantage ("Imagine how much more pressure I would suffer in Italy!"), has made full use of his connections. As a result, the signature section of masterclasses, now called Close Encounters, has increased its sessions from 10 to 15 thanks, Monda says, "only to my personal relations with A-list talents such as Tom Hanks, Oliver Stone, Viggo Mortensen or Meryl Streep".
All four will take part this year, with Hanks receiving a lifetime achievement award. Known for being very selective, Monda has also cut the quota of Italian films from 13 titles last year to four this year, and does not strive for world premieres; the festival is opening with the Toronto and Telluride sensation Moonlight, which also plays the BFI London Film Festival.
"It's a Jurassic idea," says Monda of international festivals' emphasis on world premieres, "and I was happy to read that [Venice director] Alberto Barbera spoke openly against it. Take the New York Film Festival; it only has a few [premieres], like we will, and it's the best festival in the world. Good films are what I care about, therefore we selected only four Italian titles, mostly from unknown auteurs. It's the best way of serving our industry - screening what we consider the most interesting talents."
The Return of MIA
This year will mark the second edition of the International Audiovisual Market (MIA), conceived by Italy's National Association of Cinema and Audiovisual Industries (ANICA) and Association of Television Producers (APT). MIA, according to head Lucia Milazzotto, has positioned itself as "a converging hub for TV and cinema, populated by key professional figures that often do both".
This year, MIA cinema co-production market features 24 projects, both fiction and documentary, from 14 countries, which will be presented to the industry between October 21-23. This includes a focus on YA projects, which Milazzotto describes as "both a strategic move as a market and a good production field for Italy to present".
The market has a new section for 2016, MIA TV. Events specific to the television industry are particularly important, says Milazzotto, as the benefits of TV production in Italy are relatively little-known outside the country. "We have culture, talent and knowledge for TV co-production that needs to be shown," she says. "Therefore, MIA doesn't aim at high attendance, it aims at results."
Don't miss
As part of the Close Encounters section, novelist Don DeLillo will be on stage in a masterclass dedicated to the cinema of Michelangelo Antonioni. The author of White Noise and Libra has spoken previously about the debt he owes to Antonioni's movies.
Hot Docs
Documentaries are no novelty at MIA but, as the market grows, a new section will explore it in more depth. Instead of overviewing the doc scene horizontally, MIA will deal with it, as Lucia Milazzotto puts it, "very vertically, almost drilling it". One new initiative is the Arts & Culture Pitching Forum (October 20-22), during which new projects will be presented to an international audience. Parallel events include screenings of music concerts, museum explorations, transmedia experiments and cultural biopics. Merging television and film, the documentary focus is designed to attract industry professionals along with exhibitors interested in feature documentaries for the festival circuit as well as arthouse and indie projects.
Networking
The official location of the market is once again the Boscolo Exedra Roma Hotel, which is within walking distance of the railway station and in the same square as the The Space multiplex screening venue. Head across the square to check out the Terme di Diocleziano (former thermal baths) and the Planetario (once a planetarium); these two Roman sites are the places where the buzziest networking is likely to happen.