Tom Sommerlatte's debut Summers Downstairs (Im Sommer wohnt er unten) was picked by the audience at this year's Oldenburg International Film Festival (Sep 16-20) for the German Independence Award.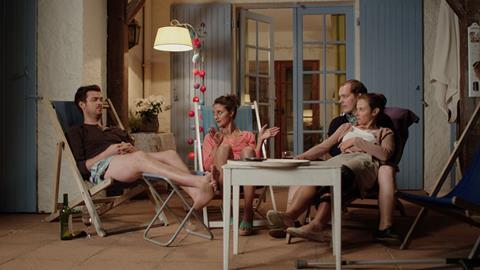 The French-German co-production, handled internationally by ARRI Worldsales, premiered in the Berlinale's Perspektive Deutsches Kino sidebar in February, won Best Feature Film at the Achtung Berlin! festival in April, and was the opening film of Filmfest Schwerin in May.
There were double honours for Sommerlatte at the closing night gala on Sunday (Sep 20) when the nomination jury for the European Film Awards' European Discovery - PRIX FIPRESCI announced that Summers Downstairs had been chosen as one of five finalists.
The Seymour Cassel Award - in honour of one of Oldenburg's aficianados - was shared this year for the first time between two actors: actress Sarah Silverman for her performance in I Smile Back and former European Shooting Star Nikola Rakočević for his role in Travelator
The German Independence Award for the Best Short went to the Dutch filmmaker Martijn De Jong for Free.
Budget restrictions, however, meant that, for the second year running, the festival was not able to invite a jury to decide on the winner of the German Independence Award for Best German Film.
The 2015 edition was attended by such international guests as director George Armitage and actress Joanna Cassidy - who were the subjects of this year's retrospective and tribute, respectively - as well as Boman Modine (Merry Xmas), Whitney Able (Dark), Eliza Bennett (Haters), Claire Carré (Embers), Alex Holdridge and Linnea Sassen (Meet Me in Montenegro), and Nick Basile (Dark).
Hamburg fetes Deneuve
This year's Filmfest Hamburg (Oct 1-10) will play host to the legendary French actress Catherine Deneuve, who will attend the German premiere of Jaco van Dormael's latest film The Brand New Testament, which will also be the festival's opening film.
The grande dame of French cinema's presence at the Filmfest is an opportunity for festival director Albert Wiederspiel to present Deneuve with the prestigious Douglas Sirk Prize.
The honour has been awarded over the past 20 years to figures including Clint Eastwood and Jodie Foster to Kim Ki-Duk and David Cronenberg in recognition of their contributions to the art of film.
The festival will feature 172 films from 52 countries, including Stephan Rick's adaptation of Martin Suter's eponymous bestseller, Die dunkle Seite des Mondes, Scott Graham's atmospheric drama Iona, premiering this week at San Sebastian and Tomm Moore's Oscar-nominated Song Of The Sea.
Other titles include Bujar Alimani's coming-of-age story Chromium, Peter Strickland's lesbian S/M drama The Duke Of Burgundy and Davis Guggenheim's documentary, He Named Me Malala.
The line-up also features Roberto Duarte's children's film Max's Movie, Deniz Gamze Ergüven's festival circuit favourite Mustang, Matthew Heineman's documentary Cartel Land, and Alexander Mindadze's Russian-German-UK co-production My Good Hans, which premiered at the Moscow International Film Festival in June.
In addition, a new section Transatlantic will showcase English-language North American cinema, ranging from Dito Montiel's Boulevard and Josh Mondt's James White to Noah Baumbach's Mistress America and Atom Egoyan's Remember.
This year's Filmfest will close with the German premiere of Iranian-German co-production Paradise by feature debutant Sina Ataeian Dena, who previously worked in animation.
Prize-money totalling more than $100,000 (€90,000) will be distributed by eight juries for the Hamburg Producers' Prize for European Cinema Co-productions, the Art Cinema Award, and the NDR Young Talent Prize.
Ukrainian filmmaker refuses Russian award as act of solidarity to Oleg Sentsov
Ukrainian filmmaker Marina Vroda declined to accept an award for her short Snails at the Kinoshock Film Festival (Sep 13-20) in the Russian town of Anapa in protest at Russia's detention and sentencing of her colleague Oleg Sentsov to 20 years imprisonment.
A member of the festival jury told the website Grani.ru that Vroda had been prevented from bringing a poster on to the stage, but was nevertheless wearing a badge declaring "Free Sentsov" (which has also been distributed in past months by the European Film Academy). Her announcement was greeted with applause from the audience at the closing ceremony, the website reported.
Vroda received a Palme d'Or at the Cannes Film Festival for her short Cross in 2011.
Another Ukrainian filmmaker Katerina Gornostay – the winner of a special prize for her short Poodal - was also applauded when she called on all filmmakers to do everything in their power to have Sentsov freed.
The Kinoshok festival has been running since 1992 and is open to the CIS countries as well as Estonia, Lithuania and Latvia