As Sundance and Slamdance prepare to kick off this week some insiders have predicted there could be a surge of activity from digital platforms besides Netflix and Amazon Studios.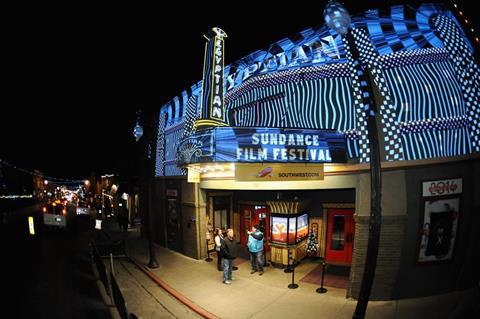 The latter two are expected to be active – and indeed have already taken a few Park City titles off the table – yet there is talk of other well-capitalised companies mulling over a splashy entry into the acquisitions arena.
The Sundance Film Festival runs from January 21-31.
Nimble digital platforms challenge traditional buyers
Faced with sharp digital rivals unencumbered by the need to spend on costly P&A and plugged into transactional data that enables them to target audiences with forensic precision, theatrical buyers will need to be on their toes.
The distribution landscape is crowded and unforgiving, yet creative marketing campaigns can pave the way to success.
Among others, A24 did it with Ex Machina and Fox Searchlight reaped rewards with its 2015 Sundance pick-up Brooklyn, earning Oscar nods and $25m and counting at the North American box office.
However, the distributor was not so successful with Me And Earl And The Dying Girl, nor did Open Road prosper with Dope – two acquisitions that inspired rave responses in Park City last year and seemed destined for greatness.
In the end, the summer releases respectively grossed $6.8m after a reported $6m worldwide buy and $17.5m after a $7m worldwide buy (with Sony on board for international) - not including P&A commitments - and got nowhere in the awards season.
"Maker Studios, Awesomeness TV and YouTube could start acquiring in Sundance," said one source who is often in the thick of festival transactions. "And Netflix and Amazon will be aggressive."
On-again, off-again speculation over the potential of YouTube becoming a buyer of note has gone on for years and it remains to be seen when the sleeping giant will awaken from its slumber.
Awesomeness Films, the ambitious platform led by former Lionsgate and CBS executive Matt Kaplan, is in the market to produce and buy features and says it wants to mount 12-15 theatrical and/or digital launches per year.
Leadership at parent company Awesomeness TV have said publicly they believe Millennials are woefully underserved by film and it seems reasonable to expected Kaplan and his team to be on the ground at Sundance and Slamdance.
Maker Studios has the infrastructure to push out appealing feature content via its OTT platform. It is owned by Disney.
Netflix, Amazon snap up Sundance titles
Netflix has already taken worldwide streaming rights to Premieres selection The Fundamentals Of Caring starring Paul Rudd following a deal last week with CAA and UTA and previously acquired Tallulah from ICM Partners.
Amazon Studios is understood to be chomping at the bit to bulk up its content and gain ground on Netflix this year. Distribution and marketing head Bob Berney and production chief Ted Hope are intimately connected to the independent world and have been Sundance regulars for many years in their previous iterations.
Amazon brokered a deal with Cinetic Media for all rights to the 18th century-set romance Love & Friendship starring Kate Beckinsale and Chloe Sevigny and plans a spring theatrical release for the Premieres entry.
The ability by digital companies to move quickly on acquisitions puts pressure on international buyers too. If Netflix gobbles up the world on a title, its appeal could plummet.
Heading into the opening weekend buyers of all shapes and sizes will have their eyes on a number of tasty acquisitions prospects.
Some Sundance films are already off the table. As previously announced, Sundance Selects picked up North America on the documentary Weiner, which Showtime will air in the autumn. Submarine holds remaining international rights.
The Weinstein Company will distribute Sing Street and Alchemy will release Rob Zombie's 31, which Protagonist Pictures handles internationally. Bleecker Street will release Viggo Mortensen starrer Captain Fantastic, while Lionsgate holds North American and UK rights to Operation Avalanche, which XYZ Films sells internationally.
Slamdance hot prospects include a trio of screenings on January 23 at The Ballroom: Submarine Entertainment's psychothriller Let's Be Evil from Martin Owen at 3.15pm; Alex Simmons' drama Honey Buddies, which UTA represents and screens at 5.30pm; and Angela Boatwrights' documentary Los Punks: We Are All We Have at 8pm, handled by The Film Sales Company.
Hot acquisition targets at Sundance 2016
The following is a by no means comprehensive list of some of the films likely to pique buyer interest.
Thursday, January 21
Relationship dramedy Other People from Saturday Night Live writing supervisor Chris Kelly starring Molly Shannon. (Day One film, US Dramatic Competition; 9pm Eccles; WME Global represents worldwide rights.)
Belgica, Belgian maestro Felix van Groeningen's music-infused follow-up to former Oscar nominee The Broken Circle Breakdown. (World Cinema Dramatic Competition; 5.30pm P+I, Holiday Village 1; producer Dirk Impens holds US rights / Match Factory handles international sales.)
Friday, January 22
Israeli filmmaker Elite Zexer's Sand Storm focuses on a fiercely independent young Bedouin woman (World Cinema Dramatic; 9.30am, P+I, Holiday Village 3; Beta Cinema handles international sales.)
Nanfu Wang documents the life of the eponymous Chinese activist Hooligan Sparrow as she defies harassment by the authorities in her ongoing protest over the alleged sexual abuse of six elementary schoolgirls (World Documentary Cinema; 12noon, Yarrow; Submarine holds worldwide rights.)
Morris From America is a fish-out-of-water story by Chard Hartigan about a young teenage African-American who relocates with this family to Germany (US Dramatic; 12.15pm Eccles; UTA / Visit Films international.)
Chilean filmmaker Alejandro Fernández Almendras won the Sundance 2014 World Cinema Dramatic grand jury prize for To Kill A Man and returns with Much Ado About Nothing, a tale of social injustice that echoes the ongoing 'affluenza' case in the US (World Cinema Dramatic; 1pm P+I, Holiday Village 4; Film Factory holds worldwide rights)
Swiss Army Man from music video hotshots Daniel Scheinert and Daniel Kwan stars Paul Dano and Daniel Radcliffe in the tale of a lovelorn man on a desert island who encounters a corpse that might be his ticket back to civilisation (US Dramatic; 3.30pm Eccles; WME, UTA and ICM Partners.)
Period romance Ali & Nino comes from Asif Kapadia, whose Amy is in the running for the best documentary Oscar (4pm, P+I, Holiday Village 4; CAA holds US rights; IM Global international.)
Todd Solondz, whose career started at Sundance with the 1996 grand jury prize-winner Welcome To The Dollhouse, is back with a tale of a daschund that touches people's lives in profound ways in Wiener-Dog (Premieres; 6.30pm, Eccles; CAA / Annapurna International.)
Documentarian Andrew Neel's second narrative feature Goat centres on the world of hazing (US Dramatic; 9pm, Library; CAA.)
A boy and his new foster family are flung together in unusual circumstances in Hunt For The Wilderpeople, New Zealand director Taika Waititi's coming-of-age road comedy and follow-up to What We Do In The Shadows (Premieres; 9.30pm, Eccles; CAA / Protagonist.)
Babak Anvari's Tehran-set ghost story Under The Shadow set during the Iran-Iraq War pits a plucky mother and her daughter home alone against malevolent djinn spirits (Midnight, The Egyptian; XYZ Films holds international rights.)
Saturday January 23
Clay Tweel's Gleason is one of the most anticipated documentaries of the festival and tells of former NFL defensive back and New Orleans hero Steve Gleason and what he chooses to do after he is diagnosed with ALS. (US Documentary; 11.30am, The Marc; WME and UTA.)
Kenneth Lonergan announced his arrival with the 2000 grand jury prize-winner You Can Count On Me and returns to Park City with Manchester By The Sea starring Casey Affleck as a broken man who is named guardian to his 16-year-old nephew from (Premieres; 3pm, Eccles; WME Global / Sierra/Affinity international.)
Simon Killer and Afterschool director Antonio Campos is back to haunt with Christine starring Rebecca Hall as the real-life TV anchor Christine Chubbuck who killed herself live on air. A companion piece to Robert Greene's US Documentary entry Kate Plays Christine (US Dramatic; 6pm, P+I, The Library; UTA and WME Global.)
Trash Fire stars Adrian Grenier as a man in a troubled relationship who takes his other half to visit his strange relatives in Richard Bates Jr's horror entry (Midnight; The Egyptian; XYZ Films and Preferred Content worldwide.)

Werner Herzog explores connectivity and the dark side of the internet in Lo And Behold: Reveries Of The Connected World (Documentary Premieres; 8.30pm, The Marc; Submarine holds worldwide rights.)
Sunday January 24
Dramatised accounted of Barack Obama's first date with his future wife Michelle in Southside With You (US Dramatic; 12.15pm, Eccles; WME Global / IM Global international.)
Kelly Reichardt presents a female acting powerhouse, reuniting with regular lead Michelle Williams alongside Kristen Stewart and Laura Dern in the drama about intersecting lives in smalltown America in Certain Women (Premieres; 3.30pm, Eccles; UTA)
Joshy marks Jeff Baena's follow-up to his 2014 Sundance debut Life After Beth (US Dramatic; 6.15pm, The Library; WME Global worldwide.)

Screenwriter, producer and former Focus Features CEO James Schamus makes his directorial debut on the 1950s-set Philip Roth adaptation Indignation starring Logan Lerman and Sarah Gadon (Premieres; 6.30pm, Eccles; CAA / FilmNation international.)
Brahman Naman is an Indian road movie about a misfit university quiz team directed by the intriguingly named Q (World Cinema Dramatic; 8.30pm Prospector; UTA.)
A multiplex shooting forms the backbone of Tim Sutton's Dark Night (NEXT; 9pm, The Library; Cinetic Media.)

Rick Fox's documentary The Blackout Experiments profiles the extreme popular horror experience Blackout (Midnight, Egyptian; CAA.)

Kevin Smith is back with Yoga Hosers, the second entry in his Canada-set True North trilogy that began with Tusk and will end with Moose Jaws. (Midnight; The Library; WME and UTA / XYZ Films.)
Monday January 25
Will Allen shares his footage shot while he belonged to a California cult in Holy Hell (US Documentary; 12noon, Temple Theatre; The Film Sales Company handles worldwide.)
Nate Parker stars in his eagerly awaited The Birth Of A Nation (pictured) as Nat Turner, leader of the biggest slave revolt in US history. (US Dramatic; 3.15pm, Eccles; WME Global worldwide.)
Tahir Jetter spins a tale about a relationship blogger in Brooklyn who meets his match in How To Tell You're A Douchebag (NEXT; 5.30pm, Prospector Square; The Film Sales Company handles worldwide.)
Eat That Question – Frank Zappa in His Own Words by filmmaker Thorsten Schütte – say no more. (Premieres; 8.30pm, Prospector Square; Submarine.)
Debutant Miles Joris-Peyrafitte worked with Kelly Reichardt on his short and brings his dark coming-of-age debut As You Are to Park City (US Dramatic Competition; 8.45pm, The Library; WME Global worldwide.)
Tuesday January 26
The iconic director examined in Richard Linklater – Dream Is Destiny by Emmy Award winner Karen Bernstein and The Austin Chronicle co-founder Louis Black (Documentary Premieres; 12noon, The Library; Cinetic Media.)
Clea DuVall makes her directorial debut on the ensemble drama The Intervention (US Dramatic; 3pm, The Eccles; ICM Partners and Gersh.)
Family comedy The Hollars from John Krasinski, who also stars opposite Anna Kendrick (Premieres; 5.30pm P+I, Holiday Village 1; WME Global worldwide.)
Wednesday January 27
Matthew Ross' psychosexual noir Frank & Lola stars Michael Shannon and Imogen Poots (9.45pm, Eccles; CAA and Preferred Content; Arclight.)