The Latvian filmmaker discusses the enduring relevance of his historical drama, which celebrates the power of the human spirit.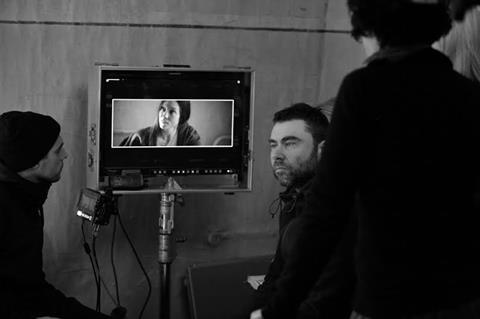 The international premiere of Latvian director Viesturs Kairišs' historical drama The Chronicles Of Melanie takes place at Tallinn Black Nights, where it has been selected as one of the 12 films playing in main competition.
The film, which is a Latvian, Czech Republic and Finnish co-production, is based on the memoirs of Melānija Vanaga, a Latvian woman who survived the first wave of deportations to Siberia in 1941 when her country was occupied by the Soviet Union.
Focusing on Melanie's preservation of hope despite famine, cruelty and the responsibility of caring for others, the film shines a light on the Latvian women who suffered in order for their country to survive. Sabine Timoteo (The Free Will) stars in the title role.
Kairišs, an opera, theatre and film director who has made a career in both Latvia and Germany, spoke to Screen ahead of the film's premiere.
What inititally drew you to Melānija's memoirs?
When I first had the idea to make a film out of this story, I didn't think about the international audience. I just found that the story was very strong and somehow very human. It's such a tragic moment for Latvian history, but I saw something much bigger than just this historical moment. I saw this history about the power of the human spirit, and how that spirit is much stronger than any circumstances or obstacles or wars.
The film saw its Latvian premiere on November 1. What has the reception been like so far, and has there been any controversy surrounding the film, specifically in Russia?
When we started to develop the film, we thought about the possibility of really shooting in Siberia. We connected with possible co-producers from the Russian side, but they immediately rejected any such idea. They said, 'come on, guys, you must understand there will be no money for this kind of project in Russia today.'
For such an arthouse film, it has an enormous audience, with more than 30,000 viewers or something in Latvia. But there is still violence and ignorance from the Russian side. You can't hear about it in Russian-speaking newspapers. But there's no controversy in Latvia so far.
What do you think The Chronicles Of Melanie means to the Latvian community?
It was somehow only when the film was released that I could understand how deeply the Latvian people are connected with this tragic event, and how many personal stories come out of this tragedy. It's not just old people who are coming to see the movie. There are a lot of young people and a lot of very active people in Latvia seeing it.
That was my only artistic tension, to develop this huge scale story. It's more than just the tragedy of one human; it's a tragedy of a bigger scale and a big nation. I was never interested in making a historical genre movie about this tragedy, like Schindler's List or a Hollywood-style movie. I just wanted to continue working in the arthouse field. That was very interesting to try to make a movie about this historical event but by a different approach.
You have your international premiere for the film at Tallinn Black Nights. How do you think an international audience will react?
I don't know what people in Europe think about the Baltic situation with Russia, but it's very important to remind them of this historical event and what happened to us, because it deeply influenced our society. To remind everyone to please try to do everything so these kind of things will never happen again. But I can't expect anything. I just want people to see the film.
Was there a scene in the film that was particularly difficult to shoot?
There were a lot of scenes, but shooting in the village we created on the border of Russia. It was six hours from Riga, and we crossed all of Latvia in buses and cars. While you're coming to a shooting location, you're already supposed to be in the mood. It took everybody out of the comfort zone of daily life. We were trying to somehow create these conditions that could help get everyone in the right atmosphere of the film. It was not easy, of course, and the producers were not very happy. It was much more expensive than to build something like that next to Riga.
The film is funded in part by the National Film Centre of Latvia. Were there any difficulties in getting The Chronicles Of Melanie financed?
In Latvia, we're not ready to finance such an expensive film. When we got the first financing, it was really a very small amount of money. We [had to wait for] four or five years, and it was not because of some artistic reason; it was because of complications with financing. We were shooting a little bit, then a little bit, and then waiting for the next amount of money.
Looking past Tallinn, do you have any projects planned?
One idea will be to make a continuation of this movie, about Melanie in Latvia. I want to come back to her story because it's even more tragic. She had such a life, and she's written many books. It was very hard for these people to live in Soviet Latvia. Everything was so grey: your relatives don't want to be in touch with you, you can't find work, you see how Latvia is changing in front of your eyes. It's really very dramatic.
It's not going to be my next film. This film will need years. But Sabine Timoteo [who plays Melanie], who's from Switzerland, is so connected with this story that she already said she will be ready to do it.