Thomas Daneskov's low-budget DIY drama The Elite (Eliten) has won the New Talent Grand PIX at Copenhagen's CPH PIX.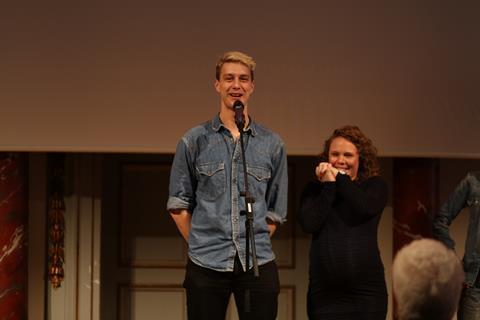 The international jury comprised Alex Ross Perry, Katrine Wiedemann and Gabe Klinger. They said they were "pleased to discover a deeply personal, relevant and contemporary new voice in Danish independent cinema with 'The Elite' by Thomas Daneskov, a disturbing and hilarious portrait of privileged youth made in a spirit of collectivity."

Daneskov, 26, wins €10,000 ($10,800) towards his next film.
The jury also gave a special mention to Limbo by Anna Sofie Hartmann, "which deployed stunning images through a rigorous and challenging form and which kept us thinking for days."
The Politiken Audience Award went to Dagur Kari's Virgin Mountain, the second Icelandic film in a row to claim the honour (after Of Horses And Men). The film is a tender portrait of a 43-year-old man who lives with is mother but wants to break out of his shell when he meets a woman at a dance class.
The runners-up for the audience prize were White God by Kornél Mundruczó and Marshland by Alberto Rodríguez.
In a new 'best nature film' competition, in collaboration with DR, the winners were Assa Rytter Jensen and Jo Ann Lyngklip Kyhlensø for Révolution de la Nature Moderne.
The jury said: "The film has sweetness, humor and a statement. A distinct idea carried out with the exact elements needed to convey the exact tone.
"The women's laughter, the switch to the music that makes it big and cinematic, the change back to the room, the laughter and the naturalism. Exactly enough vaginas to make it a story. Surprising and classic all at once."
The audience winner for best nature film was Simon Herbst for Skovfogeden.
Highlights
Other highlights of CPH PIX included a Vietnam spotlight and special programmes devoted to Alex Ross Perry, Larry Clark, Fabrice Du Welz and Bertrand Bonello.
CPH PIX had opened the local premiere of Jeppe Ronde's debut feature, festival hit Bridgend, and festival director Jacob Neiiendam paying tribute to head of programming Thure Munkholm, who passed away just weeks before the festival opened.
The festival continues through April 22 and will close with Thomas Vinterberg's Thomas Hardy adaptation, Far From The Madding Crowd.