Getting the Tallinn Black Nights Film Festival (BNFF) to a 'Class A' FIAPF status was 18 years in the works for festival director Tiina Lokk-Tramberg.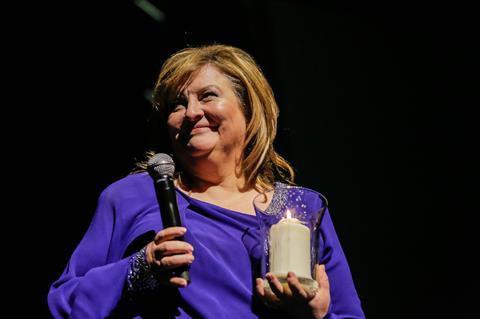 "Some things take patience," says Lokk-Tramberg whose prolific resume suggests patience is anything but her driving motto.
Before starting the BNFF in 1997, she attended the All-Union Institute of Cinematography in Moscow (a.k.a. VGIK) where she was the first student to take exams in English and Russian.
As a young Estonian, she didn't speak Russian although now she is fluent. She worked as an editor, screenwriter and freelance journalist, and subsequently founded distribution company FilmiMAX.
She has also lectured at Estonian Music and Theatre Academy, the Estonian Academy of Arts and currently the Baltic Film, Media, Arts an Communication School.
The fiercely passionate director sat down with Screen during the 19th edition of this year's BNFF.
This is a significant year for the festival. It is the first year you have the new section Tridens First Feature Competition as well as an international version of the Works in Progress industry event. You also have linked forces with the European Commission in hosting the European Film Forum. How are you managing?
The team is hard-working, and is a very diverse group - from Russia, Spain, South Korea, the Philippines, Germany, France. It has helped create a bigger landscape for a festival that sits in a timely position between AFM and Berlin.
This year we have more world premieres, more talent and more delegates - all of which is helping give credit to the festival's strong industry focus around the Baltic States and Scandinavia.
Sten [Sten-Kristian Saluveer] has also worked incredibly hard in putting a focus on film and technology which has fostered the relationship with the European Commission. There are important changes taking place in Europe's film industry and we are pleased to offer a platform where people can discuss this.
What has been the impact of the Class A FIAPF status that was awarded to the festival in 2014?
It's a quality mark. To get world premieres and international premieres is the responsibility of an A Festival. At the same time, this status is connected to the industry and altogether is important in creating synergy and support across Scandinavia and the Baltic region.
How much bigger is the festival compared to previous years?
At the beginning, the industry section was comprised of five or six distributors and now it has around 50. The number of industry delegates has almost doubled this year - jumping from 600 to nearly 1,000.
In terms of films - we have approximately 655 films in total from over 80 countries which includes 38 world and international premieres. That is more than we have ever had.
Regarding submissions: we had more or less 2,000 entries for competition which again is nearly doubled from last year.
Has the overall budget of the festival reflected these changes?
Unfortunately, the budget is the same (€1.5m) but we are somehow managing to make a much bigger festival. One third of the overall budget comes from public foundations, one third comes from the festival's ticket sales and another third comes from sponsorship. It's important to say money is great, but it's not the bottom line.
A lot of the films deal with sensitive issues - such as censorship around smaller, marginalised countries. Is that something you wanted to spotlight this year?
That is something we try and do with this festival. I very much care about helping with freedom and creativity around the world, and I want to to help give these films extra attention. We are not trying to be Berlin or Cannes - they are perfect how they are. But I am thinking I would like to build up a strong competition of our own with an aim to bringing focus to countries like Azerbaijan, Kazakhstan, Armenia and other small countries from Europe.
There is a considerable amount of female directors whose films are part of the different competition sections. Was that intentional?
That was pure coincidence. I don't like to give women unnecessary extra attention. I think we should all be treated equally. But once we did agree to the programming, it was impressive how many women are directing films here. Knowing there is a gender balance is nice.
What would you like to see happen in the next few years?
I have dreams of a cinema centre for the festival - where I could build up competitions with the black carpet. Right now I get sad when the competition screenings take place on the fifth floor of a cineplex where the guests have to go past a shoe shop and take an elevator.
We do have the Opening and Closing ceremonies in the Nordea Concert Hall, which is a wonderful venue, and our first black carpet there this year was a success.
But right now - I need to focus on this year's festival. We are rebuilding everything around the different competitions. I get nervous how audiences and filmmakers will react to films and how I can make sure they are happy. I also want to help drive international sales deals for these films.