Nearly 60 international and Canadian producers will head to the Ontario Media Development Corporation's (OMDC) annual International Financing Forum in Toronto.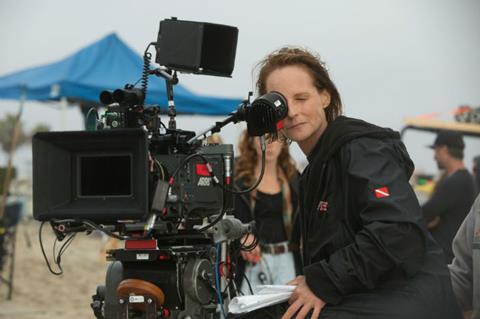 The 10th anniversary edition of OMDC's International Financing Forum (IFF), a feature co-financing market for English-language projects, will run Sept 13-14 during Toronto International Film Festival (Sept 10-20).
The projects include Drama, the third feature to be directed by Oscar-winning US actress Helen Hunt, written by Justin W. Lo ('Mistresses').
Scroll down for more projects
The two-day event includes one-on-one meetings, an industry panel discussion, roundtable meetings, a networking luncheon, and a producers' opening night networking reception.
IFF partners include Telefilm Canada, UK Trade and Investment (UKTI) and new sponsor Canadian Media Producers Association (CMPA).
More than 750 meetings will be scheduled for the 37 producer teams (20 Canadian projects and 17 international projects).
In total, 56 producers have been selected to participate in the programme from countries including: Australia, Germany, India, Israel, Spain, Uganda, the UK and US.
More than 40 international industry executives are scheduled to attend and new companies this year include Amazon Studio, Fox Searchlight, and Vimeo Films.
Returning companies include Bankside Films, Cinetic Media, eOne, Film4, FilmNation, IFC, Ingenious, K5 Media Group, ICM, Magnolia, Match Factory, Maven Pictures, Memento, Mongrel Media International, Participant Films, RADiUS/The Weinstein Company, Wild Bunch, and William Morris Endeavor.
IFF is produced by Jan Nathanson and associate produced by Larisa Gutmanis.
International producers/projects include:
Producers Jai Khanna from Brillstein Entertainment Partners and Dina Dattani with Last Man in Tower, written by Sooni Taraporevala (Salaam Bombay!), and set to star, Irrfan Khan (Jurassic World, The Lunchbox);


UK producer Christopher Sheppard (Ginger & Rosa) of Adventure Pictures with writer/director Sally Potter's (Ginger & Rosa) drama, Molly;


US producers Lucy Mukerjee-Brown and Amanda Phillips with Drama, to be directed by Oscar-winning actress, Helen Hunt (Then She Found Me) written by Justin W. Lo;


Indian producer Guneet Monga of Sikhya Entertainment (The Lunchbox) with fantasy-adventure The Ashram, with Oscar-winner Melissa Leo (The Fighter) attached to star and director Ben Rekhi (Waterborne) at the helm;


Ugandan producer Nathan Magoola (Divizionz) of Ntice Mediaworks with drama/adventure Sunflowers Behind A Dirty Fence, to be directed by Simon Mukali (Veve) and written by Angella Emurwon;


UK producer Jason Newmark (Severance) of Newscope Films with supernatural thriller Darkness Visible, written and to be directed by Neil Biswas (Bradford Riots);


UK producer Ashley Horner (brilliantlove) of Pinball Films with Detroit/Norwegian-set horror project Hidden Folk, written by music journalist, Stuart Wright and set to star Kristofer Hivju (Force Majeure);


US producers Rebecca Green and Laura D. Smith of Two Flints fresh off the success of two 2015 critical and box-office hits (It Follows and I'll See You In My Dreams) with Brett Haley's sophomore drama, This Time It Will.
Canadian producers/projects include:
Ontario-based A71 Productions producer David Miller (Amal, Blackbird) returning with Italy-set comedy Baseballissimo, directed by Jacob Tierney (Preggoland) and to star Anton Yelchin (Star Trek) and Jay Baruchel (This Is The End), with a script by Baruchel & Jesse Chabot (Goon);


British Columbia producers, Kaleena Kiff (The Legend of Barney Thomson) and Galen Fletcher (The Girl in the Photographs) of Radius Squared Media with thriller, The Hollow Season, directed by Kody Zimmerman (The Familiar);


Ontario's Shaftesbury Films' producers, Patrick Cassavetti (Fear and Loathing in Las Vegas) and Jay Bennett ("Murdoch Mysteries"), with science-fiction thriller, Darken House, helmed by Director X, multi award-winning music video director for Jay Z, Rihanna, Kanye West, and Nicki Minaj;


Abella Entertainment's producer Arnie Zipursky with real-life Chechen hostage drama, 57 Hours, to be directed by director/actor, Clark Johnson ("Homeland," "The Walking Dead") with Emily Watson attached to star;


Ontario producer Paula Devonshire (Wet Bum) of Devonshire Productions with director Lindsay Mackay's (Wet Bum) sophomore drama, Clear Blue;


Quebec producer Catherine Chagnon (Danse Macabre) of Microclimat Films with multi-disciplinary music drama, The Seven Last Words, helmed by eight directors, including Don McKellar (The Grand Seduction), Jennifer Baichwal (Manufactured Landscapes), Bruce McDonald (Hellions), and Juan Andres Arango (La Playa DC);


Ontario producer Mark Smith (Splice) of Copperheart Entertainment with coming-of-age beach volleyball drama, Line in the Sand, to be directed/co-produced by Grant Harvey (Ginger Snaps Back: The Beginning).
Past films at the IFF include Incendies, Coriolanus, Wadjda, Animal Kingdom and Hector and the Search for Happiness.