Sylvain Biegeleisen's Twilight of a Life to open the documentary film festival in Switzerland.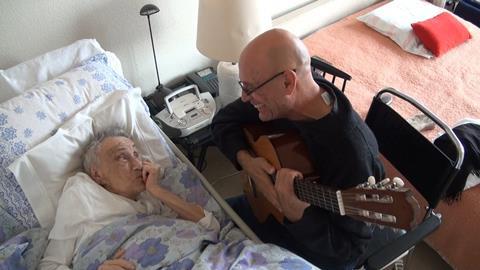 The 46th Visions du Réel documentary festival (April 17-25) in Nyon, Switzerland, is to open with the world premiere of Sylvain Biegeleisen's Twilight of a Life (Au crépuscule d'une vie).
The film centres on Biegeleisen's 94-year-old mother, who the Belgian director began to visit every day as she neared the end of her life. But she defied expectations by continuing to live and the film offers a portrait of his "magnetic, determined" mother.
Made by Biegeleisen's Zen Productions, the film was co-produced with Belgium's Take Five. World sales are handled by CAT&Docs.
The opener reflects a focus on "exceptional women" at this year's festival. Women represent 40% of the 160 filmmakers selected for this year's programme, which comprises 166 films from 54 countries.
Alluding to films in the line-up, festival president Claude Ruey said: "Whether it's the three women cloistered in Damascus, the customers of an Christian Arab hairdresser in Haifa, a mother approaching the end of her life, cleaning ladies in Mexico, actors or dancers in Cuba or India, Chechen woman fighting for human rights, women animal trainers, an intrepid explorer or even a female bus driver in Georgia, they all reveal themselves, each in their own way, as leaders of hope or societal transformation.
Visions du Réel director Luciano Barisone added: "Documentary film is an art form that observes, that is patient with a lucid view of the world, and which never abandons the expressing of its own opinion: for us it's clear that women filmmakers have an ever greater role to play."
Freedom of expression
The other theme of this year's edition will be freedom of expression and films include documentary Homeland (Iraq Year Zero), a six-hour saga recounting the life of an Iraqi family before and after the 2003 American intervention.
Ruey said: "Liberty, so often proclaimed, is crushed, trampled underfoot, minorities are annihilated, human rights treated with contempt. Expression is gagged, when not killed in cold blood. If one place of liberty remained, it would be Visions du Réel. For it is the honour of a Festival such as ours to welcome the entire world without censorship and in full freedom. And through what better medium to do this than documentary film?"
Record submissions
The Visions du Réel artistic direction and selection committee set a new record ahead of this year's festival, viewing 3,700 documentary films.
A total of 83 films will be presented as world premieres and 30 as international premieres. Some 28 Swiss films have also been selected and 136 directors will travel to Nyon to present their films.