EXCLUSIVE: India's Cinestaan Film Company has hired Film London execs Deborah Sathe and Tessa Inkelaar and Madrid-based sales agent Marina Fuentes to head up its ambitious new international division.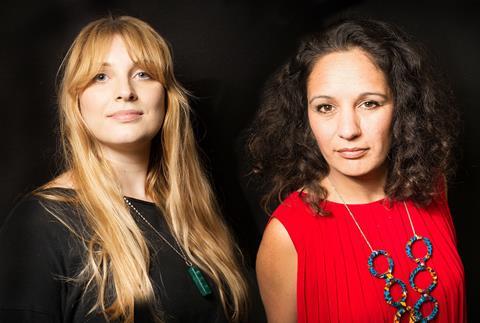 Sathe has been appointed Cinestaan director of international operations, with Inkelaar as vice president – international development, and Fuentes as director of international sales & acquisitions.
Cinestaan, a boutique studio spanning film, TV and digital operations, was launched by Mumbai Mantra chief Rohit Khattar in 2014 with backing from Indian tycoon Anand Mahindra.
Currently head of talent development and production for Film London, Sathe will move to the new division, Cinestaan International, at the end of May, while Inkelaar has already left her post as Film London development producer. Fuentes previously headed Spanish sales agent 6 Sales, which she recently merged with Simon Crowe's SC Films, closing the Madrid office.
Remaining in London and Madrid, the trio will be working with Indian and international talent on a slate of features aimed at global audiences with an "India connect".
"We have a broad range of films we want to champion from micro budget – bold stories we can distribute in an innovative manner – right up to bigger projects from championed Indian storytellers, then in between discovering the next wave of storytellers that can follow in their footsteps," Sathe told Screen.
"We're looking for an 'Indian twist', so either storytellers who are Asian or championing Asian subjects, along with filmmakers who want to make their films in India or English projects with an Indian actor attached."
Sathe added that the new international division has development, production and completion funding from launch, so has the capacity to board projects at any stage of production – either fully financing or providing cornerstone financing or completion funds.
Inkelaar added: "We want to make it clear that we're accessible to both newer and more experienced talent. We are looking at optioning novels and have development funds to put into treatments and screenplays."
Meanwhile, Fuentes will be scouting for projects for Cinestaan to handle internationally, sometimes working with other sales agents, as well as Indian distribution.
"We want to handle the best, most ambitious Indian filmmakers, so if we haven't produced the film, we are hungry to be their distributor," Fuentes told Screen. "Cinestaan will be the home of India's storytellers, selling to a global audience."
Khattar expects to announce Cinestaan International's debut slate in Cannes. First projects will include The Hungry, an adaptation of Shakespeare's Titus Andronicus, in which Cinestaan is partnered with Film London's Microwave scheme and the British Council. The previously-announced project will be directed by India's Bornila Chatterjee.
Announcing the three appointments, Khattar said: "Cinestaan has a diverse slate of Indian and international projects under development and in production. [Sathe, Fuentes and Inkelaar] join an equally credible team in India to take Cinestaan's ambitions global – a desire that both I and my business partner Anand Mahindra have nurtured for quite a while."
Film London chief executive Adrian Wootton said: "During her time at Film London, Deborah has achieved fantastic results in terms of championing and developing London's filmmaking talent. While we are obviously sorry to see her go, this is certainly not the end, as we'll be working closely with Cinestaan to deliver The Hungry. She'll be a tough act to follow but I have every confidence that we'll find a successor who can match her passion."
In addition to The Hungry, Cinestaan's upcoming slate includes Rakeysh Omprakash Mehra's Mirzya, the first film in a three-picture deal with Mehra. The Cinestaan group also includes Cinestaan Digital and a stake in TV channel EPIC, which focuses on Indian heritage and mythology.
Mumbai Mantra, also backed by Anand Mahindra, is a production house that also runs the 100 Storytellers scriptwriting scheme, which travels across India scouting and nurturing promising screenwriters. The next edition of the lab is scheduled for August 2016.