Japanese companies are at Filmart with a strong line-up of literary adaptations, tear-jerkers and a comedy set in the make-up room of a porn shoot.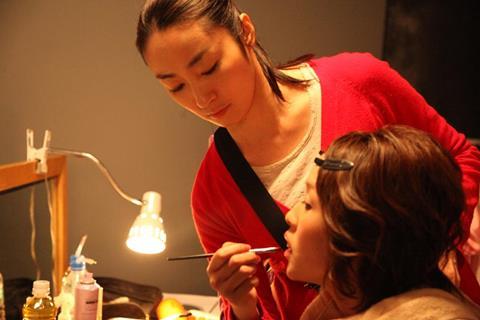 Ai Wo Tsumu Hito
Dir Yuzo Asahara
Romantic drama Ai Wo Tsumu Hito is based on Edward Mooney Jr's US-set novel The Pearls Of The Stone Man. Here the story is moved to the hills of Hokkaido where a couple move after retirement, dreaming of a peaceful existence. When his wife dies suddenly, the husband discovers letters she has written to guide him through life without her. The film stars Koichi Sato (Pandemic, Brass Knuckle Boys), Kanako Higuchi (Ashura), Keiko Kitagawa (The After-Dinner Mysteries, Judge!) and Shuhei Nomura (Phone Call To The Bar).
Contact Shochiku Co, Chiyo Mori 
chiyo_mori@shochiku.co.jp
If Cats Disappeared From The World
Dir Akira Nagai
Based on the novel by Genki Kawamura, If Cats Disappeared From The World tells the story of a 30-year-old postman who discovers he has a fatal brain tumour and is subsequently struck by visions of a devil who offers to extend his life. In production, the film is produced by Kei Haruna (Crying Out Love In The Center Of The World, Permanent Nobara) and stars Takeru Sato (Rurouni Kenshin) and Aoi Miyazaki (The Great Passage, The Chart Of Love). Shoichi Ato (Confessions, Parasyte) acts as cinematographer and the film is scheduled for 2016.
Contact Toho Co, Yusuke Kikuchi 
 tohointl@toho.co.jp
Little Forest: Winter & Spring
Dir Junichi Mori
Little Forest is a four-part film shot over four seasons. The segments Winter and Summer screened in the Berlinale's Culinary Cinema section earlier this year. Ai Hashimoto (Confessions, The Kirishima Thing) and Takahiro Miura (Chronicle Of My Mother) star. The film follows a young woman who moves from the city back to her home village to farm rice and gather seasonal foods from nearby mountains and fields. As she survives with nature through the changing seasons, she rediscovers herself, recharges and grows.
Contact Shochiku Co, Chiyo Mori 
chiyo_mori@shochiku.co.jp
Make Room
Dir Kei Morikawa
Winner of Yubari International Fantastic Film Festival's Grand Prix last month, Kei Morikawa's Make Room has its market debut at Filmart. Morikawa draws from his experiences as a former adult-video director for this comedy set in the make-up room of a porn film shoot. The cast features Aki Morita (Sharing) and an ensemble of mostly Japanese porn stars including Beni Ito, Nanami Kawakami and Riri Kuribayashi.
Contact Asian territories and HK Filmart screening: Geta Films, Ryohei Masuoka 
 inquiry@getafilms.com
Contact worldwide festivals and worldwide sales excluding Asia: 
Third Window Films, Adam Torel 
 adam@thirdwindowfilms.com
Our Little Sister
Dir Hirokazu Kore-eda
Hirokazu Kore-eda, who won the 2013 Cannes Jury Prize with Like Father, Like Son, is in post-production on Our Little Sister. Based on the Shogakukan graphic novel Umimachi Diary by Akimi Yoshida, the film features three sisters in their 20s who meet their shy half-sister the first time at their estranged father's funeral. Bonding quickly with the orphaned 14-year-old, they invite her to live with them in their seaside town. The film stars Haruka Ayase (Ichi), Masami Nagasawa (The Crossing), Kaho (Blindly In Love) and Suzu Hirose (Crows Explode). Fuji Television Network, Shogakukan, Toho Company and Gaga Corporation are producing.
Contact Asia: Gaga Corporation, Haruko Watanabe watanabh@gaga.co.jp
Contact international sales excluding Asia: Wild Bunch, Olivier Barbier 
 obarbier@wildbunch.eu
Strayer's Chronicle
Dir Takahisa Zeze
Takahisa Zeze's Heaven's Story won the Fipresci and Netpac awards at the Berlinale in 2011. Strayer's Chronicle, in post-production, is a futuristic thriller about two sets of genetically manipulated children who are born with extraordinary powers. One set is a force for good while the other may try to destroy humanity. The film stars Masaki Okada, who worked with Zeze on Life Back Then and also featured in Confessions, and Shota Sometani (Himizu, Parasyte).
Contact Nippon TV, Naoko Satoh
satohn.stf@ntv.co.jp
The Voice Of Water
Dir Masashi Yamamoto
After its international premiere in Berlinale's Forum in February, The Voice Of Water is now screening at Hong Kong International Film Festival. Masashi Yamamoto (Junk Food) tells the story of a Korean-Japanese woman who is made the head of a cult called God's Water. She has to deal with believers, yakuza and businessmen. The film stars Hyunri (Radio Days) with Shuri, Jun Murakami and Natsuko Nakamura. It is produced by Shinichiro Muraoka (The Whispering Of The Gods, Botchan).
Contact Geta Films/Spirits Project Inc, Ryohei Masuoka inquiry@getafilms.com