Dir/scr: Stevan Riley. UK. 2010. 83mins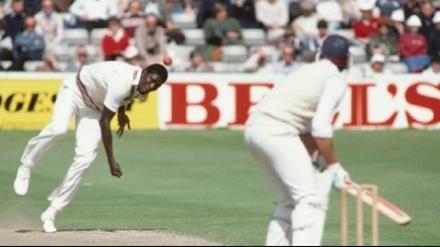 A cricket documentary may seem like a tough sell, but this one's a belter: Fire in Babylon, the story of how former "calypso cricketers" the West Indies smashed their former colonial masters into submission should bowl over audiences in territories where the sport is played, although a working knowledge of cricket is – thankfully – not a pre-requisite for enjoyment here.
Fire in Babylon rapidly builds momentum, and the former West Indies cricket stars prove they can still entertain the crowds.
The story behind Fire in Babylon is a cracking sports yarn of itself, although writer-director Stevan Riley (Blue Blood) muscles it up by filtering it through the rise of Black Power and Rastafarianism ('Babylon' signifies oppression), with quirky musical interludes softening the harder edges.
While initially this can feel slightly over-egged, Fire in Babylon rapidly builds momentum, and the former West Indies cricket stars, telling their own story, prove they can still entertain the crowds.
After some scene-setting – explaining that cricket is the only thing that unites the 15 Caribbean countries which comprise the side – Fire in Babylon kicks off with the West Indies' humiliating tour of Australia in 1975 under the new leadership of Clive Lloyd. Within a year, they were back in England listening to that team's South African-born captain Tony Greig taunt how he'd make them 'grovel' – his Afrikaans accent a raw wound for a team sensitive to its nations' slave ancestry (this was two years before the Gleneagles Agreement discouraged sporting contact with South Africa's apartheid regime).
But with their four-man fast bowling tornado, backed by some of the best batsmen the world has ever seen, the West Indies cricket team was about to embark on a 15-year stretch of global domination the likes of which the sport had never seen before.
Riley assembles the former players – from Lloyd to Viv Richards, Colin Croft, Gordon Greenidge, Colin Cumberbatch – to tell it like it was, alongside more eclectic comments from Rasta Bunny Wailer (Bob Marley largely powers the latter half of the soundtrack).
They talk about how their rise was about much more than cricket to them – it was defiance in the face of racism, the embers of colonialism, poor pay, and Black solidarity against oppression.
They speak eloquently about what it was like to play to the deafening sounds of racist taunts. "Focus on your enemy, and take them out," they say: and Fire in Babylon gives a strong sense of how intimidating this super-fit, gladiatorial team must have been – the late Malcolm Marshall, who batted to victory with a broken hand, or Colin Croft, who was 6ft 8in and bowled at over 90 miles per hour.
While Fire in Babylon does deal with the thorny issue of unequal pay – through Kerry Packer's World Series and the controversial tour to South Africa – it wisely quits while the Windies are ahead and before the decade-long slump that mires the team today (sometimes blamed on the move to professional status). Although it's half a world away, thematically this sits nicely alongside Jeffrey Levy-Hinte's Soul Power, with a unique Caribbean flavour all of its own.
Production companies: Cow Boy Films, Passion Pictures
International sales, info@miafilms.co.UK
Producers: Charles Steel, John Battsek
Cinematography: Stuart Bentley
Editor: Peter Haddon
Music supervisor: Adrian Sherwood and Bobby Marshall