Former editor Quentin Falk looks back at the launch of Screen International into the troubled industry waters of 1975.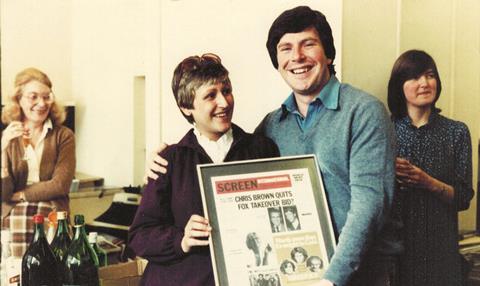 It was the year of Jaws, The Rocky Horror Picture Show and One Flew Over the Cuckoo's Nest.
Elsewhere, as Hollywood reported that film piracy was costing the studios $930m (£400m at the time) a year, UK studios lay empty as local production dwindled alarmingly. "Future grim," the parochial powers-that-be muttered predictably.
In 1975, these ups and downs of the global film industry were reported dutifully in the Wardour Street-based publication CinemaTV Today, latest heir to a long line of UK trade papers stretching back through Today's Cinema, Kine Weekly and Cinematographic Journal to the splendidly named Optical Magic Lantern And Photographic Enlarger, which did stout service in an embryonic industry before the turn of the 20th century.
Early that year, as a great local debate was raging over the future of film censorship in this country — should the BBFC continue much as before or was it time for self-regulation instead? — a meeting was taking place at one of London's more fashionable restaurants. The host was Peter King, from a cinema-owning family, who, after Oxford and working at the Bar, had switched successfully to the role of a highly paid executive with, first, US giant Paramount, then EMI.
Policy disagreements and arguments lead to his eventual resignation from both companies, however, and in 1974 King found himself jobless and in some financial strife following the collapse of the property market in which he once enjoyed a healthy stake.
This was a state of affairs he was particularly keen to keep from his lunch guest — John Woolf, 20 years his senior and a very old friend of his late father. As well as being the producer of some of the UK's finest film and television, including Room At The Top (1959), Oliver! (1968) and The Day Of The Jackal (1973), Eton-educated Woolf was also the half-hearted owner of CinemaTV Today, which he had acquired as part of a property package deal. Occasionally, staff writers might get a note passed on to them from 'The Principal Reader' noting, disdainfully, a split infinitive in their copy.
Despite his lofty position in the film world, Woolf, unlike his much more flamboyant younger producer brother Jimmy, was an austere, surprisingly shy man — the antithesis of the typical huckster producer — with whom extended conversation could become extremely laboured.
As both men sipped water, King, for the sake of something to say during another embarrassing silence, suddenly blurted out, "Are you still going to continue running CinemaTV Today?"
"Why?" replied Woolf. "Might you be interested in acquiring it?"
"Would you be interested in selling?" King responded, in his own words, "stupidly and impulsively".
That, for the time being, seemed to be the end of the matter until, a week later, a letter arrived from Woolf informing King that his printer had just made a £50,000 ($115,000) offer for the publication but if King was genuinely interested in buying, Woolf had no interest in holding an auction and would let him have it for the same price as long as he "completed within two weeks".
"I had," King, now 87, recalls, "as much hope of finding £50,000 as winning today's Lottery, but this was an irresistible opportunity." But find it somehow he did with, ironically, a loan covering half from Woolf himself, repayable with interest at the end of one year. When he eventually sold Screen International in 1989, today's inflation equivalent would be something in the region of £13.9m ($21m).
In 1975, however, he had — possibly against his better judgment — acquired CinemaTV Today, a dangerously slim publication in a sort of bastardised A4 format that King characterised as "dreary, parochial, little-read, with a dreadful title". It was soon to become a new-look publication, bigger and brassier, with a title reflecting a more global ambition. There followed, within a year, a worldwide network of eager correspondents.
But first, following the latest row with editor David Lewin, a former Fleet Street showbiz writer whom King had acquired with his purchase, the owner quickly required a new man at the helm.
He had already unsuccessfully sounded out Alexander Walker, an ascetic Ulsterman, a wise film critic long of the Evening Standard, before asking another veteran industry commentator, Peter Noble, who also turned him down.
When the Lewin-King split became irrevocable, King went back to Noble, who said "Yes". "Why 'yes' this time round?" King asked him. "Because I didn't want to be responsible for anyone losing their job," came the sweet-natured reply. "That was typical of Peter," reflects King, who would later, under the pseudonym 'Lucifer', occasionally contribute to his new baby a provocative column called Private Screening.
So, on September 6, 1975, Screen International — the title Scene International having been briefly considered and as quickly discarded — was officially launched; glossily broadsheet, 40 pages, costing 25p.
While the main headline was resolutely parochial — 'UK Production Back Into Gear' — the overall content, including in-depth interviews with Hollywood figures such as Irwin Allen, Richard Fleischer and Christopher Plummer, reflected an altogether more outward-looking philosophy.
The fron page of this first issue reported the theft of spools from a Rome laboratory of Pier Paolo Pasolini's latest film: Salo, Or The 120 Days Of Sodom. The headline? '120 Days of Sod-all'.
Quentin Falk joined CinemaTV Today as film production reporter in 1973 and was appointed foreign editor of Screen International in 1976. He was editor from 1979-82.
Peter Noble, Screen International's first editor
"Cast your bread upon the waters," Peter Noble liked to say, "and it will come back as smoked salmon canapés."
This witty paraphrase of Ecclesiastes rather neatly summed up elements of this larger-than-life character, combining an arguably pragmatic generosity of spirit with a shameless devotion to the champagne lifestyle.
Despite an unpromising start as a working-class London slum orphan, Noble, who died in 1997 aged 80, became quickly steeped in show business almost from the moment when, as a 17-year-old aspiring actor, he was befriended by Noel Coward. But after landing mostly undistinguished roles on stage and in B-movies, following the Second World War Noble moved seamlessly into his much better known incarnation as a writer and showbiz journalist.
An increasingly famous face on television in quiz and chat shows and a recognisably fruity-voiced contributor to popular radio programmes, Noble was once given the sobriquet 'Britain's walking encyclopaedia of films'.
As well as being ubiquitous in the media, so much so that he had to adopt the alias 'Raymond Leader'
on occasion just to ring the changes, Noble was also celebrated enough to play thinly disguised versions of himself in UK films such as The Naked Truth and The Strange Case Of Dr Manning. By this time he was happily married (for the second time) to the prolific bit-part actress Marianne Stone, and author of not
just millions of newspaper and magazine words but also a veritable tsunami of books including decent biographies of, among others,
Orson Welles and Bette Davis.
There were occasions when he would brazenly place his favourites in the main body of the magazine — writing glowing reams about superannuated Hollywood royalty or no-mark UK industryites — only reluctantly, yet always charmingly, giving way when gently persuaded that harder news took precedence.
In his autobiography, modestly titled Reflected Glory, he wrote: "I like what I do. I like my life. I would not change it." That was written almost 20 years before he took the reins at Screen international, but the sentiments, one suspects, never changed.