Dir. Courtney Hunt, US, 2008, 97 minutes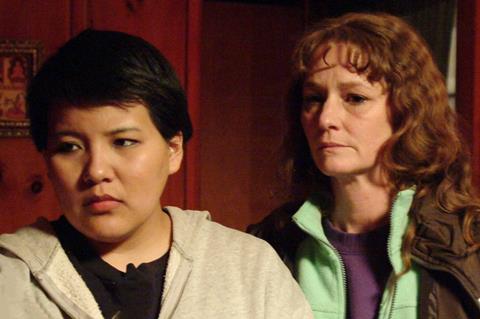 Frozen River is an odd, compelling mix - a thriller about human trafficking and the unfolding of an unlikely friendship between two desperate women in a desperate place in the dark chill of winter. Courtney Hunt's drama brings us the intrigues of the 'other border' with America - the St. Lawrence River, across which a smuggling trade from Canada has thrived for centuries.
Grey and unsentimental, Frozen River (winner of the Grand Jury Prize in Sundance's weak 2008 Dramatic Competition) should rally critics but struggle theatrically. The fine cast brings emotional intensity, but no major star power to the marketplace, although promoting it as a women's film on US television could connect it with a huge potential public. The poignant story of female solidarity is nothing if not Oprah-ready.
Canada will be a natural market for a saga that could have come from the pages of its own newspapers, although Frozen River will be challenged to move past the festival circuit in Europe and Asia. If the film wins more awards, as it surely will, home video potential will be strong. Courtney Hunt's career will also advance.
At the centre of Hunt's smuggling story is Ray Eddy (Melissa Leo of the TV series Homicide), a minimum-wage store clerk with two young sons in a crumbling trailer whose husband has just left town to gamble away the family's down payment on a new trailer. Ray finds his abandoned car being driven by the sullen Lila (Misty Upham), a young mother from the Mohawk Reservation nearby who drives across the frozen St. Lawrence with illegal immigrants in the trunk. The women form a mistrustful bond to shuttle illegals between Indian reservations on both sides of the border.
This odd partnership continues uneasily as the money trickles in and Ray's bills start getting paid, but a Christmas Eve trip across the ice ends with the car and its human cargo in a hole in the frozen river. Ray and Lila must make a choice about who will pay when they are caught.
Hunt's direction shows impressive composure for a first feature (expanded from an earlier short). The film's visual and narrative complexity give it a gripping reality, while avoiding the 'trailer-trash' cliches that tend to be all over such stories. Production designer Igbal Weinberg's interiors are cluttered with revealing details.
Hunt's own lean script (with its deft sociology) and Reed Morano's camera also guide the audience through life on minimum wage in a place where, for want of jobs, most people seem to work either in crime or law enforcement. Scenes that tumble through cars and trailers with handheld close-ups begin and end with bleak wide shots of the river and the distant horizon which frame the characters' fatalism.
Hunt's frozen North is a paradox — an inescapable place for those who live there, and a 'promised land' for immigrants risking their lives to enter illegally. The landscape is as grim in its own way as the tidal flats of Nick Broomfield's Ghosts, inspired by the deaths of illegal immigrant Chinese cocklers caught in Morecambe Bay's rising tides.
If FrozenRiver does build an audience, its cast can take much of the credit. As Ray, a mother raising two sons hand-to-mouth, Melissa Leo creates a chillingly vivid mix of pain and desperate practicality. Lila, played by Misty Upham, is beyond deadpan, a wounded child whose own child is taken away by her in-laws for a crime that is never disclosed.
Charlie McDermott, as Ray's teenage son, finds plenty of nuance as a young man witnessing his mother's dilemma, while James Reilly is charming as his cheerful younger brother who doesn't quite understand what's going on. We'll be hearing from these actors and this director again.
Production Companies/Backers
Frozen River Pictures
International Sales
Rezo Films
(33) 01 43 46 46 30
US Distributor
Sony Picture Classics
Producers
Chip Hourihan
Heather Rae
Screenwriter
Courtney Hunt
Cinematographer
Reed Morano
Editor
Kate Williams
Production Design
Inbal Weinberg
Original Music
Peter Golub
Shahzad Ismaily
Main Cast
Melissa Leo
Misty Upham
Charlie McDermott
James Reilly
Michael O'Keefe