The Seattle International Film Festival presented its award winners on June 12 as the 25-day event drew to a close after screening featured 421 films representing 85 countries.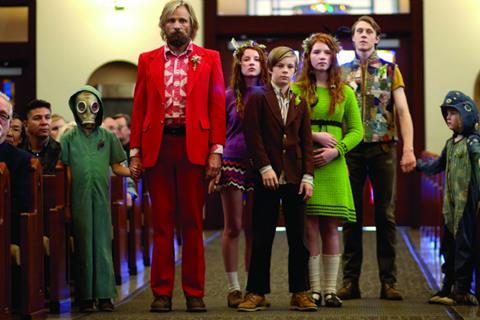 Rosemary Myers's Girl Asleep (Australia 2016) earned the grand jury prize as SIFF 2016 official competition winner, while Matt Ross' Captain Fantastic (pictured) was named best film in the Golden Space Needle audience awards.
In other juried awards, Alex Anwandter's You'll Never Be Alone (Chile 2016) prevailed in the Ibero-American Competition, while Sand Storm (Israel 2016) by Elite Zexer won the New Directors Competition.
Ned Crowley's Middle Man (USA 2016) took top honours in the New American Cinema Competition and the Documentary Competition prize went to
Death By A Thousand Cuts (Dominican Republic-Haiti-USA 2016) by Juan Mejia Botero and Jake Kheel.
In the Golden Space Needle audience awards, best documentary went to Clay Tweel's Gleason (USA 2016).
Javier Ruiz Caldera earned the best director award for Spy Time (Spain 2015), Rolf Lassgård best actor for A Man Called Ove (Sweden-Norway 2015) and Vicky Hernandez best actress for Between Sea And Land (Colombia 2016).
For the full awards roster click here.
The Best Of SIFF line-up will be announced on June 13 and SIFF's five cinema screens will resume daily cinema service with Best of SIFF titles and other programming starting on June 17.
"The 42nd Seattle International Film Festival celebrated extraordinary cinema from 85 countries from around the world for a marathon 25 days," said festival director Carl Spence said.

"We are especially excited with the success of the films in our newly inaugurated Official Competition. The coveted audience Golden Space Needle Awards for Best Film and Best Documentary went to films with ties to Washington state.
"Captain Fantastic, shot on location here in the Pacific Northwest with the support of Washington Filmworks Film Incentive, won the Golden Space Needle for Best Film and Viggo Mortensen received the Festival's Outstanding Achievement Award in Acting with a special tribute retrospective.

"He was also joined in Seattle by the film's writer and director Matt Ross. Best Documentary went to our Centerpiece Gala feature Gleason, a moving documentary about New Orleans Saints player Steve Gleason, who played for Washington State University.

"SIFF screened more than 400 films over the entirety of the Festival, and audiences attended in record numbers illustrating the fact that Seattleites see more films per capita than any other American city!"