PROMOTIONAL FEATURE: Exclusive to Screen readers: save money on premium flights to Los Angeles.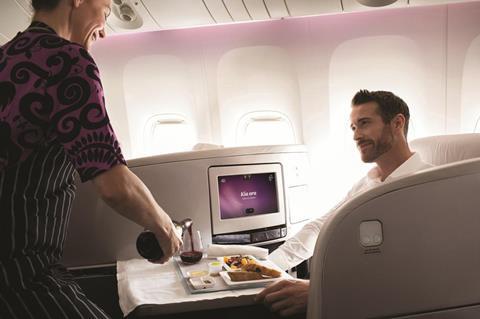 SCREEN PROMO CODE
Exclusive to readers of Screen International: save money on premium flights to Los Angeles. To access promo codes, visit airnewzealand.co.uk/screen
Terms and conditions apply. Please visit the website for more details.
Flying non-stop daily between London and Los Angeles, Air New Zealand's Business Premier service delivers a stylish long-haul experience whether on board the flight or in the Star Alliance Lounge
With an estimated 1.4 million travellers per annum, the London to Los Angeles flight path is one of the busiest international routes. As Hollywood studios continue to recruit UK film-making talent for their latest blockbusters, and UK companies and individuals make the reverse trip to ply their trades, LON/LAX continues to operate as a crucial cultural exchange between the two countries.
As a keen supporter of the film and entertainment industries, Air New Zealand has set out to offer a world-class travel experience between the two destinations.
Business Premier
Air New Zealand's Business Premier service operates daily between London and Los Angeles, and is designed to give airborne customers a blend of comfort, luxury and practical travel. The airline takes particular pride in its crew, who are helpful, professional and possess that down-to-earth Kiwi touch.
Sit back and relax
Designed with sleep in mind, the airline's leather armchairs convert to a 6' 7.5'' lie-flat bed with a memory-foam mattress, fluffy duvet and full-sized pillow. More than 1,800 hours of entertainment are available to travellers through personal 12.1" touch screen entertainment systems, and each seat is equipped with power and USB connections. Further benefits of Business Premier include premium check-in, airport lounge access and an allowance for up to three 23kg bags.
Indulge
In-flight menus have been crafted by consultant chef Peter Gordon, the owner of London's Kopapa and Providores restaurants - expect fresh ingredients and surprises - while the wines are selected from award-winning boutique wineries in New Zealand and have been chosen to complement perfectly the food on offer.
Flight schedule
With a departure from London Heathrow in the late afternoon, flyers have more time to make those meetings and prepare before leaving the UK, with arrival in Los Angeles at around 8pm.
Star Alliance Lounge at Tom Bradley International Terminal Lounge (LAX)
Business Premier passengers can make use of the award-winning Star Alliance Lounge at LAX, which was designed and is managed by Air New Zealand. The lounge features work and relaxation zones, and an open-air terrace with a panoramic view of the runway where you can catch the last of the Los Angeles sunshine.
Company advantage
From last-minute ad-hoc travel to full-blown production logistics, Air New Zealand understands its customers' travel needs. For those flying the route regularly, rewards including future discounts are available for every flight taken through the Company Advantage programme.
For further information, visit airnewzealand.co.uk/screen
ukcorporatesales@airnz.co.nz