Top brass at the Rio de Janeiro Film Festival announced that 41 feature and 19 shorts from Brazilian filmmakers will screen in the 17th edition, set to run from October 1-14.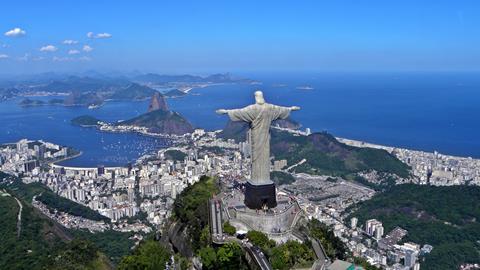 The Première Brasil competition section will screen 13 features, of which ten will receive world premieres. An additional two features and two documentaries will screen out of competition.
Other Brazilian productions such as a restoration of Walter Lima Jr's 1965 classic Menino de Engenho (Plantation Boy) will screen in special Première Brasil sidebars such as New Trends, Panorama, Expectation and Fronteiras.
Première Brasil is the only competitive section of the festival and Redentors will be presented on closing night. The audience will vote on three awards for best Brazilian feature film, best documentary and best short film.
As part of this years commemoration of the 450 years of the founding of Rio, the festival will screen six films that have the city as its setting or reflect the theme of Rio 450.

Festival do Rio is supported by the Mayor Of Rio's office), RioFilme, Petrobras and BNDES, with the support of Globo Filmes and Oi, Ministério da Cultura (Lei Rouanet), Lei de Incentivo à Cultura do Estado do Rio de Janeiro (ICMS) and others.
Competition entries:
Hopefuls (Aspirantes), Ives Rosenfeld;
The Moving Forest (A Floresta Que se Move), Vinícius Coimbra;
Beatriz, Alberto Graça;
Bull Down (Boi Neon), Gabriel Mascaro;
California (Califórnia), Marina Person;
Campo Grande, Sandra Kogut;
Introduction To The Music Of Blood (Introdução à Música do Sangue), Luiz Carlos Lacerda;
Kill Me Please (Mate-me Por Favor), Anita Rocha da Silveira;
In Dog's Words (Mundo Cão), Marcos Jorge;
Nise - The Heart Of Madness (Nise - Coração da Loucura), Roberto Berliner;
Orphans Of Eldorado (Órfãos do Eldorado), by Guilherme Coelho;
Oblivious Memory (Quase Memória), Ruy Guerra; and
The Violin Teacher (Tudo que Aprendemos Juntos), Sérgio Machado.

Documentary entries:
Betinho - Hope On The Line (Betinho - A Esperança Equilibrista), Victor Lopes;
Ridges In The Sea: The Fury Of The Wild Fire (Cordilheiras no Mar: A Fúria do Fogo Bárbaro), Geneton Moraes Neto;
Chronicle Of The Demolition (Crônica da Demolição), Eduardo Ades;
Future June (Futuro Junho), Maria Augusta Ramos;
Marias, Joana Mariani;
Mario Wallace Simonsen, Between Memory And History (Mario Wallace Simonsen, Entre a Memória e a História), Ricardo Pinto e Silva; and
Olmo And The Seagull (Olmo e a Gaivota), Petra Costa e Lea Glob.

New Trends / Novos Rumos:
The Death Of J.P. Cuenca (A Morte de J.P. Cuenca), João Paulo Cuenca;
The Sect (A Seita), André Antônio;
Seashore (Beira-Mar), Filipe Matzembacher and Marcio Reolon;
Clarisse or Something About Us (Clarisse ou alguma coisa sobre nós dois), Petrus Cariry
Jonah (Jonas), Lô Politi; and
Ralé - The Lower Depths (Ralé), Helena Ignez.
Out Of Competition:
Fiction – Through The Shadow (Através da Sombra), Walter Lima Jr; and
In Three Acts (Em Três Atos), Lúcia Murat.
Documentary – 82 Minutes (82 Minutos), Nelson Hoineff; and
A Brief History Of Brazilian Music - Andre Midani, From Vinyl To Download (Andre Midani - do Vinil ao Download), Andrucha Waddington e Mini Kerti.

Rio 450 Years / Rio 450 Anos
Rio By Them (O Rio por Eles), Ernesto Rodrigues;
São Sebastiao do Rio de Janeiro, Creating A City (São Sebastião do Rio de Janeiro, a Formação de Uma Cidade), Juliana de Carvalho; and
O Porto do Rio, Pedro Évora and Luciana Bezerra.

Panorama:
Looking At The Rear View Mirror [provisional title] (No Retrovisor), João Araujo; and
Brazil vs Brazil (Brasil vs Brasil), Marcos Prado.
Expectation / Expectativa:
No One Loves Anyone… For More Than Two Years (Ninguém Ama Ninguém… Por Mais de Dois Anos), Clovis Mello;
Zoom, Pedro Morelli; and
Transtime (Quanto Tempo o Tempo Tem), Adriana L.Dutra.
Frontiers /Fronteiras:
Uprising! (Levante!), Susanna Lira and Barney Lankester-owen.
Midnight:
The Black Fables (As Fábulas Negras), Rodrigo Aragão, Joel Caetano, Petter Baiestorf and José Mojica Marins.

Tesouro:
Plantation Boy (Menino de Engenh), Walter Lima Jr.