The British Film Institute and British Film Commission are in Berlin to reassure the international screen industries.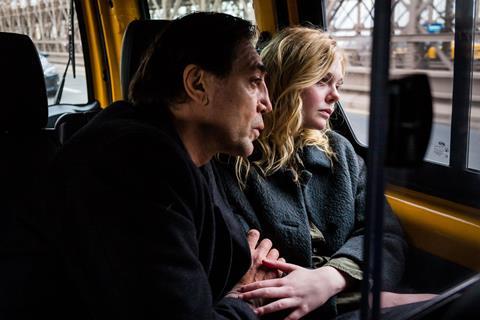 After three years of uncertainty following the 2016 referendum, the UK finally left the European Union on January 31. Questions remain, however, about what impact Brexit will have across all sectors following the 11-month transition period, during which the status quo will remain. But the message for the global screen industries from both the British Film Institute (BFI) and the British Film Commission (BFC) is clear: the UK will remain very much open for business for partners from Europe and beyond.
"Film and high-end TV are big business; indeed, we are the fastest growing sector in the economy," says Adrian Wootton, chief executive of the BFC and Film London.
BFI figures released in January showed inward investment spend from major international productions topped a record-breaking $4.7bn (£3.6bn), including $2.3bn (£1.7bn) on feature films including 1917 and Black Widow, and $1.7bn (£1.3bn) on high-end TV, including Avenue 5 and Brave New World. Projects filming across the UK in 2020 include Jurassic World 3, based at Pinewood Studios; The Northman at Belfast Harbour Studios; Outlander, which returns to Scotland's Wardpark Studios to shoot its sixth season; and the second season of Netflix's The Witcher, at Arborfield Studios.
Ramping up studio space
The UK's offering remains solid. Its competitive tax reliefs are guaranteed by the government and, as primary legislation, will not be affected by the UK's EU departure. Studio space is also expanding to meet growing demand, and skills training initiatives will ensure a steady stream of top-class above- and below-the-line talent. The BFI, for example, has invested $26m (£20m) of National Lottery funding in a multi-layer future-skills strategy delivered largely by ScreenSkills.
"Last year saw industry heavy­weights including Netflix, Disney and Comcast strengthening their commitments to the UK," says Wootton, "providing further endorsement of the UK's world-class infrastructures, talent and generous, reliable tax reliefs."
BFI figures also show that spend from official co-­productions in the UK in 2019 reached $44.3m (£34m), a 37% increase on 2018, and being able to collaborate with other nations remains an industry priority. The UK is a signatory to the Council of Europe Cinematographic Co-Production, which will assist UK producers set up co-productions with partners from Europe and further afield. With this in mind, the BFI is partnering with the British Council to host a co-production event in Berlin today, attended by producers from the UK, Europe and beyond.
"Berlin is always important for film businesses and filmmakers, and therefore we are focused more than ever on supporting UK producers, sales companies and businesses developing new films and relationships with European and international partners," says Neil Peplow, BFI's director of international affairs. Alongside the co-production forum, he says the BFI will be actively participating in the European Film Market's (EFM) Africa Hub, is a partner of the UK Film Centre at the EFM (see box-out) and "will be meeting with key international agencies during the course of the market and festival".
UK independent films will also be in full force in Berlin. Among these are Sally Potter's BFI-backed The Roads Not Taken and Eliza Hittman's BBC Films-backed US-UK co-production Never Rarely Sometimes Always, which both play in Competition; Aneil Karia's Surge, which screens in Panorama, and Rubika Shah's punk-rock documentary White Riot in Generation 14plus. UK independent films are also riding high outside of the festival, with titles including Phyllida Lloyd's Herself, which sold to Amazon Studios at Sundance; Rose Glass's Saint Maud, which premiered in Toronto; and Sarah Gavron's Rocks, which screened to acclaim in Toronto and London.
"The UK film and TV industry is very much open for business and we're excited to continue working with our US and EU partners to create award-winning content," says Wootton.
For up-to-date information about working with the UK post-Brexit, visit the BFI's dedicated Q&A.
UK Film Centre
The UK Film Centre, which is managed by Film Export UK, will be at the EFM to welcome international industry professionals looking for guidance on what the UK can offer. Partners in 2020 include the BFI, British Council, British Film Commission, Film London and Screen Scotland. Sales companies including Amadeus Entertainment, Carnaby International and Jinga Films are also based at the centre.
The UK Film Centre will be offering advice sessions on co-production, creative sector tax relief and how the UK can work with Europe and internationally post-Brexit. Find out more at weareukfilm.com.