The Trinidadian filmmaker is at the Trinidad + Tobago film festival's Caribbean Film Mart pitching her second feature, an adaptation of her father Earl Lovelace's acclaimed novel of the same name.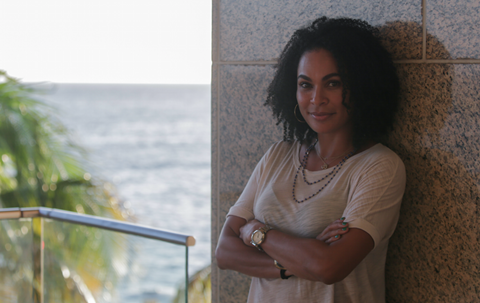 The Dragon Can't Dance follows jobless Aldrick, a carnival artist who dedicates himself to playing the dragon figure at Carnival each year. When he falls for Sylvia, the most desired young woman on the hill, it sets in motion a long chain of events that will ultimately force Aldrick to reflect on his life and begin again.
When and where does the film take place?
The film is set in 1969. It's essentially a Carnival film. The characters live in Calvary Hill in Laventille on the outskirts of Port Of Spain. The story is set in a yard [a series of usually sub-standard residences packed together on a plot of land] and it's a representation of Trinidad society.
Who are the characters that live on Calvary Hill?
You have the mulatta, Ms Cleothilda, who has a sense of superiority. Then there's the hard-working woman trying to make ends meet, Ms Olive, who is Sylvia's mother. There's the older man Mr Guy [who is the yard landlord and courts Sylvia], there's the struggling Caribbean artist [Aldrick] and Fisheye, who plays in a steelpan band.

There's also the Indian, Pariag, who lives with his wife Dolly and wants to belong to the community but doesn't get the reception he wanted. He wants to be seen so he buys a new bicyle that will be used to sell doubles [Trinidad and Tobago street food]. But the bicycle gets destroyed and we don't know who did it.
What is Aldrick's situation?
When we first meet Aldrick it's two weeks before Carnival and he is putting the final touches to his dragon costume. He's spent the entire year building this costume and for him the dragon is the symbol of rebellion. He's like this lone warrior. He has no job and every year he plays the dragon but everything changes when he finds himself falling love with Sylvia.
There is a steelpan element to the story too
Steelpan came from Laventille – it's a celebration of ordinary people. There's this character called Fisheye who is the 'badjohn' that does not want sponsors to take over the steelband that the community built.
We won't get into what happens later in the story too much but… who destroyed the bicycle? Is there a villain in the piece?
You want to ask who destroyed the bicycle but [that's not really the point because] the characters are so well developed in Lovelace's book and he was so fair with them and presents them all as 'human', so I had no choice but to treat them the same way. He didn't give me any villains to work with and that made the job more difficult. There's so much empathy for all the characters, who just want to live in dignity but find themsleves in a place where they are struggling. But my father always says these people are the royalty of Trinidad and Tobago.
When do you hope to shoot and what kind of financial support are you targeting?
In 2016. I'm talking to the Ministry Of Culture who are interested in my recreation of Carnival and will be interested in the footage I get so they may provide something.
How long have you been adapting the screenplay with your father?
Four years. It's been a long process. I never imagined it would take so long but the first year was about trying to understand his vision and then discovering where I needed to try to make it a little more cinematic. I dabbled in a contemporary version of it but made the decision to go back to the period because I felt [if it were set in present day] it would jolt us into thinking where we are and [how far] we have come or not come [as a society.]
Have you worked together before?
This is my third collaboration with my dad. My first short film was called George And The Bicycle Pump and was my thesis film from film school in Cuba. It screened at the Toronto International Film Festival. That was based on a short story by Lovelace from his collection A Brief Conversion And Other Stories.
My first feature, Joebell And America, came out in 2004 and is also based on the collection. It was about a young Trinidadian guy trying to get to American on a false passport and won best International Narrative Feature at the Womens International Film Fest in Florida.