The Welsh director of cult hit The Machine talks to Jeremy Kay ahead of the AFM about his latest film, a supernatural horror starring Katee Sackhoff.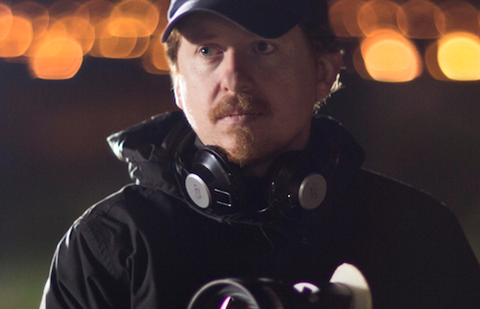 Don't Knock Twice shot over the summer in Wales where it was fully financed. Content Media represents world sales and will show the first promo to buyers in Santa Monica.
James serves as executive producer while his partner at Red & Black Films John Giwa-Amu produces with Claire Moorsom of Seymour Films produces. The cast includes Lucy Boynton, Nick Moran and Javier Botet.
What made you want to shoot a horror film?
The germ of the idea was inspired by a Times Square screening of The Machine. I had seen it 500 times by then and was watching the audience and the bits I loved the most were how the audience kept looking away from the screen when they were frightened. I thought it would be a lot of fun to try a movie that had more of this. Even though I'm not a horror fan it seems to me a horror movie provides lots of opportunities to get under the skin of the audience through moving the camera, sound design and score.
Your Red & Black Films partner John Giwa-Amu sourced the original idea from Mark Huckerby and Nick Ostler. What happened next?
I worked with them for the last year-and-a-half honing the script. I watched a couple of hundred horror films to understand the genre. I would get up in the morning and watch horror and go to work, which is an interesting way to start the day.
And what did you learn from your horror homework?
There's a lot of craft in horror and I wanted to use the best of what I saw. I also wanted to make a genre movie with heart that was about something. The best horror movies have characters you can connect to and believe in.

What can you tell us about Don't Knock Twice?
The original concept was about this urban legend and this curse of a witch. There are hokey witches and terrifying witches. I wanted to see why so many societies have this idea. What I found was across the globe the witch seems to represent the bad mother, so we looked at this mother-daughter story. If you look at The Exorcist and dig underneath, it's about a mother and daughter. So we came up with this story about Jess [played by Sackhoff], who gave up her daughter for adoption because she couldn't cope and had substance abuse problems. What we discover through the narrative is part of why she gave up her daughter was to pursue her career as a sculptor. Now she wants to get back her daughter, who has suffered in the care system and isn't sure she wants to reconnect with her mother. The supernatural element is the daughter has awoken this presence and her mother has to save her.
Why does Sackhoff play a sculptor?
I met a lot of sculptors. It's amazing how many contemporary females sculptors have made very stark choices. There's the notion of the madonna [as a mother figure on the one hand] and the witch, but somewhere [between them lies] the truth of being an independent woman. Being a parent is complicated and interesting.
You also did a lot of research on The Machine, right?
That's what we tried to do with The Machine. For that one I read every book on robotics and computing and met children with disabilities because that was the impetus for the lead character's story.
The film enjoyed quite the release
In the UK John heads up a distribution company, so it was almost self-distributed with the help of Content. We were number two in the UK iTunes chart and number five in the US chart, which is crazy because in the top 20 literally every other movie had 16 times our budget. It didn't get a theatrical run [in the US] because people thought it would be too intellectual. The one thing about the [digital] changes in distribution is it gives a chance to these little films. We were the number one pirated movie in the world for two weeks, which is horrible and amazing because so many people talked about us.
What did it do for your careers?
We met a lot of studios and John's phone was ringing off the hook. It's been massively helpful for our careers.
What is it like working with Content Media?
After The Machine we had a lot of agents interested in working with us but we only showed the script to Don't Knock Twice to Content because we had such a fantastic time working with them. They were fantastic and I'm sure they're going to be equally helpful with Don't Knock Twice. It feels like working with friends who have got your best interests at heart and work tirelessly to get your film out there.
After Don't Knock Twice what have you got lined up?
I've just been hired by Skydance to do a bigger budget movie, which I will be writing myself. And I have another project set up at Warner Bros.