From Brooklyn to Greta Gerwig's directing debut Lady Bird, Saoirse Ronan is becoming an awards-season staple. Screen talks to the Irish actress about working with Gerwig and staying grounded in the industry.
Saoirse Ronan emerges onto a West Hollywood hotel balcony looking every inch the film star, a convivial torrent in shades, platinum top and salmon-pink trouser suit. At the age of 23, the Irish actress is in high demand and already has two Oscar nominations to her name. The talk about town is a third will come for the storm she whips up in Greta Gerwig's directorial debut Lady Bird.
The drama erupted onto the scene at Telluride and Toronto (where On Chesil Beach, in which Ronan also stars, premiered) and scored the highest per-site average of 2017 so far when it opened in the US on November 3 via A24. Lady Bird, and Ronan's performance in it as a precocious college-bound Sacramento teen, has become a staple of awards-season conversation and the actress just earned an Indie Spirit female lead nomination.
In person, Ronan is anything but the Hollywood celebrity, diving straight into the chat, chuckling about "schmancy" press junket hotels and heaping praise on Gerwig and producer Scott Rudin. The actress admits she had no idea what Rudin looked like until they were introduced on The Grand Budapest Hotel. The producer brought her into Gerwig's orbit as the latter lined up her feature directorial debut.
"I knew of her and I absolutely loved the work that she had done before," Ronan says. "I was such a huge fan of Frances Ha, in particular. I had signed up to do The Crucible [on stage], which Scott Rudin had produced, and he's great. He's a really big supporter of people in his world, he championed Greta and has been great with me. He put us together and sent over the script. I kind of knew I wanted to do it before I'd even read it. But when I did read it and saw how much fun you could have with a role like that, I was really excited."
Ronan was attending Toronto International Film Festival in 2015 for Brooklyn when she and Gerwig met. "She'd been doing 20th Century Women and had flaming red hair — we read through the script together and that was it."
Ronan says they forged the on-screen persona together. Gerwig hails from Sacramento and while some have said it is a semi-autobiographical piece, Ronan ventures the character of Christine, aka Lady Bird, "rhymes with the truth".
"For both of us, one of the things that we identified with when we both got to know Lady Bird was that she's the person we wanted to be," she says. "We're both more people-pleasers and rule-followers, so we really admired her gutsiness."
Inspiration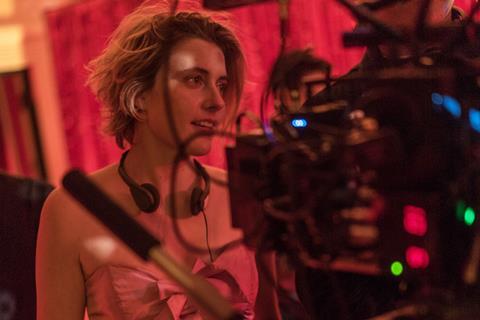 Before the 2016 shoot in Pasadena and Sacramento, Ronan read Joan Didion and watched John Hughes films on the advice of Gerwig. Yet, arguably the most profound insight was right there in front of her every day. "Greta has a really specific way of moving," Ronan says, arms akimbo and flapping like a giant butterfly to illustrate her point. "She has her hands on her hips a lot and she uses her hands and her shoulders and all of that. Since working with her, I find I do it a lot now. That's something she has that fit Lady Bird quite well."
Ronan has a knack for finding what fits. The Bronx-born chameleon has breathed life into a broad spectrum of roles, from Oscar-nominated turns as a dignified immigrant in love in Brooklyn and a precocious youngster 10 years ago in Atonement, to the porcelain killer in Hanna, a voice from beyond the grave in The Lovely Bones, and a gutsy pastry chef in Wes Anderson's The Grand Budapest Hotel.
If you were to bundle her characters into a room together, the common denominator would be the sky-blue thousand-yard stare. Today, eyes protected from the white glare of an early November afternoon in Los Angeles, she ponders which role best embodies who she is. "It's changed at different stages in my life because I have," she says. "There's an element to Lady Bird that I can definitely identify with — the whole putting on a show — I get that. Recently as a character, the journey that Eilis goes through in Brooklyn, I can absolutely relate to."
She is generally not one to dwell in a character, yet she just wrapped production on Josie Rourke's Mary Queen Of Scots and playing the lead has stuck with her. "I really relate," Ronan declares. "She was given a lot of power and responsibility from an early age and was expected to deal with a certain thing, hold herself in a certain way and interact with a lot of people.
"A lot of people who grew up acting or in music, you're interacting with people you wouldn't usually at that age," she continues. "It's made me feel more confident in standing my ground a bit more playing someone like that, because she had to find her own voice in a world where people were trying to manipulate her. You find that a lot in this industry and you need to keep your wits about you."
Keeping it real
Ronan's parents chaperoned her until she turned 18. It kept her grounded, she says, and shielded her from powerful people. "They were always there," she says. "I was never left on my own." When she struck out by herself, she "wasn't fazed by anything". Has she ever been on the receiving end of inappropriate behaviour? "No."
Parental support means Ronan never had a manager, and that has not changed. She has an agent and takes great joy in surrounding herself with trusted friends. She enjoys the calm of living in Ireland, where her parents relocated when she was three. She travels for work and, after residency stints in London and New York, makes her home south of Dublin. "Nobody bothers you in Ireland," she says. "You do get recognised a lot, but in the 12 years I've been doing it, it's only ever come from a place of pride."
As Ronan heads deeper into awards season and prepares to shoot the romance Sweetness In The Belly in 2018, she reflects on which role was her breakout success. Atonement would seem the obvious answer, but she is not so sure. "I almost feel like it was Brooklyn," she says. "Brooklyn was when I really noticed it had changed, maybe because it was an adult film. People adored it. When we were going through Brooklyn, I was like, 'This doesn't happen very often.' It was once in a blue moon and it's so great Lady Bird is getting the same kind of love."