The Polish filmmaker describes the difficult journey to completing her KVIFF competition entry, including her husband's mid-shoot passing.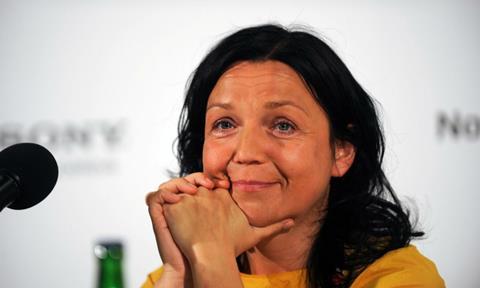 Receiving its world premiere in Karlovy Vary's Official Competition this week, Birds Are Singing In Kigali is a raw, uncompromising drama that follows ornithologist Anna who, during the Rwandan genocide of 1994, manages to smuggle a young orphan girl to Poland. As both deal with the traumas they have witnessed, they must try and find some sort of redemption.
The film was directed by wife-and-husband duo Joanna Kos-Krauze and Krzysztof Krauze, who also co-directed 2013 KVIFF competition film Papusza. When Krauze passed away from cancer in 2014, his wife was left to finish the film.
Screen spoke to Joanna Kos-Krauze about her experiences making the film.
You and Krzysztof lived in Africa for many years. What inspired you to create this film?
Altogether, we spent five years in Africa, firstly in South Africa. Africa has been one of our most important personal and existential experiences. It was clear to me that those experiences - which included illness, Krzysztof's passing and the grieving process - would influence our professional work. Also, South Africa had the legacy of apartheid, Rwanda of genocide. Moreover, we came from a country where the Holocaust took place.
How long did it take to prepare the film?
A few years. We were searching for a key to this story. There were many versions of a screenplay. In the meantime, we made Papusza. Later, an American company wanted to produce this movie but they withdrew after the financial crisis of 2007. So, I bought the project back and made the film with a small budget. It's a Polish production and we filmed in Poland, Rwanda and Kenya.
Was it difficult to get funding for the film?
It wasn't easy, but on the other hand not so terribly difficult either. It is a matter of choices, both artistic and production-wise. When you want to have final cut, influence on the casting or a number of shooting days, you need to decide that you will not share it with entities that would take it away from you.
Was the shoot as complicated logistically as it would appear?
In Rwanda, I worked better than in Poland, mainly because of the crew's involvement and the governmental institutions' support. They wanted very much for this film to be made.
How did you find Eliane Umuhire who plays the Rwandan orphan, Claudine?
Eliane just came for the casting and she was the best. You have to remember a few feature films have already been made in Rwanda, there are several film companies, a film festival. They have slowly built their cinema industry.
The film is about the terrible extremes of humanity but also the capacity to heal and to forgive. Was it ever difficult to highlight these themes while faced with the worst that humanity has to offer?
I've spent many weeks at the exhumation sites, I have many friends there, I lived there for two-and-a-half years. I would have never thought that such a difficult place will give me so much strength. There is a great will of life and rebuilding in the Rwandan people, but of course they are all traumatised. You are either a victim of genocide or a murderer, or a child of a murderer. There are no situations there that are free from this tragedy.
I assume that human beings are a terrible source of suffering for other human beings. However, they can also be a great source of hope.
After Krzysztof passed away during the production, did continuing with the film provide any sort of catharsis for you?
Krzysztof was on set for the first six days of shooting. We knew it was a race with time. Altogether there were 70 days of shooting. The funds were granted by the public institutions, the production had started, and there was no other way. In any case, I never considered stopping the film. The fact that it was hard for us, that it was difficult, didn't make the world stop. Just like the world didn't stop after the Holocaust or after the Armenian genocide.
What projects do you have planned next?
The next project will be based on a book by Marcin Kącki, who is an outstanding investigative journalist. It will be a story about motherhood, a collusion of silence on pedophilia and Polish baroque music.