Arguably the most acclaimed film in Sundance, Kenneth Lonergan's Premieres selection packs a punch and sparked a $10m US buy from Amazon Studios that will include a theatrical launch most likely during awards season.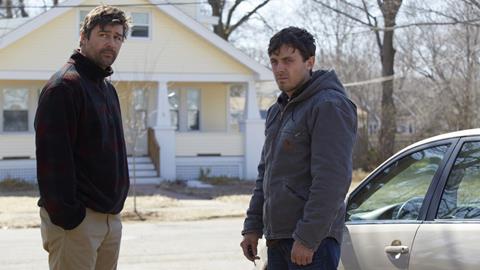 Casey Affleck plays a haunted New England apartment block handyman force to return to the scene of a tragedy after he is given custody of his deceased brother's teenage son. Michelle Williams, relative newcomer Lucas Hedges and Kyle Chandler round out the superb key cast and Matt Damon is among the producers.
Lonergan, a grand jury prize-winner for You Can Count On Me in 2000, talks to Jeremy Kay about his third film; feeling small, rewrites, and being grilled by his cast. Sierra/Affinity handles international sales.
Before the world premiere at the Eccles you said you felt small. Why did you say that?
It's a big theatre with 1,200 seats and I realise I'm not actually physically small but I felt a bit daunted. The second biggest screening I'd had of the film before [Sundance] was in a massive 35-seat auditorium in New York City. It was a very different experience and you never know how it's going to play.
The structure moves back and forth. Was that how you initially wrote it?
It was written chronologically. When I got through the first draft I found it very boring. If there's a problem that big I cut away everything and start over with one scene that I liked, so I liked when he is doing a janitorial job and thought I would start there and go in on other things later. They tell you not to do flashbacks but they're there to help you when you have problems. It turned out very well and it became interesting to figure out where they [flashbacks] go and what stimulates them.
After the solitude of having the story in your head for so long what did it feel like after that audience reception?
When you're working on something and it's going well it's always in your mind in some way and you're aware of it… It's gratifying when you write something and it connects with other people.
The scene where the nephew played by Lucas breaks downs is one of many standouts. How did you get the actor to that point?
We were up very late and shooting a lot of overtime and someone said we had to stop at 1am. Casey and Lucas had done a few takes and it was going well. We were in our 16th or 17th hour and I wanted to wrap it up, but Casey said [Lucas] was warming up, which is typical of the generosity of Casey and certainly reminds you why you're there, which is to shoot the scenes. Lucas then did this string of extraordinary takes, which is what we ended up using. That breakdown is a hard scene to get. He's a kid and you never know. Older actors are trained and know how to get to certain places and Lucas is going on instinct and he came through with the horror and bravado and sensitivity.
Do you allow or encourage any improvisation?
I prefer to stay away from it. Casey improvised with Ben O'Brien [who played the nephew as a child]. I like to do the writing and let the actors do the acting. If you can change the dialogue then you're not necessarily traversing the distance between yourself and the character – you're just bringing them to you.
Tell us about working with Casey
Casey and I met in 2002 when we did This Is Our Youth in London and we we became friends. We always wanted to do more together. He's an incredible actor and I had an extremely good collaboration with him because he wants to know what's going on and it was a very hard part to be holding in all the time. You know this character isn't just upset – he's been through so much that he can't access it or he would go to pieces. Casey and I discussed it at great length. He's only surviving what happened to him through his job routine. Casey bombarded me with questions about it in a very, very good way. [The character] welcomed any task because if he doesn't have something to do he gets drunk and beats people up. Taking care of his nephew becomes his task. Because his brother [has been there for him] it makes it impossible for him to ship the kid somewhere else, but he's in a horrible spot because he doesn't want to go home.
And Michelle Williams?
She's incredible. She put so much work into that character. We talked about it quite a bit. It was a daily grilling, like with Casey. There was a physical transformation with that character: where she was before and where she is now. I really like the earlier scenes that show them at home together, happily married and squabbling. That was a really nice scene to shoot and it was fun to edit.
Lucas is one hell of a find. How did that happen?
I knew his father [Peter Hedges] way back because we were playwrights in New York and I knew of Lucas. He just auditioned, I auditioned a lot of people. It was a very hard part to cast. It was a combination of his auditioning and what I had heard of him from people who had done more work with him. At some point auditions become guesswork. There were other kids I liked a lot but I had to remind myself, 'Do I want to keep watching this kid for two hours?' and the only kid I wanted to watch for two hours was Lucas. I'm not knocking the other kids but Lucas was great.