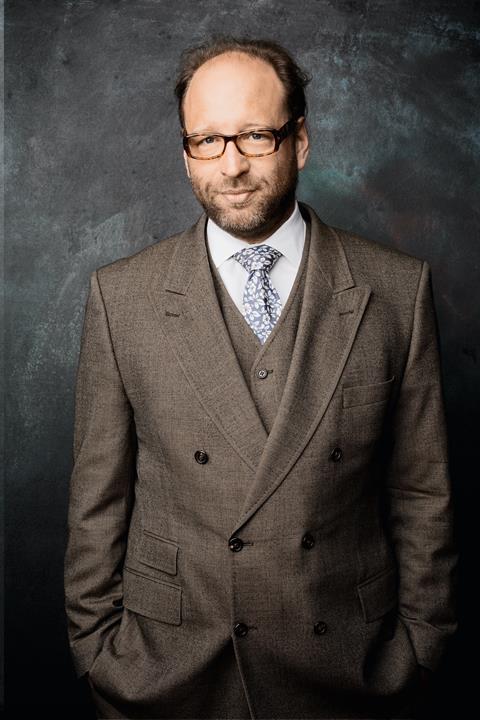 Fresh off the German theatrical deal for Merkel to Paramount, as reported by Screen at the start of EFM, producer Alexander van Dülmen has a multitude of film and TV projects on his Carte Blanche International slate.
On the feature side, as well as Merkel Carte Blanche is in post-production on writer-director Damir Lukacevic's Wet Dog, about a 15-year-old German-Iranian boy who discovers he comes from Jewish origins; the Warner Bros Germany co-production is due for local release in early September.
Carte Blanche is aiming to move into production by the end of the year on Winter Near, an adaptation of Mirna Funk's 2015 novel about a young Jewish woman raised in East Berlin who follows her Israeli boyfriend to Tel Aviv to find out more about her past. Viviane Andereggen will direct with Aenne Schwarz attached to play the lead.
Warner Bros Germany is also co-producing with van Dülmen, who hopes to complete financing soon. Winter Near is due to be followed in early 2021 by Alone, a remake of a 2007 Thai horror about conjoined twin sisters.
In development, Carte Blanche has art thriller Panama Painting, a true story about the provenance of a painting hanging in a New York art gallery that was revealed by the Panama Papers scandal, which is a co-production with Bertrand Faivre's The Bureau; and Thailand-set German-Russian culture-clash comedy Phuketgrad, which Til Schweiger and Fedor Bondarchuk are circling.
On the TV side, four series are in active development led by Nhiem, a six-episode drama set in Vietnam about a young Viet Cong cameramen chronicling the war from the other side of the conflict, which Roger Donaldson (No Way Out) will direct and be showrunner on. The script is by Heinrich Hadding (Run, Boy, Run), from an original idea by van Dülmen.
Also in the TV pipeline are drug-dealer drama Snow King; Catherine & Potemkin, a drama series about the relationship between Catherine the Great and Russian statesman Grigory Potemkin which has Austrian filmmaker Stefan Ruzowitzky attached as director/showrunner and Hadding again on script duties; and Coryza, an adaptation of Polish sci-fi author Stanislaw Lem's novel The Chain Of Chance that van Dülmen is producing with Grant Hill.
Ringing in the changes
It's all part of a big shift in recent years for van Dülmen, who in 2002 set up independent film licensing company A Company, which sold German films into central and eastern Europe, the CIS and Vietnam; he later also set up a distribution arm in Vietnam which is still operating. Around 2011, however, van Dülmen started to move away from sales and towards production.
"It was already foreseeable that A Company had to get into production and would not be able to sell forever because the world was changing," he says. "And not only because of streaming but because of some geographic aspects which, for me, was the changes in the whole Eastern European and Russian landscape after [the 2014 invasion and annexation of] Crimea and the isolation of Russia, which harmed us a lot."
Initially, van Dülmen started by earning credits as a co-producer, first on Pepe Danquart's Run, Boy, Run, a Germany/France/Poland co-production about a young Jewish boy who escapes the Warsaw ghetto, and then Cloud Atlas, where he was invited on board by Stefan Arndt to help navigate the complex financing structures required to get the Wachowski brothers project off the ground.
Budgeted at a studio level, the film was financed through an independent patchwork of investors from China, Hong Kong, Russia and eastern Europe primarily, combined with money from German film funds, a multi-territory deal with Warner Bros, and a few pre-sales handled by Focus.
"The co-production paperwork on that film was so thick, you could put it into a library," laughs van Dülmen. "It was a group of at least 10 different parties that had to get under one umbrella. For the financial producers, it was a nightmare, but on the other hand being able to observe authorities like Grant Hill – who has done all of the Wachowski's movies – and watch how they do it was a very helpful and exciting experience."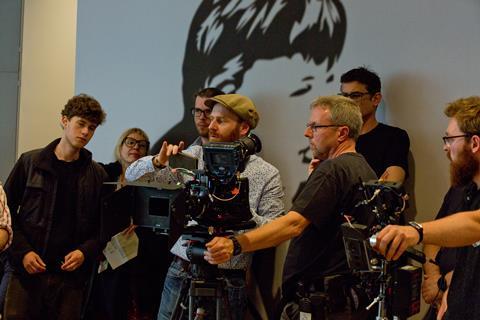 After going on to co-produce Sophie Barthes' Madame Bovary starring Mia Wasikowska, van Dülmen founded Carte Blanche International in 2016 with director Stephan Wagner, and exited film sales almost entirely, selling A Company's 300-film library to Poland, the Czech Republic and other eastern European territories.
The Carte Blanche partnership came about as a way to combine van Dülmen's financing and deal-structuring expertise outside German borders with Wagner's experience in physical production (the German filmmaker has more than 30 feature and TV-movie credits to his name). Wagner also held the rights to Stanislaw Lem's The Chain Of Chance and was looking for a partner with international connections to build the sci-fi project.
"It's a good match," says van Dülmen. "He's been mostly active in Germany but he somehow never managed to do anything internationally."
Releasing Merkel
Wagner directed Carte Blanche's inaugural production Merkel, a political thriller about the defining moment of Angela Merkel's chancellorship – the 2015 refugee crisis – that was financed by ARD, RBB Media, Medienboard Berlin Brandenburg and Bavaria Media International, which is selling the film at EFM.
The project was initially set up as a TV feature, before interest from German and international partners encouraged van Dülmen to think more ambitiously and raise the budget from €2.4m to €3.1m.
The deal with Paramount Pictures Germany is for a three-week theatrical release from March 28, before Merkel is shown on the country's largest public broadcaster ARD, which put up about two-thirds of the budget.
Paramount plans to release the film into 50-100 cinemas, and may put it back on screens after the TV broadcast if demand warrants. "It's an experiment because it's only three weeks," notes van Dülmen, citing the fact that some German cinema chains will refuse to play the film because of the country's strict theatrical windowing rules. "But our digital world means you show people movies when they want to see movies, and we have to face that reality."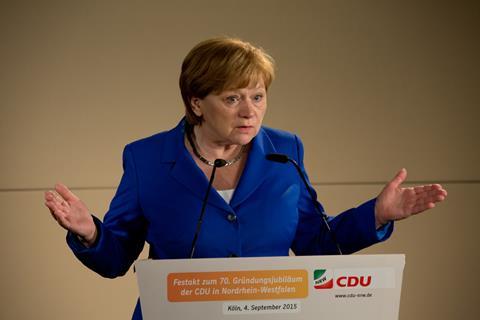 Adapted by Florian Oeller from Robin Alexander's 2017 book The Driven Ones, van Dülmen notes that films about still-living politicians are unusual in Germany due to stricter laws around personal rights. For instance, Turkish president Recep Tayyip Erdogan was able to sue a German TV comedian in 2017 using an obscure loophole in Germany's criminal code that made it a crime to insult foreign leaders.
Even though that loophole has since been closed, van Dülmen admits he did have concerns around Merkel's portrayal of Hungarian prime minister Viktor Orban, who features in the narrative played by Romanian actor Radu Banzaru (opposite Imogen Kogge as the German chancellor).
"People around me said, 'Well, this would be the best thing that could happen Alexander, if Orban would sue you, that would raise so much publicity around the movie!'" he says. "But I'm not really waiting for this because it would be so expensive."
With his main focus now on production, van Dülmen says he anticipates a 75/25 split going forward between projects that Carte Blanche develops for international and those aimed squarely at the German market.
"I delivered German movies to Eastern Europe and Russia, I made Til Schweiger become a real star in Russia, but I was never really in this family, in this German industry," he explains of his international ambitions. "I have always been international and I need the world. I want to make films that connect to different countries, and I know something about other markets."