The self-distribution pioneer heads to Telluride, Venice and Toronto with a handful of titles and a bucketload of advice for the filmmakers he meets all over the world.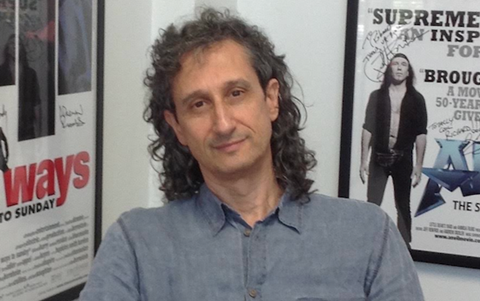 Abramowitz, who over two decades has released the likes of Senna, An Honest Liar and Exit Through The Gift Shop via Abramorama, talks about why he does what he does, event cinema and the significance of a certain Canadian metal band.
Prior to working at Stratosphere you had a company called Green Valley Films that you started in 1993 and renamed Abramorama in 2000. What was the idea behind the company?
The idea was I wanted to work directly with filmmakers and provide them access to the market and a voice in the distribution and marketing of their films. A lot of it initially was film that wasn't strong enough to open theatrically. The idea was they could still own the film and we were able to segregate the rights and make a TV deal here and a DVD deal there and still control theatrical. It started making sense to people because they saw that by selling it off piecemeal they could make more money and recoup money faster.
Where did you come from in traditional distribution?
I have been in distribution since 1981. I had a lot of experience in traditional theatrical on films like Swimming To Cambodia and A Room With A View. I had a lot of relationships and something of a reputation and was able to parlay that to the advantage of these filmmakers. Over time the filmmakers started to understand the process. My first job in theatrical distribution was at Cinecom in the 80s where I got the opportunity to do everything: how to get a print from A to B; how to budget for ads; how to do the PR. Because it was a small company I was given a lot of responsibility quickly. There was a generation of guys like Eammon Bowles and Bingham Ray who all came up at the same time and we had to do everything.
When was the big breakthrough?
In 2008 when I released Anvil! The Story Of Anvil it changed my position because the film was so successful [$667,911 theatrical]. It was a critical and commercial success. We sold 100,000 units on DVD. A lot of people had seen it but nobody figured out what could be done with it. It worked so well and it changed the way [people] looked at self-distribution. It's been that way with other films since then, on films like Awake [Abramowitz stopped reporting to the trades back in March at about $1.4m] and Exit Through The Gift Shop [$3.3m theatrical].
Every year there's been something like that that's had an impact. This year we had An Honest Liar, [$180,000 theatrical], which did extremely well because it achieved a number one ranking in the iTunes documentary category, something that never would have happened had the film gone straight to digital, as initially anticipated.

Is there an active self-distribution scene in the US now?
There are a number of people who do it. There are alimited number of theatres and a limited number of people who are the gatekeepers. Generally it's in everybody's interest to work together because there's a symbiotic relationship between those who distribute it and those who exhibit it. It's a curatorial ability.
How do you push out films on digital platforms?
I have someone I work with in the digital world, Joe Amodei of Virgil Films. I'm able to make these other deals through Joe. Aligning myself with somebody like that has been very productive. As we grow the business and get more into event cinema that has been an enormous boost to our business.
How do you gauge the opportunity in event cinema? The One Direction concert film made well over $1m in this space, while an event with the Royal Opera House Ballet delivered far less.
There's more opportunity. There are more films. There are different films. It didn't have a name [when I first ventured into it.] I was doing Cameron Crowe's Pearl Jam Twenty. When Sony Music came to me they wanted to do five cities and we ended up doing 50-60 cities and it was an enormous success. It was one of the benefits of being involved with what I call tribal films, which have a readily defined audience. I have done probably 25-30 music films; I have been working with Neil Young the past 12, 13 years. We did a bit more than a year working with The Royal Opera House. We did a few exhibitions on screen, these high-profile art tours. It's great for everyone.

Part of our goal is audience-building. Event cinema is ideal for that because you know who the audience are and you can build out in concentric circles. Not only is that cost-effective: it keeps people coming to the theatre. We want to keep people in the habit of going to the theatre for their entertainment.
Theatres could use the extra business
Theatres are operating at minimal capacity Monday-to-Thursday because there are so many alternatives. The theatres are there. There are minimal additional costs in electricity and staff to do this. And it's a higher price point – a ticket is $18-25. If you're in upstate New York how are you going to see the opera? Everybody wins. It's been a huge asset. We're in the process of making new deals. We're making deals with a major opera company and a major dance company, world-famous brands. It's very exciting. Again, it's that tribal appeal. I think of myself as a midwife.
What do you have coming up at the fall festivals?
We've acquired rights to Laurie Anderson's film called Heart Of A Dog that will be in Telluride, Venice, Toronto, New York and San Sebastian. I released her 1986 film Home Of The Brave, so the symmetry appeals to me. It's breathtaking. We will be releasing that in the fall. We're also involved with This Changes Everything [also Toronto] and we have another environmental film [that premiered at Sundance] called Racing Extinction from Louie Psihoyos, the director of The Cove.
And beyond that?
We're also involved with Heart Like A Hand Grenade, which documents the creation of American Idiot [Green Day will announced the release this month]. We're doing a film with Natalie Merchant about her recording of Tiger Lily. It's called Paradise Is There and will open theatrically before Christmas.