LOCARNO: The Russian director of fesitval hit The Major talks about his new film The Fool, about one man's 24-hour struggle against corrupt local officials.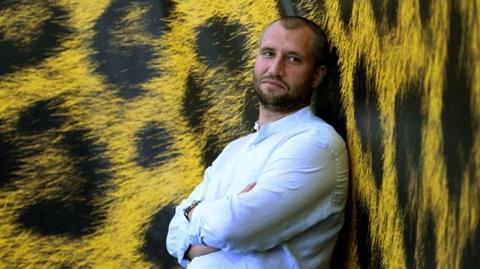 The one universally lauded film at Locarno 2014 so far has been The Fool by Russia's Yury Bykov, now tipped as the favourite in the International Competition.
The film tells a simple yet powerful story – an honest plumber (Artem Bystrov) discovers that a social housing high-rise is at risk of collapsing and has one night to convince corrupt local officials that the building has to be evacuated.
In Screen's review, Mark Adams called the film "a wonderfully constructed film that takes a subtle-yet-angry swipe at the state of modern Russia."
This is Bykov's third feature; his second, The Major, premiered at Cannes Critics Week 2012 and had a successful festival run. The Fool could have even better sales prospects, given its thriller-y hook of a ticking clock story set over one night.
"The idea was simple enough," Bykov tells Screen in Locanro. "As in my previous films, I wanted to have the plot as the starting point, and against that show archetypes of characters….You can carousel the archetypes, and what better place for this carousel than where the most social problems appear – social housing where you find poor people."
He continues: "I could imagine a young man who has strong moral values who wants to fight the society around him."
Another archetype is the mayor that 'The Fool' has to convince to change her corrupt ways to do what's right for the 800 people living in the tower block. She has been corrupt for years but also seems to have a heart. "I wanted to create a profound character, not one that's flat," Bykov says. "She's not a classical villain, she's a victim of life's circumstances, and the consequences of her choices."
The film is produced by Kira Saksaganskaya and Alexey Uchitel for Uchitel's St Petersburg-based Rock Films. Uchitel is a director himself, with credits including The Stroll, Captive and Break Loose. "It's a great thing to collaborate with him," Bykov says. "He's different from the rank-and-file producers who think only about a film's commercial potential or a film's festival potential. He understands this film is like my child and I am responsible for my child. He helps me but he doesn't interfere."
The film shows widespread corruption at every level of government in this small town, so does the director anticipate problems screening the film in Russia?
"It's not a question of censorship, the authorities won't inhibit this kind of thing," he explains. "The problem is distribution itself, the commercial side. People would rather go see comedies or cartoons than see meaningful films that discuss issues."
Bykov says it's not his job to expose all the problems of modern Russia to international audiences. But he is trying to tell the story of the Russians he knows. "I'm trying to tell people about Russia, but not all Russia. It's people in Russia living a hard life…I'm not so interested in telling the story of well-off Russians. I wasn't to show these Russian people, and I have to do it with responsibility, love and understanding."
The Fool's ending is bleak, but Bykov says there was no other possibility. "I don't believe in happy endings. It is a tough Darwinian life, there is competition for survival. To make a happy ending would be a banality. If I'd have made it a happy ending it would be a lie. We are living in a hardened cruel world, we should enjoy life but we have to understand the tough truths."
The Fool continues to Screen in Locarno Sunday night at 23:15 at La Sala and Monday at 11:00 at Palavide.