Zach Braff is back behind the camera, directing his first feature in nine years. He tells JEREMY KAY why he was right to get help from the crowdfunding platform, Kickstarter.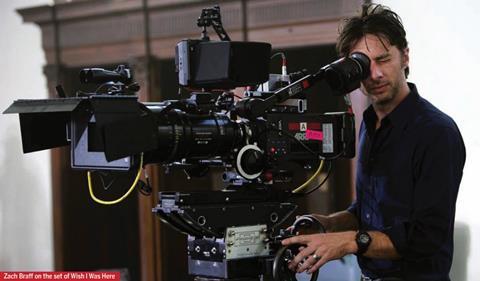 When Zach Braff couldn't find the right financier to back his new feature, Wish I Was Here, he famously took to Kickstarter and raised $3.1m.
Wild Bunch came on board to sell international rights shortly before Cannes and the company will show footage here at AFM. CAA represents North American rights.
Braff is editing the film and rehearsing the stage version of Bullets Over Broadway in New York.
Screen: How did this whole crazy adventure begin?
Zach Braff: I wrote [the screenplay] with my brother [Adam]. I hadn't been able to put a film together since Garden State [in 2004]. I just couldn't figure out a way.
I had several projects and it was frustrating and humbling and I went back to what worked the first time I fully owned a piece of content and went to get financing. But the script is my own style and is like Garden State in that way.
Everybody in town had passed on that script until I found a money guy, but he had his money committed to other projects so he was no longer my patron now.
So I went out with this script and very quickly saw what we all see…
What did you see?
The financiers send you a list of actors who they want to make a film with.
All the actors have numbers next to their names for their international value and it occurred to me that I could make it if I made the film in Vancouver for two-thirds of the budget it required and cast people I didn't want and gave up final cut.
But I was so anxious to make another film that I was close to saying, "Fuck it, if I want to make this movie I'll suck it up."
We were about to sign a deal that was not where I wanted it to be, when this Veronica Mars thing exploded [on Kickstarter].
Your producer encouraged you to try Kickstarter.
Stacey Sher told me I had a pretty big internet following and maybe I was a candidate [for Kickstarter].
I thought we had nothing to lose except maybe being humbled by the whole thing crashing and burning. I was on the fence and Stacey encouraged me to test new waters.
There were a lot of people who didn't think it would work.
Remind us how the campaign went.
We had a month to raise $2m and we reached the goal in 48 hours [in May].
It really was a game-changer for anyone following the business because with the right film-maker and the right audience, this could be a new paradigm.

But it upset a lot of people.
A lot of the blowback on the internet was from people who don't understand film financing - I didn't write a film that could be made for $2m.
The budget was more than that so the plan was if we raised the equity on Kickstarter that would replace the financier and I would kick in with my own money and then foreign sales would get us the difference.
Why do you think it upset people?
There were people who thought I could or should invest [the entire budget] myself and that's not something I can do.
Most of the people who were against it seemed to be aspiring film-makers who thought I was somehow soiling Kickstarter, which upset me because I didn¹t want to take anything away from anybody.
How did the heat die down?
The founders of Kickstarter put out a press release saying this was not true if you looked at the amount of traffic and new backers that Veronica Mars and Wish I Was Here have brought to the conversation.
The numbers were staggering. That really made the debate go quiet. After that, Wild Bunch came on to sell it and that¹s been great.

What's the movie about?
It's about this 35-year-old man dealing with his father's illness and deciding to home-school his children and learning to be a better person, father and husband.
It's also about healthcare and the new replacing the old. It's about the changing of the guard.
Like Garden State it has funny elements and dramatic elements and also speaks to what it's like to be a parent struggling to raise their kids today.