The Jerusalem-based lab is making waves globally only four years after it was launched.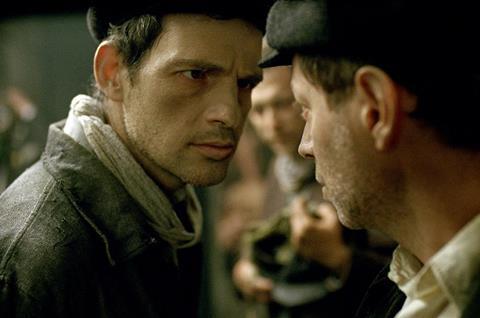 Sam Spiegel International Film Lab is basking in the glory of its first A-list festival accolade following the Cannes grand prix win for Laszlo Nemes' Son Of Saul. The triumph comes less than four years after the lab's launch in November 2011, originally under the name of the Jerusalem International Film Lab.
Since then, it has welcomed a dozen or so projects per edition, split 50:50 between international and Israeli film-makers.
Hungary-based Nemes participated in the lab's second edition in 2012. He and co-writer Clara Royer developed the screenplay under the guidance of script editor Koby Gal-Raday, a respected Israeli film and TV executive.
Nemes says the lab helped him with "breaking down the plot and sub-plots and seeing how the engineering was working. I felt our script doctor perceived the kind of film we wanted to make and didn't want to be too technical. He was very respectful of [our] approach."
Set in Auschwitz-Birkenau, Son Of Saul is about a Hungarian inmate who is forced to work in the camp's gas chambers. Inspired by the experiences of Nemes' own family during the Holocaust, the film was one of the stand-outs at Cannes this year and has already been selected by Hungary as its submission to the best foreign-language film category at next year's Oscars.
Finished product
Renen Schorr, founding director of the Sam Spiegel Film & Television School, who spearheaded the lab, welcomes Son Of Saul's success but emphasises the lab's goal is to actually get films made.
"We don't want to be just a development lab," he explains. "Eight of the projects in the first edition have been completed and it's looking good for the next editions."
Further completed Sam Spiegel projects include Alvaro Brechner's Uruguayan comedy Mr. Kaplan, which was the country's Oscar submission in 2014, Philippe Lacote's political drama Run, from Ivory Coast, which premiered in Un Certain Regard at Cannes in 2014, Nadav Lapid's thoughtful drama The Kindergarten Teacher, which debuted in Critics' Week at Cannes last year, and Burhan Qurbani's We Are Young, We Are Strong, which was unveiled at Tribeca Film Festival in April.
The seven-month programme brings the participants to Jerusalem three times from December to July. They come twice for intensive two-week script development sessions with mentors and for a final event at Jerusalem Film Festival (JFF) where projects are pitched to potential sales agents and co-producers from across the globe.
An international jury metes out $70,000 in prize money, provided by the Beracha Foundation, to three of the projects. Ethiopia-born, Israeli film-maker Alamork Marsha took the top prize last year for Fig Tree.
The Cannes success of Son Of Saul appears to be attracting more international decision-makers to JFF this year. Industry professionals set to attend the pitching event include sales agent Adeline Fontan Tessaur of Elle Driver, producer Cedomir Kolar of ASAP Films and Michael Weber at The Match Factory.
Nemes himself is back as a jury member for today's pitching event at which the fourth-edition film-makers are presenting their projects. Fellow jurors include ARTE France Cinema general director Olivier Pere and Kirsten Niehuus, general director of the Medienboard Berlin-Brandenburg film fund.
The projects to be pitched include The Boyfriend, the second feature by India's Ashim Ahluwalia, about a forbidden love affair; Portuguese-American writer-director Paolo Marinou-Blanco's dark comedy Candido, set against the backdrop of Brazil's preparations for the 2016 Olympic Games, and Italian director Adriano Valerio's feature debut Banat, a drama about a 30-something couple from Bari who head to Romania in search of work and a better life.
The Israeli film-makers include Mihal Brezis and Oded Binnun who are presenting Aya, a feature-length version of their Oscar-nominated short about a girl who pretends to be the assigned driver of a visiting pianist, and Idan Hubel, whose second feature is a psychological murder-mystery called A Great Light.
'Creating an exchange'
Oren Adaf's Darwin, about a nature-documentary maker living in Africa, coming to terms with rejection by his Orthodox family, is produced by former lab participant Lacote with Eitan Mansuri of Tel Aviv-based Spiro Films. Lacote connected with the up-and-coming Adaf when Lacote was a participant in the first edition of the lab in 2011-12 and Adaf was a student at the Sam Spiegel Film & Television School.
"It's important for me, everywhere I go for work, to create an exchange," says Lacote. He first supported Adaf's short In Praise Of The Day and brought on board Paris-based Banshee Films as a co-producer. Lacote then hired the short's student cinematographer Daniel Miller to lens his own feature, Run, which shot in Ivory Coast. Completing the circle, Miller is now attached to Adaf's Darwin.
Lacote credits the lab with taking Run to a higher level. The film explores Ivory Coast's real-life political turmoil through the fictional story of a young man who shoots the country's prime minister. The lab teamed Lacote with respected Italian scriptwriter Gino Ventriglia.
"Attending the lab gave the screenplay an international dimension it wouldn't have had otherwise," says Lacote. "Gino was a perfect fit for my project because he's very narrative-driven."
Alongside supporting the pitch for Darwin, Lacote will also attend Jerusalem Film Festival's screening of Run on Sunday. It is one of two lab participants in the programme this year alongside Qurnabi's We Are Young, We Are Strong.