Dir: Ken Loach. UK. 2014. 109mins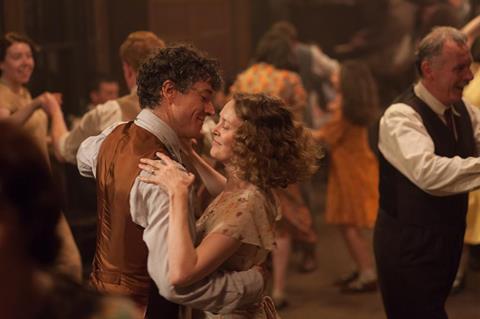 Easily digestible and elegantly shot, the rather straight-forward Jimmy's Hall is easy to spot as a Ken Loach film as its lingering anger at social and political issues bubble to the surface in amongst a series of astute 'statements' from characters. But despite good intentions his latest film – there were rumours it may be his last – is a rather static and uninvolving film that ticks all of the right boxes but never really engages emotionally.
While the sentiments of the script are sound, the dialogue comes across as a series of statements rather than convincing as a proper conversation.
The film dwells on issues facing ordinary folk in Ireland in the aftermath of the early 1920s civil war, where Church and State (as well as wealthy local landowners) take a strong stance on socialist leanings as well as non-religious social gatherings. Loach won the 2006 Palme d'Or for The Wind That Shakes The Barley and has been a regular figure at the festival over the years, but this new film lacks the edge that he often defined his work over the years.
But fans of his work will appreciate the rigour and intent behind Jimmy's Hall (not the most inspiring of titles), and while this will never be an art house blockbuster there should be solid support behind the latest from an acclaimed veteran filmmaker.
Working again with screenwriter Paul Laverty, the film dwells on the life of James Gralton (Barry Ward) - also the inspiration for Donal O'Kelly's musical play, Jimmy Gralton's Dance Hall – who returns to his mother at her home in rural County Leitrim after a period in New York. Though an American citizen he wants to get back to quieter life, though his links with Irish Republican causes see him approached by old friends.
He plans to reopen the dance hall he'd built years before planning for it to be a community space where boxing and art are taught, and where jazz can be played on the gramophone and dances staged. It also becomes a place where debate about social injustices are debated, with this low-key activism seeing Jimmy brought to the attention of both local big-wig landowner O'Keefe (Brian F. O'Byrne) - whose teenage daughter Marie (Aisling Franciosi) happens to be a fan of dancing at the hall, but also the equally influential village priest Father Sheridan (Jim Norton) who sees the Hall as a place for un-Godly antics.
While the sentiments of the script are sound, the dialogue comes across as a series of statements rather than convincing as a proper conversation, and while the period design and costumes are nicely put together it all feels rather safe. A Keystone Cops sequence involving local police is an attempt to add a little humour, bit it all feels a little out of place.
Barry Ward is suitably intense and charming as Gralton, though the real acting masterclass comes from Jim Norton as the blinkered priest whose character at least develops a little as the film draws on. Sadly his religious subordinate - played by Andrew Scott – is there just as a well-meaning counterbalance and woefully underused given Scott's charm and personality.
Production company: Sixteen Films
International sales: Wild Bunch, www.wildbunch.biz
Producer: Rebecca O'Brien
Executive producers: Andrew Lowe, Pascal Caucheteux, Gregoire Sorlat, Vincent Maraval
Screenplay: Paul Laverty
Cinematography: Robbie Ryan
Editor: Jonathan Morris
Production designer: Fergus Clegg
Music: George Fenton
Main cast: Barry Ward, Jim Norton, Simone Kirby, Francis Magee, Aileen Henry, Andrew Scott, Brian F. O'Byrne