Fifty Shades of Grey star joined by director Sean Ellis at Karlovy Vary International Film Festival.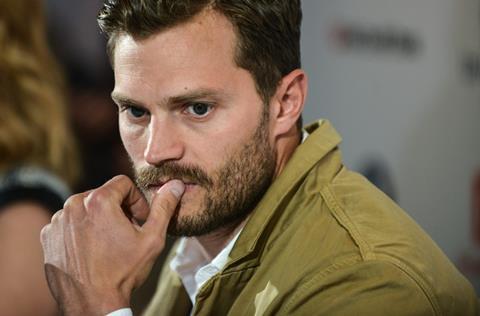 Irish star Jamie Dornan has revealed how he was "blown away" by the script to Sean Ellis' upcoming Second World War film Anthropoid and cooly brushed off any comparisons to his role in blockbuster erotic drama Fifty Shades of Grey.
As the film prepares to shoot in Czech Republic over the coming weeks, Ells and Dornan – alongside Czech actress Anna Geislerová and producers Pete Shilaimon and David Ondříček – attended the Karlovy Vary International Film Festival (KVIFF) (July 3-11) to discuss the film.
Dornan is joined by Cillian Murphy in the lead roles of Czech resistance fighters Jan Kubiš and Jozef Gabčík, in the story of Operation Anthropoid – the assassination of the Third Reich's Reinhard Heydrich, which brought terrible reprisals on the Czech people but also gave new hope to the resistance against Nazi occupation.
"The first I learned of Operation Anthropoid is when I read the script and I was blown away by it," said Dornan.
"I find fascinating that a story of that magnitude can exist and you not know about it. I thought it's a very important story to be told and one I wanted to be involved in."
Dornan said of any link between the war drama and Fifty Shades: "I'm not sure what kind of person would be expecting those films to merge together. No."
Speaking of director Ellis, whose Metro Manila won the audience award at Sundance 2013 and three BIFAs, Dornan added: "I'm a massive fan of Sean's work also and that helped that he was the person at the helm."
Preparation
Dornan said of his preparation for the role: "People have different ways and means of researching characters and getting into the mindset of who they're going to play.
"Sometimes you do things that you feel are right to embody a character and sometimes you push limits. Everyone has their own approach to it. It can always be different.
"The way I prepared to play someone like [serial killer Paul] Spector in The Fall, you take yourself to dark places and you sometimes find things out about yourself you don't want to find out about.
"With this particular project I don't think I have to go those same places. I think there are things about Jan that will make sense to me personally without having to dig too far.
"He is a man with a mission to carry out and it's a mission for the right reasons. I feel Jan's the closest character I've played to myself."
Emotional sacrifice
Speaking of the film's genesis, director Ellis said: "I first saw a documentary about Operation Anthropoid in 2001, and I have a great interest in all things World War II.
"I'd never come across this story and I just thought it was an incredible story: very heroic, very moving. I slowly started to research it further and, over the last 10-15 years, I have created quite an archive of material surrounding Anthropoid.
"Coming out of my last film I was looking for something that was sort of similar in the sense of very emotional sacrifice and I felt that the sacrifice that Jan Kubiš and Jozef Gabčík made for their country was a similar theme in what I explored in Metro Manila and I was drawn to it and thought now was the time to try and get that film made."
Epic story
On the script, Ellis said: "I started working with Anthony Frewin on the script and I think our first draft was something like 680 pages.
"Because it's such an enormous story – you can follow it from the Munich Agreement to the Assassination and beyond. It's an incredibly complex and large story and it took us a long time to figure out what was the story to tell and – for me – it was the story of the two parachutists.
"I wanted to know what it was like to be Kubiš and Gabčík. I wanted to know what it was like to stand in front of that Mercedes [in which Heydrich was assassinated] and be confronted with the ultimate act of resistance.
"The more I thought about it the more I become obsessed with the experience of these two men and what they went through. I wanted to make it a very contained and emotional piece.
"I didn't really see it as big, grand war epic because I think the actions of the people involved are epic and the emotions are epic. And I felt that if I could tell the story on a very small scale in that sense."
Cast
During the conference Ellis revealed that Toby Jones and Harry Lloyd had joined the cast and also talked about what drew him to the lead actors.
"It's very interesting to try and find two actors who could represent Kubiš and Gabčík realistically without it turning into something unrealistic because I wanted these two men to feel very human," he added.
"Cillian Murphy and Jamie Dornan were two actors who I felt had a certain sensibility to bring this emotion to the screen: an everyday person given this extraordinary mission.
"I thought the combination of both them was very interesting and the fact that both of them are the most talented actors of their generation. I feel like I've been shopping, got the best ingredients and I'm ready to go cook it now."
Anthropoid is produced by US studio LD Entertainment and co-produced by Czech-based Lucky Man Films.