Dir: Lee Daniels. US. 2013. 132mins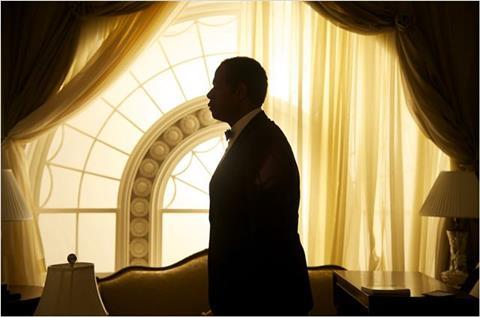 African-Americans' struggle for civil rights over the course of the 20th century is seen through the eyes of one soft-spoken man in Lee Daniels' The Butler, which wobbles trying to shoulder the weight of such momentous events. Squeezing a miniseries' worth of history and family drama into a feature-length film, this impassioned and occasionally moving story simply doesn't have the time to really delve into the epochal periods it chronicles. Despite a large, able cast, The Butler plays less like a personal epic and more like a glossed-over highlight reel of African-Americans' long, difficult march to equality.
The Butler is best when it illustrates how two generations of African-Americans approached civil rights in vastly different ways, causing friction in countless families.
Opening in mid-August in the US, The Butler hopes to follow in the footsteps of another late-summer release, 2011's The Help, which was also an African-American-driven period piece about the civil rights movement that did well at the box office ($170m domestic) and during award season (a Best Picture nomination and a Best Supporting Actress prize for Octavia Spencer).
Daniels' 2009 drama Precious (which won two Oscars) will help raise this film's profile, and a cast that includes heavyweights like Forest Whitaker and Oprah Winfrey would seem to position The Butler as the first major award contender of the forthcoming fall season. An inspirational tone and a rather uncomplicated view of recent American history should draw adults in the US, although international audiences will probably be far less interested in the events depicted.
Inspired by a 2008 Washington Post article about an African-American butler who worked for eight presidents from the 1950s to '80s, The Butler creates a fictional character named Cecil Gaines (Whitaker) who moves from the violent, racist house of his segregated Georgia upbringing to eventually land a prestigious, though seemingly menial job in the White House. Wishing only to serve with distinction, Cecil stays quiet while bringing drinks and lunch to presidents of both political parties, becoming a silent witness to a tumultuous time in the country's history that included the assassination of President John F. Kennedy (James Marsden), the divisive Vietnam War, and the on-going African-American pursuit of equal rights.
While Cecil prefers not to get involved in discussions of politics — a superior humourlessly informs him on his first day, "We have no tolerance for politics at the White House" — his rebellious son Louis (David Oyelowo) becomes part of outspoken groups like the Freedom Riders and the Black Panthers that actively try to challenge and change laws that discriminate against blacks. The two men's inability to see eye-to-eye drives a deep wedge between them, which also affects Cecil's wife Gloria (Winfrey), who worries that Cecil is more concerned about taking care of the president than he is his own family.
Moving away from the steamy, knowingly trashy milieu of his previous film, the Southern-fried potboiler The Paperboy, Daniels has crafted a respectable, staid drama in The Butler that's meant to stir emotions while condemning poisonous social ills. Very much designed for award season with its high-minded tone and middlebrow, slightly soap opera-ish execution, The Butler has certainly been made with care, and it goes about its business without a drop of cynicism. Nonetheless, the clear depth of feeling that permeates the proceedings doesn't necessarily translate into superb drama.
Working from a script by Danny Strong (who previously wrote the true-life election tales Game Change and Recount that played on HBO), Daniels borrows from both Forrest Gump and The Remains Of The Day. Like Gump, The Butler offers a fresh look at familiar historical events from the perspective of an ineffectual outsider who happened to be an unlikely participant. And like Remains Of The Day, the character is a dutiful, closed-off servant who rarely considers his own needs in his quest to please his bosses.
Unfortunately, Cecil fails to fully satisfy in either comparison. Though he works for everyone from Dwight Eisenhower (a nicely reserved Robin Williams) to Ronald Reagan (a soulful Alan Rickman), Cecil isn't given enough meaningful interactions with these presidents to suggest either that he's a beloved, indispensible member of the White House staff or that these presidents began to shift their attitude on civil rights by witnessing his modest, quiet decency.
By the same token, Cecil may be emotionally subdued, but Whitaker's dependably graceful performance can't quite enliven a character who doesn't seem to have much of an inner life. No question the filmmakers want to suggest through Cecil's reticent manner how African-Americans who grew up in the shadow of slavery's repeal were rightly cautious about being accepted by whites, but as it plays in The Butler this is more of an intellectual observation than something one feels from the movie.
The Butler is best when it illustrates how two generations of African-Americans approached civil rights in vastly different ways, causing friction in countless families. Sadly, the tension between Cecil and Louis is treated simplistically — the movie has too many other plot strands, including relationship woes between Cecil and Gloria, to stay focused anywhere for too long — but Whitaker and Oyelowo's supple performances suggest the bruised but still lingering bond between this father and son. Would that the filmmakers had gone further to suggest that it takes many different approaches —some antagonistic (as demonstrated by Louis), some more ingratiating (as demonstrated by Cecil) — to bring about social change, but nonetheless The Butler at least attempts to offer some nuanced insight into the African-American civil rights struggle, serving as a necessary reminder that there are always opposing viewpoints in a movement.
As befitting a film that glides across too many years in not enough time, The Butler features plenty of name actors but only in brief roles. Though it's to everyone's credit that the performances stay away from easy caricature, appearances by John Cusack (as Richard Nixon), Liev Schreiber (as Lyndon Johnson) and Jane Fonda (as Nancy Reagan) add up to little more than cameos, depriving the film of a sense of history unfolding before us. Those closer to Cecil's inner circle — such as an untrustworthy friend played by Terrence Howard and Cecil's fellow butlers (Lenny Kravitz and Cuba Gooding, Jr.) — also never quite register as fully developed people, and even Winfrey as Cecil's wife mostly shows up to be a sounding board for (or a nag to) her husband.
Production companies: Laura Ziskin Productions, Windy Hill Pictures, Follow Through Productions, Salamander Pictures, Pam Williams Productions
US distribution: The Weinstein Company, www.weinsteinco.com
International Sales: IM Global, www.imglobalfilm.com
Producers: Pamela Oas Williams, Laura Ziskin, Lee Daniels, Buddy Patrick, Cassian Elwes
Executive producers: Michael Finley, Sheila C. Johnson, Brett Johnson, Matthew Salloway, Earl W. Stafford, Danny Strong, Harvey Weinstein, Bob Weinstein, Len Blavatnik, Aviv Giladi, Vince Holden, James T. Bruce IV, R. Bryan Wright, Liz Destro, Jordan Kessler, Hilary Shor, Adam Merims
Screenplay: Danny Strong
Cinematography: Andrew Dunn
Production design: Tim Galvin
Editor: Joe Klotz
Music: Rodrigo Leão
Website: www.facebook.com/leedanielsthebutler
Main Cast: Forest Whitaker, Oprah Winfrey, Mariah Carey, John Cusack, Jane Fonda, Cuba Gooding, Jr., Terrence Howard, Lenny Kravitz, James Marsden, David Oyelowo, Alex Pettyfer, Vanessa Redgrave, Alan Rickman, Liev Schreiber, Robin Williams