Three new entries make up the top three at the UK box office over the March 25-27 weekend.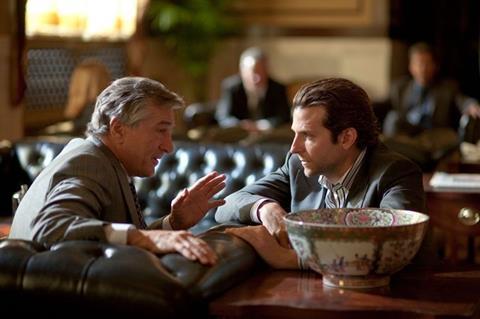 Paramount/Momentum Pictures' mystery-thriller Limitless debuted top at the UK box office, making $3.4m (£2.1m) from 364 screens and a week-high screen average of $9,186 (£5,735).
The result was Paramount's biggest opening in the UK since Little Fockers debuted on $4.8m (£3m) at Christmas.
Optimum's family animation A Turtle's Tale opened in second position, taking $1.8m (£1.1m) from 405 screens at an average of $4,438 (£2,771).
The title is Optimum's second this month to debut above $1.6m (£1m), and is their fourth biggest opening ever, behind this month's Unknown, 2010 action-adventure The Tourist and 2004 doc Fahrenheit 9/11.
The only other top ten-debut came from Universal's swords and sandals action-drama The Eagle in third. UK director Kevin Macdonald's latest scored $1.6m (£1m) from 435 screens at an average of $3,825 (£2,388), a considerable improvement on the similarly-themed Centurion from Pathe, which only mustered $182,797 (£114,117) from 102 screens in its only week of significant playing time in the UK this time last year.
The three newcomers were some way ahead of a limp remaining bunch, headed by Paramount's Rango, which took $1.1m (£670,992) for a decent $9.4m (£5.9m) in its fourth week.
Revolver's seventh-placed comedy Anuvahood ($628,203/£392,212 for $1.9m/£1.2m) and Optimum's 12th-placed comedy-drama Submarine ($369,856/£230,935 for $1m/£652,057) posted the smallest decline in week-on-week profits among the holdovers at -27% and -6% respectively.
Momentum's The King's Speech finally dropped out of the top ten films in its 12th week, but is still playing on 182 screens more than debut action-thriller Faster which bombed for Sony, taking only $251,676 (£157,169) from 221 screens at an average of $1,138 (£711).
The only other top 20 debut came from Picturehouse Entertainment's Werner Herzog 3D documentary Cave Of Forgotten Dreams, which grossed an impressive $193,424 (£120,785) from only 22 screens for the week's second-highest screen average of $8,793 (£5,490).
Next week sees saturation releases for Optimum's Source Code, Paramount's Killing Bono, Universal's HOP and Warner Bros.' Sucker Punch.