Locarno's annual co-production lab will this year shine the spotlight on up-and-coming film-makers from the Maghreb region.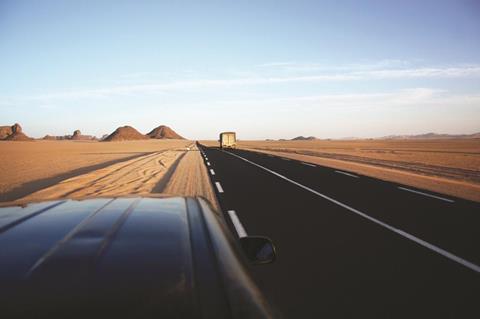 "A lot has happened since we last focused on this region in 2005," says Ananda Scepka, head of Open Doors, about the decision to return to the Maghreb — Morocco, Algeria, Libya and Tunisia — for the 13th edition of Locarno's co-production lab (August 8-11), which supports and highlights film-makers from regions where independent cinema is vulnerable.
"The context has changed since 2005 and there is a new generation of film-makers emerging in these countries," adds Scepka, pointing out that "the events commonly known as the Arab Spring have left their mark on each of these countries' film industries in different ways".
Of the Maghreb countries, Morocco has the most established cinema exhibition and funding structure, although the Tunisian film industry has been on the rise since 2011 thanks to the establishment of a national CNC film fund in 2012. Scepka adds that the whole region has been affected over the last decade by "the changes brought about by digital media, which have provided the chance to explore new formats and access tools for film-making".
Back in 2005, Libya was not represented in the line-up of Open Doors projects, but 10 years later Libya-born, Cape Town-based film-maker Khalid Shamis will present his political thriller The Colonel's Stray Dogs, which explores his homeland's past, present and future through the eyes of some of those in charge and under threat.
"It's exciting to have Libya on our Open Doors map," says Scepka,who took over as head of Open Doors last year from Martina Malacrida. "Libya is probably the place where the greatest changes have taken place. Previously there wasn't any film culture, but 2012 saw the first film festival being staged and the new-found freedom of expression has really opened up something."
Some 120 projects were submitted from the region, which were then whittled down to the final 12: four from Tunisia and Algeria, three from Morocco and one from Libya.
The directors and producers of the projects will attend the four-day event, backed by the Swiss Agency for Development and Cooperation (SDC) of Switzerland's Federal Department of Foreign Affairs, which aims to bring them together with European co-production partners through a series of round-table seminars, meetings and workshops.
While veteran Moroccan director Hassan Legzouli will be presenting his new project Dieu Reconnaitra Les Siens to potential co-production partners, Open Doors' 2015 line-up has a much higher proportion of projects from first or second-time directors than in previous editions.
One of those debutants is Algeria's Amin Sidi-Boumédiene, whose first feature Le Sacrifié focuses on the collective trauma experienced by his nation during the civil war of the 1990s. Tunisia's Mohamed Ben Attia, meanwhile, plans to make his feature directorial debut with Inhebek Hedi, a story of love at first sight set in post-revolutionary Tunisia.
Despite the challenges facing women directors in the Maghreb countries, two of the 12 selected projects are directed by female film-makers: Aller Simple, the debut feature from Tunisia's Nadia Rais, who has won several prizes for her animated shorts, and historical drama Le Fort Des Fous, the second feature from Algerian film-maker Narimane Mari.
Scepka notes, however, that women are better represented in the line-up as producers, with Nomadis Images' Dora Bouchoucha and Lina Chaabane overseeing Inhebek Hedi; Corinne Castel co-producing Le Fort Des Fous with Narimane Mari; Louise Bellicaud's new Paris-based company In Vivo Films handling Pagan Magic, the feature debut of Morocco's Fyzal Boulifa; and Francesca Duca's Le Moindre Geste set to produce first-timer Alaa Eddine Aljem's Saint Inconnu.
Challenging themes
Since its launch in 2003, Open Doors has cast the spotlight on directors and producers from countries and regions in the south and east where cinema faces particular challenges, including Cuba, Argentina, Southeast Asia, India and — in 2014 — Sub-Saharan Africa.
"As always, there are some general themes that occupy film-makers in every country but they take on another meaning in this regional context, especially when one is speaking about gender-related issues and the place of women in society," Scepka says of this year's entries. "We have noticed film-makers addressing the emancipation of the individual, both male and female, and the relationship to one's own [recent] history is a particularly dominant theme in Algeria. At the same time, there's a different take here on the subject of migration compared to the rest of the African continent, with storylines focusing on the diaspora and its relationship to the country of origin."
On the back of its partnerships with Ateliers du Cinéma Européen (ACE), European Audiovisual Entrepreneurs (EAVE) and Cannes' Producers Network, around 50 international producers are expected to attend Open Doors, taking part in one-to-one meetings with the representatives of the 12 selected projects, over the course of two days.
EAVE producers confirmed to attend include Karim Aitouna (Haut les Mains, France), Milena Dzambasovic (This and That, Serbia), James Baillie (Bridge + Tunnel Productions, UK-France), Sébastien Haguenauer (10:15 + Productions, France), Talal Al-Muhanna (Linked Productions, Kuwait), Palmyre Badinier (Les Films de Zayna, France) and Alexandre Charlet (Les Films du Cygne, France).
"This partnership has proven to be extremely popular among our producers," says Kristina Trapp, CEO of the Luxembourg-based producers training programme. "They appreciate the opportunity to discover new talents and projects from the regions in focus."
Breeding success
Open Doors success stories include Burkina Faso film-maker Michel K Zongo, who picked up co-production partners at Open Doors in 2012 for his documentary Faso Fani, La Fin Du Reve, and presented the completed film — The Siren Of Faso Fani (La Sirene De Faso Fani) — in the Berlinale's Forum last February.
Denis Vaslin of Rotterdam-based Volya Films notes that Open Doors' unique selling point is its specificity and he is considering becoming a co-producer on Armenian director and Rijksakademie graduate Nora Martirosyan's feature debut Territoria, one of Open Doors' 2013 South Caucasus projects.
He says: "There are many co-production markets these days — every festival seems to need to have one. But Locarno's winning formula for Open Doors is that it focuses on a particular region."
Georgian producer-director Rusudan Pirveli, meanwhile, used the South Caucasus focus as a launch pad for her second feature project Sleeping Lessons, footage of which was shown in a works-in-progress showcase during the industry programme of Odessa International Film Festival in July.
Fellow Georgian director Alexander Kvatashidze expects to deliver his documentary See You In Chechnya in August after completing the post-production in Paris. Recalling his time in Locarno two years ago, Kvatashidze says it was "a wonderful experience".
"I had 20 one-to-one meetings with different people who were interested in my project. What was really helpful were the prizes I won — one from Open Doors and one from ARTE — that allowed me to finish the shooting."
"We received very positive feedback from last year's project representatives about their experiences of Open Doors," says Scepka. "They say the producers come to the meetings very well prepared and are really interested in the potential of being a partner."
Latest additions
This year will see a new collaboration with the first pan-Arab independent studio umbrella MAD Solutions for an interactive exchange on different sources of financing in Europe and the Arab world.
MAD Solutions will also be sponsoring a prize that offers marketing and P&A support for Arab territories to one of the Open Doors projects.
Another innovation will be the presentation of a prize for development or post-production by a new EU-funded initiative, Investing in Culture & Art in the South Mediterranean. That will be in addition to the main Open Doors award of $52,000 (chf50,000) and two further development awards from CNC for $10,900 (€10,000) and ARTE for $6,500 (€6,000).
Three of the producers of this year's Open Doors projects will also have the chance to participate in Cannes' Producers Network in 2016.
Still, for Scepka, 2015 is about building on the hard work of previous editions. "It's all about consolidation and placing special emphasis on the workshops to make sure they are tailor-made to the needs of the particular projects."