Locarno's sixth annual Industry Days (Aug 8-10) is bigger than ever, thanks to the latest rollout of networking initiatives.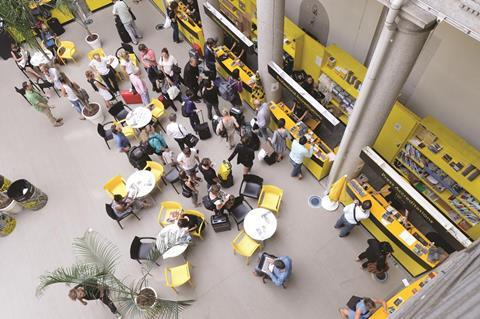 "It is all about networking and exchanging views and ideas," says Locarno's head of industry Nadia Dresti about the sixth edition of the festival's Industry Days.
At the centre of the three-day event, which this year runs from August 8-10, are the industry screenings at Locarno's Rialto Cinema for international buyers and sellers, but the number of other initiatives in a packed timetable — which also has to find space for the parallel Open Doors co-production lab — has grown year on year.
This year sees the introduction of two new ventures: Match Me! and Alliance For Development. Launched as a pilot last year (under the name Carte Blanche Extra), Match Me! was created in response to calls from the heads of four national film institutions — Cinema do Brasil, Cinema Chile, Proimagenes Colombia and Mexico's IMCINE — to be given the chance to return to Locarno after taking part in past editions of the Carte Blanche postproduction showcase (now known as First Look).
"They said Locarno is the best place for their producers to do networking," Dresti says of the initiative, which will see the film bodies back a series of professional lunches called the Latin Corner to meet with potential co-producers and sales agents.
Alliance For Development, in contrast, is a platform aimed at fostering co-development and co-production specifically between four European countries — France, Germany, Italy and Switzerland.
This year, the pilot phase will see funding executives from France's CNC, Germany's FFA, Italy's MiBACT and Switzerland's FOC (in the context of MEDIA compensatory measures) coming to Locarno along with the director-producer teams of five projects recently supported by co-development funds established between France, Italy and Germany. As Switzerland is a natural co-producing partner for France, Germany and Italy, Locarno is a perfect match to offer a specific platform to contribute to the existing common effort of these four countries to intensify co-development at an early stage. The selected projects, which will be pitched to potential partners in one-to-one meetings during Industry Days, include Bille August's biopic Vivaldi, to be produced by Cologne-based Pandora Film, and Annarita Zambrano's Apres La Guerre.
Rather than a co-production market, Dresti describes the initiative as "more of an annual rendez-vous for professionals of these four countries to discuss projects, test their positioning/market potential and get to better know each other, including some country specificities such as talents, locations and regional support that can be crucial for the optimisation of the commercial potential in their respective markets and in Europe".
Step forward
Now in its fourth year, Industry Days' interactive think tank StepIn will remain true to the increasingly international dimension adopted last year, addressing issues around arthouse distribution in Europe and further afield.
The discussion topics have been developed once again in close consultation with Europa International, Europa Distribution, Europa Cinemas and — for the second year — the Federation of European Film Directors (FERA).
Rather than focusing on market presentations, however, Locarno's StepIn day on August 9 will concentrate on round-table discussions as part of a closed morning session for 50 participants, moderated by industry key players (including Sodec's Monique Simard and Film Society of Lincoln Center's Lesli Klainberg among others), followed by a public round-up of the discussions in the afternoon.
Europa Distribution will host one table examining the issues of copyright and territoriality in light of the European Commission's proposed Digital Single Market strategy, while Europa Cinemas will be looking at the career of films starting from their first presentation at festivals.
Europa International, on the other hand, will focus on the parallels and differences in release strategies between the EU and the US. This will tie in with its MEDIA-supported project Set The Trend!, which promotes an exchange of views between the US and the EU on developments in international distribution in the digital era.
New for this year is the introduction of 'experimental tables' that will see industry players from across the value chain have two hours to develop a marketing and distribution strategy for two films — one from the Concorso Internazionale line-up and one from the Filmmakers of the Present competition.
"By involving professionals from different sectors around the same table, StepIn has great think-tank potential," says Clara Léonet of Europa Distribution. "We always think of the audiovisual industry as an ecosystem in which each part is closely related, and the different parts of the chain can find new ideas and be stronger together."
Following its premiere last year, the networking event StepIn.ch will again be held a day ahead of the main StepIn event as a forum for the Swiss film community present in Locarno.
Organised in association with Festival Tous Ecrans and Swiss Films, this year's edition will again bring together European distributors and sales agents with leading players from the Swiss industry.
"Last year, we were discussing the international future for Swiss cinema after Switzerland's immigration referendum shut us out of Creative Europe," Dresti says. "The situation with Creative Europe hasn't changed since then, so we decided to have the discussion about how one can give more visibility to Swiss films on national and international VoD platforms.
"We have to acknowledge the changes in the market because we still don't have a very strong VoD platform in Switzerland and need to see how one can improve the marketing," she adds.
The next generation
After focusing on South American films for its previous four editions, the festival's First Look showcase (previously Carte Blanche) turns its attention to six films in post-production from Israel.
Thanks to a partnership with the Israel Film Fund, producers including Gal Greenspan, David Silber and Marek Rozenbaum will be presenting their films to an audience of sales agents, funders, distributors and festival programmers.
In addition, a jury consisting of Karlovy Vary's festival director Karel Och, Sundance programmer John Nein and Busan International Film Festival programmer Rhee Soue-won will award the best film with in-kind prizes worth more than $72,000 (€65,000).
After a test run last year, Locarno's Industry Academy (August 5-12) will be officially launched during the festival with the goal of catering to young industry professionals in the areas of distribution, sales, marketing, exhibition and programming.
"Looking at the number of applications, it has been a great success,"
Dresti says. "We had a lot of sales companies and distributors wanting to send their young employees and had to extend the number of participants from the original nine to 11."
The academy's first intake from 10 European countries includes representatives from distributors Soda Pictures (UK), Mozinet (Hungary) and Praesens Film (Switzerland) and sales companies New Europe Film Sales (Poland), Doc & Film International (France) and EastWest Filmdistribution (Austria).
In addition, a participant from the Mexican distribution company Mantarraya has been invited to attend as part of the organisers' goal to open up the Industry Academy to professionals outside of Europe in the future.
"The Locarno Industry Academy aims to fill an existing lack of training programmes and workshops in the field of cinema-business jobs. It is also a true shortcut for young professionals to the industry and its key players," explains its project manager Marion Klotz. "Locarno's inspiring and relaxed atmosphere is the perfect festival context for our participants to feel they are involved and already a part of the industry, no matter how short is their experience," she adds.
Tutors will include The Film Agency director Sarah Calderon, Memento Films International sales and acquisitions executive Nicholas Kaiser and European Film Market director Matthijs Wouter Knol.
Packed schedule
Professionals at Industry Days will also have the chance to attend the presentation of the eighth Doc Alliance Selection Award, which is being held during Locarno Film Festival for the very first time .
Seven films were nominated by seven leading documentary festivals including DOK Leipzig, CPH:DOX and Nyon's Visions du Réel for the $5,500 (€5,000) prize to be decided by a jury of European film critics.
The 2015 finalists include Abbas Fahdel's Homeland (Iraq Year Zero), Anna Roussillon's I Am The People and Eliza Kubarska's Walking Under Water.
EAVE's Puentes workshop and Bridging The Dragon's Sino-European project evaluation and market placement lab will also provide further networking opportunities.
This year's industry schedule may be busier than ever but Dresti is not resting on her laurels. "The number of activities has grown from year to year but we are always looking for networking possibilities and a real exchange of ideas."